---
SEARCH
---
OUR BOOK
IS NOW
IN PRINT!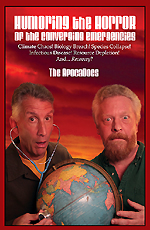 Humoring the Horror
of the
Converging Emergencies
94 color pages
$24.99
Read FREE online!

---
Explore: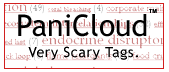 Play: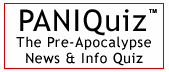 It's weekly, funny, and free!
Play: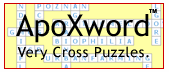 Click for paper-free fun!
Ads for potentially
microfunding this site:


Apocadocument
Weekly Archives:

Sep 26 - Dec 31, 1969
Sep 19 - Sep 26, 2011
Sep 12 - Sep 19, 2011
Sep 5 - Sep 12, 2011
Aug 29 - Sep 5, 2011
Aug 22 - Aug 29, 2011
Aug 15 - Aug 22, 2011
Aug 8 - Aug 15, 2011
Aug 1 - Aug 8, 2011
Jul 25 - Aug 1, 2011
Jul 18 - Jul 25, 2011
Jul 11 - Jul 18, 2011
Jul 4 - Jul 11, 2011
Jun 27 - Jul 4, 2011
Jun 20 - Jun 27, 2011
Jun 13 - Jun 20, 2011
Jun 6 - Jun 13, 2011
May 30 - Jun 6, 2011
May 23 - May 30, 2011
May 16 - May 23, 2011
May 9 - May 16, 2011
May 2 - May 9, 2011
Apr 25 - May 2, 2011
Apr 18 - Apr 25, 2011
Apr 11 - Apr 18, 2011
Apr 4 - Apr 11, 2011
Mar 28 - Apr 4, 2011
Mar 21 - Mar 28, 2011
Mar 14 - Mar 21, 2011
Mar 6 - Mar 14, 2011
Feb 27 - Mar 6, 2011
Feb 20 - Feb 27, 2011
Feb 13 - Feb 20, 2011
Feb 6 - Feb 13, 2011
Jan 30 - Feb 6, 2011
Jan 23 - Jan 30, 2011
Jan 16 - Jan 23, 2011
Jan 9 - Jan 16, 2011
Jan 2 - Jan 9, 2011
Dec 26 - Jan 2, 2011
Dec 19 - Dec 26, 2010
Dec 12 - Dec 19, 2010
Dec 5 - Dec 12, 2010
Nov 28 - Dec 5, 2010
Nov 21 - Nov 28, 2010
Nov 14 - Nov 21, 2010
Nov 7 - Nov 14, 2010
Nov 1 - Nov 7, 2010
Oct 25 - Nov 1, 2010
Oct 18 - Oct 25, 2010
Oct 11 - Oct 18, 2010
Oct 4 - Oct 11, 2010
Sep 27 - Oct 4, 2010
Sep 20 - Sep 27, 2010
Sep 13 - Sep 20, 2010
Sep 6 - Sep 13, 2010
Aug 30 - Sep 6, 2010
Aug 23 - Aug 30, 2010
Aug 16 - Aug 23, 2010
Aug 9 - Aug 16, 2010
Aug 2 - Aug 9, 2010
Jul 26 - Aug 2, 2010
Jul 19 - Jul 26, 2010
Jul 12 - Jul 19, 2010
Jul 5 - Jul 12, 2010
Jun 28 - Jul 5, 2010
Jun 21 - Jun 28, 2010
Jun 14 - Jun 21, 2010
Jun 7 - Jun 14, 2010
May 31 - Jun 7, 2010
May 24 - May 31, 2010
May 17 - May 24, 2010
May 10 - May 17, 2010
May 3 - May 10, 2010
Apr 26 - May 3, 2010
Apr 19 - Apr 26, 2010
Apr 12 - Apr 19, 2010
Apr 5 - Apr 12, 2010
Mar 29 - Apr 5, 2010
Mar 22 - Mar 29, 2010
Mar 15 - Mar 22, 2010
Mar 7 - Mar 15, 2010
Feb 28 - Mar 7, 2010
Feb 21 - Feb 28, 2010
Feb 14 - Feb 21, 2010
Feb 7 - Feb 14, 2010
Jan 31 - Feb 7, 2010
Jan 24 - Jan 31, 2010
Jan 17 - Jan 24, 2010
Jan 10 - Jan 17, 2010
Jan 3 - Jan 10, 2010
Dec 27 - Jan 3, 2010
Dec 20 - Dec 27, 2009
Dec 13 - Dec 20, 2009
Dec 6 - Dec 13, 2009
Nov 29 - Dec 6, 2009
Nov 22 - Nov 29, 2009
Nov 15 - Nov 22, 2009
Nov 8 - Nov 15, 2009
Nov 1 - Nov 8, 2009
Oct 26 - Nov 1, 2009
Oct 19 - Oct 26, 2009
Oct 12 - Oct 19, 2009
Oct 5 - Oct 12, 2009
Sep 28 - Oct 5, 2009
Sep 21 - Sep 28, 2009
Sep 14 - Sep 21, 2009
Sep 7 - Sep 14, 2009
Aug 31 - Sep 7, 2009
Aug 24 - Aug 31, 2009
Aug 17 - Aug 24, 2009
Aug 10 - Aug 17, 2009
Aug 3 - Aug 10, 2009
Jul 27 - Aug 3, 2009
Jul 20 - Jul 27, 2009
Jul 13 - Jul 20, 2009
Jul 6 - Jul 13, 2009
Jun 29 - Jul 6, 2009
Jun 22 - Jun 29, 2009
Jun 15 - Jun 22, 2009
Jun 8 - Jun 15, 2009
Jun 1 - Jun 8, 2009
May 25 - Jun 1, 2009
May 18 - May 25, 2009
May 11 - May 18, 2009
May 4 - May 11, 2009
Apr 27 - May 4, 2009
Apr 20 - Apr 27, 2009
Apr 13 - Apr 20, 2009
Apr 6 - Apr 13, 2009
Mar 30 - Apr 6, 2009
Mar 23 - Mar 30, 2009
Mar 16 - Mar 23, 2009
Mar 9 - Mar 16, 2009
Mar 1 - Mar 9, 2009
Feb 22 - Mar 1, 2009
Feb 15 - Feb 22, 2009
Feb 8 - Feb 15, 2009
Feb 1 - Feb 8, 2009
Jan 25 - Feb 1, 2009
Jan 18 - Jan 25, 2009
Jan 11 - Jan 18, 2009
Jan 4 - Jan 11, 2009
Dec 28 - Jan 4, 2009
Dec 21 - Dec 28, 2008
Dec 14 - Dec 21, 2008
Dec 7 - Dec 14, 2008
Nov 30 - Dec 7, 2008
Nov 23 - Nov 30, 2008
Nov 16 - Nov 23, 2008
Nov 9 - Nov 16, 2008
Nov 2 - Nov 9, 2008
Oct 27 - Nov 2, 2008
Oct 20 - Oct 27, 2008
Oct 13 - Oct 20, 2008
Oct 6 - Oct 13, 2008
Sep 29 - Oct 6, 2008
Sep 22 - Sep 29, 2008
Sep 15 - Sep 22, 2008
Sep 8 - Sep 15, 2008
Sep 1 - Sep 8, 2008
Aug 25 - Sep 1, 2008
Aug 18 - Aug 25, 2008
Aug 11 - Aug 18, 2008
Aug 4 - Aug 11, 2008
Jul 28 - Aug 4, 2008
Jul 21 - Jul 28, 2008
Jul 14 - Jul 21, 2008
Jul 7 - Jul 14, 2008
Jun 30 - Jul 7, 2008
Jun 23 - Jun 30, 2008
Jun 16 - Jun 23, 2008
Jun 9 - Jun 16, 2008
Jun 2 - Jun 9, 2008
May 26 - Jun 2, 2008
May 19 - May 26, 2008
May 12 - May 19, 2008
May 5 - May 12, 2008
Apr 28 - May 5, 2008
Apr 21 - Apr 28, 2008
Apr 14 - Apr 21, 2008
Apr 7 - Apr 14, 2008
Mar 31 - Apr 7, 2008
Mar 24 - Mar 31, 2008
Mar 17 - Mar 24, 2008
Mar 10 - Mar 17, 2008
Mar 2 - Mar 10, 2008
Feb 24 - Mar 2, 2008
Feb 17 - Feb 24, 2008
Feb 10 - Feb 17, 2008
Feb 3 - Feb 10, 2008
Jan 27 - Feb 3, 2008
Jan 20 - Jan 27, 2008
Jan 13 - Jan 20, 2008
Jan 6 - Jan 13, 2008
Dec 30 - Jan 6, 2008
Dec 23 - Dec 30, 2007
Dec 16 - Dec 23, 2007
Dec 9 - Dec 16, 2007
Dec 2 - Dec 9, 2007
DocWatch




Wed, Aug 20, 2014


from CNET:


Microsoft aims to be greener and drops ALEC membership
Microsoft announced Tuesday that it's cutting ties with the American Legislative Exchange Council, a conservative public-policy lobbying group. It appears this decision was made due to ALEC's lobbing efforts to block the development of renewable energy. Microsoft had previously been a member of ALEC's Communications and Technology Task Force. In a statement, the company said it has halted all participation in this group.... Microsoft's decision comes on the heels of other major corporations dropping membership with ALEC, including Coca-Cola, General Motors, Bank of America, and Proctor & Gamble. Microsoft co-founder Bill Gates stopped financially supporting ALEC in 2012. ...



Wed, Apr 9, 2014


from London Guardian:


BT, Shell and corporates call for trillion tonne carbon cap
Unilever, Shell, BT, and EDF Energy are among 70 leading companies today calling on governments across the globe to step up efforts to tackle climate change. The companies, which have a combined turnover of $90bn, say the world needs a "rapid and focused response" to the threat of rising global carbon emissions and the "disruptive climate impacts" associated with their growth. In a communiqué coordinated by The Prince of Wales's Corporate Leaders Group, the signatories demand governments put in place policies to prevent the cumulative emission of more than a trillion tonnes of carbon, arguing that passing that threshold would lead to unacceptable levels of climate-related risk. ...



Tue, Mar 20, 2012


from Bloomberg:


Solar's 15 Percent Returns Lure Investments From Google to Buffett
Buffett's Berkshire Hathaway Inc. (BRK/A) together with the biggest Internet search company, the private equity company and insurers MetLife Inc. (MET) and John Hancock Life Insurance Co. poured more than $500 million into renewable energy in the last year. That's the most ever for companies outside the club of banks and specialist lenders that traditionally back solar energy, according to Bloomberg New Energy Finance data.... Once so risky that only government backing could draw private capital, solar projects now are making returns of about 15 percent, according to Stanford University's center for energy policy and finance. That has attracted a wider community of investors eager to cash in on earnings stronger than those for infrastructure projects from toll roads to pipelines. "A solar power project with a long-term sales agreement could be viewed as a machine that generates revenue," said Marty Klepper, an attorney at Skadden Arps Slate Meagher & Flom LLP, which helped arrange a solar deal for Buffett. "It's an attractive investment for any firm, not just those in energy." ...



Fri, Apr 15, 2011


from Biorefining:


Dow, OPX Biotechnologies enter biobased acrylic acid agreement
OPX Biotechnologies Inc. announced today that the two companies are collaborating to develop an industrial-scale process for the production of biobased acrylic acid ... using a fermentable sugar (such as corn and/or cane sugar) feedstock with equal performance qualities as petroleum-based acrylic acid, creating a direct replacement option for the market. If collaborative research is successful, the companies will discuss commercialization opportunities that could bring biobased acrylic acid to market in three to five years.... The global petroleum-based acrylic acid market is $8 billion and growing 3 to 4 percent per year. Acrylic acid is a key chemical building block used in a wide range of consumer goods including paints, adhesives, diapers and detergents. "Dow is interested in biobased products that are economically competitive to petrochemical-based products with equal or advantaged performance qualities," said Pat Gottschalk, business director and vice president, Dow Performance Monomers. ...



Tue, Apr 5, 2011


from Guardian:


MBA course: 'blind pursuit of profit is destroying the planet'
"Lies, cheat, deceit, distortion, hype, and a blind pursuit of profit have poisoned the business world. The price of this has been the destruction of the planet, its ecosystems and the alienation of humans from their soul and genuine inner needs. Pollution, contamination, climate change, poverty, rising sea level, unemployment, financial crisis, social unrest, war, and a general lack of trust has taken over as a result."... [T]hese words come from the press release of a new MBA course now being offered at Marbella University in southern Spain. Yes, an MBA course: that rarefied habitat that has long been the butt of jokes due to the air of self-importance and unworldliness nurtured within. (The same is often said of the environmental movement, of course!)... So it comes as something of a shock to see an MBA course being advertised in such a way. ...



Thu, Feb 3, 2011


from Yale360:


Intel the Biggest Buyer Of Green Energy in the U.S., Report Says
Intel Corporation remains the top purchaser of renewable energy in the U.S., nearly doubling the amount of green energy credits it will buy in 2011 to more than 2.5 billion kilowatt-hours -- the equivalent of powering 218,000 American homes -- according to a new ranking by the U.S. Environmental Protection Agency (EPA). With that increase, the California-based chipmaker -- which has also built nine solar plants at its facilities in the U.S. and Israel -- now gets about 88 percent of its electricity from renewable sources. The retail chain, Kohl's, which ranked second on the EPA's list of the top 50 green energy buyers, now gets 100 pecent of its electricity from green sources, purchasing more than 1.4 million kilowatt-hours annually. ...



Sun, Dec 12, 2010


from PRI:


Italy says addio to bottled water
That's because Italians drink more bottled water, or acqua minerale, than anyone else in the world -- about 55 gallons per person each year, more than 3 billion gallons country-wide. Many Italians think it tastes better. Or that it's chic. One thing's for sure: Bottled water has a big environmental impact. To try to cut back on the pollution caused by all the plastic bottles, and from transporting the water across long distances, Italy's biggest retailer is doing something virtually unheard of in the corporate world. It recently launched an ad campaign to convince consumers to stop buying the bottled water it sells. Or at least to buy water that comes from nearby. "We did a life-cycle analysis of mineral water in bottle and we discovered strongest impact is made by the transportation", says Marisa Parmigiani, the social policy director for the Co-op supermarket. As its name indicates, the chain is a Co-operative, and a powerful one, with 20 percent of the Italian supermarket share. ...



Tue, Nov 30, 2010


from Mongabay.com:


Consumer goods industry announces goal of zero deforestation in Cancun
While governments continue to stall on action to cut greenhouse gas emissions worldwide, global corporations are promising big changes to tackle their responsibilities. The Board of Consumer Goods Forum (BCGF) has approved a resolution to achieve net zero deforestation by 2020 in products such as palm oil, soy, beef, and paper. Announced yesterday at the UN Climate Summit in Cancun, the BCGF has stated the goal will be met both by individual actions within companies and collective action, including partnerships with NGOs, development banks, and governments. With such giants as Walmart, Unilever, Carrefour, and General Mills, BCGF is made up of four hundred global consumer goods manufacturers and retailers totaling over $2.8 trillion in revenue. ...



Mon, Sep 13, 2010


from Guardian:


Solar panels you can install with a clear conscience
Toxic pollution and links to the arms trade - not all solar panel suppliers are ethically sound. Simon Birch offers some consumer guidance. With the government offering to pay you - and some companies even offering to fit them for free - you may be considering installing solar photovoltaic panels on your roof. But if you are, would you really want to buy one from a company that's been responsible for one of the biggest recent environmental cock-ups on the planet or one that's up to its neck in the arms trade? No of course you wouldn't. To help shoppers navigate this particular ethical-minefield in its latest buyers' guide, Ethical Consumer magazine has identified those solar-power panels that you can stick on your roof with a clean conscience and those that you may just want to leave on the shelf. The best buys are GB-Sol, Solarcentury, SolarWorld and Yingli Solar. ...



Thu, May 6, 2010


from University of Leeds via ScienceDaily:


Organic Farming Shows Limited Benefit to Wildlife, Researchers in UK Find
Organic farms may be seen as wildlife friendly, but the benefits to birds, bees and butterflies don't compensate for the lower yields produced, according to new research from the University of Leeds. In the most detailed, like-for-like comparisons of organic and conventional farming to date, researchers from Leeds' Faculty of Biological Science found that the benefits to wildlife and increases in biodiversity from organic farming are much lower than previously thought -- averaging just over 12 percent more than conventional farming. ...



Sat, Feb 20, 2010


from New Scientist:


Hey green spender
IF YOU care about the environment, you may want to show that in the way you spend your money. Maybe you shop at an organic food store rather than a conventional supermarket. You probably look at energy efficiency labels before buying a new laptop. And if you're really serious, you may even be concentrating your nest egg into "green" investment funds. All of these decisions could help steer us towards a truly green economy - but only if consumers and investors have a good idea of which companies have genuinely minimised their impact on the environment. Do the corporations that benefit from our environmentally conscious purchasing and investment choices deserve their green halo?... To find out, New Scientist teamed up with two companies that have collected the most relevant data. Earthsense, based in Syracuse, New York, has polled US consumers on their perceptions of the "greenness" of various companies. Trucost, headquartered in London, has compiled an unparalleled quantitative assessment of companies' global environmental impact. ...



Sat, Jan 23, 2010


from Fast Company:


Walmart's Sustainability Consortium Developing Green Label for Electronics
Last year, Walmart announced that it was developing a Sustainability Index for every product on its shelves. At the same time, the retailer revealed that it was providing seed funding to the Sustainability Consortium, a group of NGOs, government organizations, retailers, and suppliers to help develop the lifecycle database for its products. And now the consortium has embarked on its first big project: a green standard for electronics. Greenpeace's Guide to Greener Electronics, Energy Star, and the Electronic Product Environmental Assessment Tool (EPEAT) label are all decent starting points for determining the sustainability of different gadgets, but the consortium wants to make an all-encompassing green label that takes into account everything from labor conditions to end-of-life disposal. The label will also take into account criteria used by other standards, including EPEAT and Energy Star. The Sustainability Consortium is working quickly with partners including Best Buy, HP, Walmart, and Dell to research and publish lifecycle assessments for all types of electronics, starting with computers and monitors. Data from the first round of research will be released later this year. ...



Wed, Jan 6, 2010


from TIME Magazine:


Global Warming: Why Branson Wants to Step In
...at least one business leader, the British billionaire and founder of the Virgin Group Richard Branson, says he has heard the alarm from scientists and environmentalists about climate change, and believes that the world must not waste time shifting away from oil and other fossil fuels... So, Branson has taken it upon himself -- unsurprisingly -- to lead the charge against carbon. In 2010, he will officially launch the Carbon War Room, a corporate think tank of sorts, designed to incubate and spread the best ways to cut carbon in corporate sectors ranging from aviation to shipping to construction... Branson's operation will start by addressing carbon emissions from a significant but little-known source that is not covered by any national or international regulations: global marine shipping. ...






Want more context?


Try reading our book FREE online:
Humoring the Horror of the Converging Emergencies!
More fun than a barrel of jellyfish!
Sun, Dec 13, 2009


from Mongabay:


Unilever suspends palm oil contract after supplier found to be destroying rainforests
The world's largest user of palm oil, Unilever, has suspended its $32.6 million contract with the Indonesian group Sinar Mas after an independent audit proved that Sinar Mas is involved in the destruction of rainforest, reports Reuters. The audit was conducted early this year after a report by Greenpeace alleged that Sinar Mas was engaged in deforestation and the draining of peatlands, both of which release significant amounts of greenhouse gases into the atmosphere. Deforestation across Indonesia and Malaysia, in part for oil palm plantations, has also added pressure on many many endangered species, including orangutans, tigers, elephants, and rhinos.... "Unilever's decision could represent a defining moment for the palm oil industry. What we're seeing here is the world's largest buyer of palm oil using its financial muscle to sanction suppliers who are destroying rain forests and clearing peatlands," said Greenpeace director John Sauven in a statement. ...



Mon, Oct 5, 2009


from POLITICO:


Big business pushes for climate action
Two coalitions of top U.S. corporations are using Washington visits and more than $1 million in advertising to prod the Senate and White House to accelerate work on an energy and climate bill. Executives from the groups tell POLITICO that they will argue they need certainty to plan for the future. And although some companies disagree, these executives contend that many businesses, and the overall economy, would eventually benefit from the new law.... in a new open letter to President Barack Obama and the U.S. Senate, two dozen major brands -- ranging from eBay to HP to Gap to PG&E -- declare: "We are business leaders from companies of all sizes and many sectors calling for your leadership. We call on you to enact comprehensive legislation. ... Now it's time for the United States Senate to act." ...



Tue, Sep 22, 2009


from CNN Money:


PG&E Corp Quits US Chamber Of Commerce Over Climate Views
PG&E Corp. (PCG) said Tuesday it is leaving the U.S. Chamber of Commerce over objections to what its top executive called the chamber's "extreme position on climate change." In a letter to the U.S. Chamber published on PG&E's blog, www next100.com, PG& E Chairman and Chief Executive Peter Darbee wrote that company employees "find it dismaying that the Chamber neglects the indisputable fact that a decisive majority of experts have said the data on global warming are compelling and point to a threat that cannot be ignored." The U.S. Chamber has been a vocal critic of climate legislation pending in the Senate, most recently suggesting that the U.S. hold a "Scopes-like" trial to debate evidence that climate change is man-made. The U.S. Environmental Protection Agency has demurred on the request, saying that its proposed finding that global warming poses a danger to public health is based on sound science. ...



Thu, Jul 23, 2009


from CleanTechnica:


Giant Solar-Powered Flowers Sprout in U.S. Cities, Provide Wi-Fi
Solar-powered "flower stations" are appearing across major U.S. cities providing free Wi-Fi and electricity for charging laptops, cell phones and other devices. The flowers are part of Toyota's national marketing campaign for the third generation Prius launch in 2010. Aside from providing clean electricity and a dandy place to rest, the flowers are also adorned with "leaves" which showcase advertisements and short informationals about the new Prius. They are designed to represent the Prius theme of "Harmony between Man, Nature, and Machine." Standing at a height of 18 feet, solar panels on the backs of the petals power 110-volt outlets found on the benches, which can seat up to 10 people.... Currently, the flower-power stations can be found in Boston, but they will also be making rounds in New York, Chicago, Seattle, San Francisco and Los Angeles. ...



Thu, Jun 4, 2009


from Guardian (UK):


Green energy overtakes fossil fuel investment, says UN
Green energy overtook fossil fuels in attracting investment for power generation for the first time last year, according to figures released today by the United Nations. Wind, solar and other clean technologies attracted $140bn (£85bn) compared with $110bn for gas and coal for electrical power generation, with more than a third of the green cash destined for Britain and the rest of Europe. The biggest growth for renewable investment came from China, India and other developing countries, which are fast catching up on the West in switching out of fossil fuels to improve energy security and tackle climate change. "There have been many milestones reached in recent years, but this report suggests renewable energy has now reached a tipping point where it is as important -- if not more important -- in the global energy mix than fossil fuels," said Achim Steiner, executive director of the UN's Environment Programme. ...



Tue, Jan 27, 2009


from Telegraph.co.uk:


Supermarket chain bans use of pesticides in bid to save bees
The supermarket chain Co-op has banned foods grown using pesticides that harm honey bees.... The use of pesticides have been blamed for the collapse and yesterday the Co-operative announced it was banning any foods grown using the chemicals from their own range of fresh products.... Co-operative Farms -- the UK's biggest farmer with 25,000 hectares -- will also invite beekeepers to establish hives on its land as part of a 10-point "Plan Bee". ...



Sun, Jan 25, 2009


from New York Times:


Green-Light Specials, Now at Wal-Mart


...Today, the roughly 200 million customers who pass through Wal-Mart's doors each year buy fluorescent light bulbs that use up to 75 percent less electricity than incandescent bulbs, concentrated laundry detergent that uses 50 percent less water and prescription drugs that contain 50 percent less packaging. "If all this sustainability stuff is just for the well-to-do, it's not going to make a difference," said Jib Ellison, the founder of Blu Skye, a sustainability consultant who has worked with Wal-Mart. As the saying goes, Wal-Mart has also done well by doing good. Along with the McDonald's Corporation, it was one of only two companies in the Dow Jones industrial average whose share price rose last year. ...




Tue, Nov 18, 2008


from Telegraph.co.uk:


Amazon to scrap plastic packaging for recyclable cardboard boxes
It has pledged to stop sending toys, computers and other goods out in difficult-to-open plastic boxes. The shopping website has joined leading manufacturers, including toy company Mattel and software giant Microsoft, to come up with a solution it says is both eco and customer-friendly. Called "frustration free packaging", the company aims to replace plastic wrapping with a simple, recyclable cardboard box.... "Every Christmas we produce an extra three million tonnes of waste, and this could impact significantly on that. But we need manufacturers to think about this too -- it really comes back to the product design stage, and that needs to be re-thought." ...



Mon, Nov 3, 2008


from Bloomberg News:


Coca-Cola agrees to cut water use and stabilize emissions


SAN FRANCISCO - Coca-Cola Co., the world's largest soft-drink maker, vowed to more efficiently use water and stabilize its carbon-dioxide emissions linked to global warming under an agreement released last week with the World Wildlife Fund. Coca-Cola pledged to improve efficiency at bottling plants 20 percent by 2012 though overall water use will increase as business grows. The manufacturing changes will save about 50 billion litres (13 billion gallons) of water during the next four years, the Atlanta-based company said. Coca-Cola also will hold emissions at current levels, said spokeswoman Lisa Manley. ...



This is the cause that refreshes!

ApocaDoc
permalink

Fri, Sep 5, 2008


from USA Today:


GM plans to dump use of landfills
In an attempt to green up the planet, and its image, General Motors will confirm today plans to make half of its 181 plants worldwide "landfill-free" by the end of 2010. That means nothing from their manufacturing processes would end up in a landfill. Ten GM plants, including an engine plant in Flint, Mich., already are landfill-free, and GM will have about 80 more producing little or no waste within 20 months... ...


We would advise you, however, to not open the trunk!

ApocaDoc
permalink

Wed, Sep 3, 2008


from PC Magazine:


Ebay launches WorldOfGood.com


The site's mission: to preserve "People Positive and Eco Positive" principles that make a positive impact on the people that make them, as well as the environment. In essence, it's similar to The Body Shop: buy ecologically sound products, while allowing the seller to charge a fair price. All products, producers and sellers are verified by various third parties called Trust Providers -- like TransFair USA (Fair Trade Certified), Co-op America and Aid to Artisans -- to meet a core set of ethical and environmental standards, according to the site. Some example items: an artisan-crafted plate from Chile, banana-fiber animal napkin rings from Kenya, and a stuffed llama from Peru. ...



Can our acquisitiveness be used for good, rather than evil?

ApocaDoc
permalink

Tue, Jun 10, 2008


from Innovations Report (Germany):


Environmental Solution for China's Steel Industry
[Masteel] produces approximately fifteen million tons of steel each year which is primarily sold as steel sections, wire rods and medium and thick plates.... In order to drastically reduce environmental emissions from its No. 1 Sinter Plant, Masteel decided to have a Meros plant installed. A major reason for Maanshan's decision for Meros was because of the excellent results achieved with the new plant at the Sinter Plant No. 5 of the Austrian steel producer voestalpine. Since the Meros plant start-up in August 2007, it has been operating at near 100 percent availability and pollutants are reduced in some cases to well over 90 percent. ...


All we need, it seems, is steely resolve.

ApocaDoc
permalink

Sat, Mar 22, 2008


from Toronto Globe and Mail:


Wal-Mart move 'a powerful symbol' for organic
"Organic food proponents will remember Thursday as the day the ground shifted. Giant food retailer Wal-Mart Stores Inc. announced that its store brand milk in the United States will now come exclusively from cows not treated with artificial growth hormones. The move sends a powerful signal to food manufacturers about the growing mainstream demand for health food products. With Wal-Mart already the largest retailer of organic milk in the U.S., it has been clear that consumers interested in greener food products are no longer the narrow group of back-to-the-earth types and wealthy urban yuppies. "It's reached the tipping point," said Ronnie Cummins, director of the Organic Consumers Association in the U.S., who has spent years campaigning against the use of hormones designed to boost milk production by up to 15 per cent in dairy cows. ...


Cows and tipping have long gone hand and hand here in the Midwest.

ApocaDoc
permalink


You're still reading! Good for you!
You really should read our short, funny, frightening book FREE online (or buy a print copy):
Humoring the Horror of the Converging Emergencies!
We've been quipping this stuff for more than 30 months! Every day!
Which might explain why we don't get invited to parties anymore.
Copyright 2009 The Apocadocs.com