---
SEARCH
---
OUR BOOK
IS NOW
IN PRINT!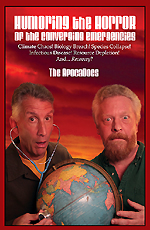 Humoring the Horror
of the
Converging Emergencies
94 color pages
$24.99
Read FREE online!

---
Explore: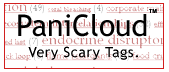 Play: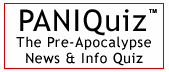 It's weekly, funny, and free!
Play: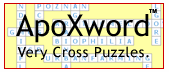 Click for paper-free fun!
Ads for potentially
microfunding this site:


Apocadocument
Weekly Archives:

Sep 26 - Dec 31, 1969
Sep 19 - Sep 26, 2011
Sep 12 - Sep 19, 2011
Sep 5 - Sep 12, 2011
Aug 29 - Sep 5, 2011
Aug 22 - Aug 29, 2011
Aug 15 - Aug 22, 2011
Aug 8 - Aug 15, 2011
Aug 1 - Aug 8, 2011
Jul 25 - Aug 1, 2011
Jul 18 - Jul 25, 2011
Jul 11 - Jul 18, 2011
Jul 4 - Jul 11, 2011
Jun 27 - Jul 4, 2011
Jun 20 - Jun 27, 2011
Jun 13 - Jun 20, 2011
Jun 6 - Jun 13, 2011
May 30 - Jun 6, 2011
May 23 - May 30, 2011
May 16 - May 23, 2011
May 9 - May 16, 2011
May 2 - May 9, 2011
Apr 25 - May 2, 2011
Apr 18 - Apr 25, 2011
Apr 11 - Apr 18, 2011
Apr 4 - Apr 11, 2011
Mar 28 - Apr 4, 2011
Mar 21 - Mar 28, 2011
Mar 14 - Mar 21, 2011
Mar 6 - Mar 14, 2011
Feb 27 - Mar 6, 2011
Feb 20 - Feb 27, 2011
Feb 13 - Feb 20, 2011
Feb 6 - Feb 13, 2011
Jan 30 - Feb 6, 2011
Jan 23 - Jan 30, 2011
Jan 16 - Jan 23, 2011
Jan 9 - Jan 16, 2011
Jan 2 - Jan 9, 2011
Dec 26 - Jan 2, 2011
Dec 19 - Dec 26, 2010
Dec 12 - Dec 19, 2010
Dec 5 - Dec 12, 2010
Nov 28 - Dec 5, 2010
Nov 21 - Nov 28, 2010
Nov 14 - Nov 21, 2010
Nov 7 - Nov 14, 2010
Nov 1 - Nov 7, 2010
Oct 25 - Nov 1, 2010
Oct 18 - Oct 25, 2010
Oct 11 - Oct 18, 2010
Oct 4 - Oct 11, 2010
Sep 27 - Oct 4, 2010
Sep 20 - Sep 27, 2010
Sep 13 - Sep 20, 2010
Sep 6 - Sep 13, 2010
Aug 30 - Sep 6, 2010
Aug 23 - Aug 30, 2010
Aug 16 - Aug 23, 2010
Aug 9 - Aug 16, 2010
Aug 2 - Aug 9, 2010
Jul 26 - Aug 2, 2010
Jul 19 - Jul 26, 2010
Jul 12 - Jul 19, 2010
Jul 5 - Jul 12, 2010
Jun 28 - Jul 5, 2010
Jun 21 - Jun 28, 2010
Jun 14 - Jun 21, 2010
Jun 7 - Jun 14, 2010
May 31 - Jun 7, 2010
May 24 - May 31, 2010
May 17 - May 24, 2010
May 10 - May 17, 2010
May 3 - May 10, 2010
Apr 26 - May 3, 2010
Apr 19 - Apr 26, 2010
Apr 12 - Apr 19, 2010
Apr 5 - Apr 12, 2010
Mar 29 - Apr 5, 2010
Mar 22 - Mar 29, 2010
Mar 15 - Mar 22, 2010
Mar 7 - Mar 15, 2010
Feb 28 - Mar 7, 2010
Feb 21 - Feb 28, 2010
Feb 14 - Feb 21, 2010
Feb 7 - Feb 14, 2010
Jan 31 - Feb 7, 2010
Jan 24 - Jan 31, 2010
Jan 17 - Jan 24, 2010
Jan 10 - Jan 17, 2010
Jan 3 - Jan 10, 2010
Dec 27 - Jan 3, 2010
Dec 20 - Dec 27, 2009
Dec 13 - Dec 20, 2009
Dec 6 - Dec 13, 2009
Nov 29 - Dec 6, 2009
Nov 22 - Nov 29, 2009
Nov 15 - Nov 22, 2009
Nov 8 - Nov 15, 2009
Nov 1 - Nov 8, 2009
Oct 26 - Nov 1, 2009
Oct 19 - Oct 26, 2009
Oct 12 - Oct 19, 2009
Oct 5 - Oct 12, 2009
Sep 28 - Oct 5, 2009
Sep 21 - Sep 28, 2009
Sep 14 - Sep 21, 2009
Sep 7 - Sep 14, 2009
Aug 31 - Sep 7, 2009
Aug 24 - Aug 31, 2009
Aug 17 - Aug 24, 2009
Aug 10 - Aug 17, 2009
Aug 3 - Aug 10, 2009
Jul 27 - Aug 3, 2009
Jul 20 - Jul 27, 2009
Jul 13 - Jul 20, 2009
Jul 6 - Jul 13, 2009
Jun 29 - Jul 6, 2009
Jun 22 - Jun 29, 2009
Jun 15 - Jun 22, 2009
Jun 8 - Jun 15, 2009
Jun 1 - Jun 8, 2009
May 25 - Jun 1, 2009
May 18 - May 25, 2009
May 11 - May 18, 2009
May 4 - May 11, 2009
Apr 27 - May 4, 2009
Apr 20 - Apr 27, 2009
Apr 13 - Apr 20, 2009
Apr 6 - Apr 13, 2009
Mar 30 - Apr 6, 2009
Mar 23 - Mar 30, 2009
Mar 16 - Mar 23, 2009
Mar 9 - Mar 16, 2009
Mar 1 - Mar 9, 2009
Feb 22 - Mar 1, 2009
Feb 15 - Feb 22, 2009
Feb 8 - Feb 15, 2009
Feb 1 - Feb 8, 2009
Jan 25 - Feb 1, 2009
Jan 18 - Jan 25, 2009
Jan 11 - Jan 18, 2009
Jan 4 - Jan 11, 2009
Dec 28 - Jan 4, 2009
Dec 21 - Dec 28, 2008
Dec 14 - Dec 21, 2008
Dec 7 - Dec 14, 2008
Nov 30 - Dec 7, 2008
Nov 23 - Nov 30, 2008
Nov 16 - Nov 23, 2008
Nov 9 - Nov 16, 2008
Nov 2 - Nov 9, 2008
Oct 27 - Nov 2, 2008
Oct 20 - Oct 27, 2008
Oct 13 - Oct 20, 2008
Oct 6 - Oct 13, 2008
Sep 29 - Oct 6, 2008
Sep 22 - Sep 29, 2008
Sep 15 - Sep 22, 2008
Sep 8 - Sep 15, 2008
Sep 1 - Sep 8, 2008
Aug 25 - Sep 1, 2008
Aug 18 - Aug 25, 2008
Aug 11 - Aug 18, 2008
Aug 4 - Aug 11, 2008
Jul 28 - Aug 4, 2008
Jul 21 - Jul 28, 2008
Jul 14 - Jul 21, 2008
Jul 7 - Jul 14, 2008
Jun 30 - Jul 7, 2008
Jun 23 - Jun 30, 2008
Jun 16 - Jun 23, 2008
Jun 9 - Jun 16, 2008
Jun 2 - Jun 9, 2008
May 26 - Jun 2, 2008
May 19 - May 26, 2008
May 12 - May 19, 2008
May 5 - May 12, 2008
Apr 28 - May 5, 2008
Apr 21 - Apr 28, 2008
Apr 14 - Apr 21, 2008
Apr 7 - Apr 14, 2008
Mar 31 - Apr 7, 2008
Mar 24 - Mar 31, 2008
Mar 17 - Mar 24, 2008
Mar 10 - Mar 17, 2008
Mar 2 - Mar 10, 2008
Feb 24 - Mar 2, 2008
Feb 17 - Feb 24, 2008
Feb 10 - Feb 17, 2008
Feb 3 - Feb 10, 2008
Jan 27 - Feb 3, 2008
Jan 20 - Jan 27, 2008
Jan 13 - Jan 20, 2008
Jan 6 - Jan 13, 2008
Dec 30 - Jan 6, 2008
Dec 23 - Dec 30, 2007
Dec 16 - Dec 23, 2007
Dec 9 - Dec 16, 2007
Dec 2 - Dec 9, 2007
DocWatch




Sun, Jan 10, 2016


from InsideClimate News:


Vermont Governor Urges State to Divest from Coal, Exxon
Vermont Gov. Peter Shumlin said on Thursday his state should take action against climate change this year by divesting public pension funds from coal and from oil giant ExxonMobil, because of its history of sowing doubt about climate change despite the company's own scientists having studied it. Speaking at his annual State of the State address, Shumlin said, "The urgency for us to take every sensible action against climate change has never been greater." He asked his legislature to send him a bill that would divest the state's public pension funds from all coal stocks, as well as from stock in Exxon. ...



Mon, Jan 4, 2016


from The Guardian:


Conservationists betting on bees to ease clash of humans and elephants
A community near the famed Serengeti national park in Tanzania is enlisting the help of bees to reduce escalating tensions with elephants that enrage locals by trampling upon their crops. A fence made of beehives is being constructed around a one-acre farm close to the Ngorongoro conservation area as part of the pilot project to see if the buzzing bees will deter elephants that stroll on to cropland. ...



Thu, Aug 7, 2014


from George Monbiot:


The Pricing of Everything
... Problem Two is that you are effectively pushing the natural world even further into the system that is eating it alive. Dieter Helm, the Chairman of the Natural Capital Committee, said the following in the same report I quoted from just a moment ago. "The environment is part of the economy and needs to be properly integrated into it so that growth opportunities will not be missed."(9) There, ladies and gentlemen, you have what seems to me the Government's real agenda. This is not to protect the natural world from the depredations of the economy. It is to harness the natural world to the economic growth that has been destroying it. All the things which have been so damaging to the living planet are now being sold to us as its salvation; commodification, economic growth, financialisation, abstraction. Now, we are told, these devastating processes will protect it. (Sorry, did I say the living planet? I keep getting confused about this. I meant asset classes within an ecosystem market.)... Among the most famous of these was its valuation of mangrove forests. It maintained that if a businessman or businesswoman cuts down a mangrove forest and replaces it with a shrimp farm, that will be worth around $1,200 per hectare per year to that person. If we leave the mangrove forest standing, because it protects the communities who live on the coastline and because it is a wonderful breeding ground for fish and crustaceans, it will be worth $12,000 per hectare per year(12). So when people see the figures they will conclude that it makes sense to save the mangrove forests, and hey presto, we have solved the problem. My left foot! People have known for centuries the tremendous benefits that mangrove forests deliver. But has that protected them from being turned into shrimp farms or beach resorts? No, it hasn't. And the reason it hasn't is that it might be worth $12,000 to the local impoverished community of fisher folk, but if it's worth $1,200 to a powerful local politician who wants to turn it into shrimp farms, that counts for far more. Putting a price on the forest doesn't in any way change that relationship. You do not solve the problem this way. You do not solve the problem without confronting power. But what we are doing here is reinforcing power, is strengthening the power of the people with the money, the power of the economic system as a whole against the power of nature.... ...



Mon, Jun 2, 2014


from The Hill:


Survey: Majority favor renewable energy over coal, despite costs
... a new survey from an environmentally-friendly business group finds a majority of people would support efforts to overhaul the nation's electric power grid to make room for more renewable forms of energy. The Advanced Energy Economy (AEE) survey found that two-thirds of people said it is a good idea to "modernize" the nation's power system, while three in four respondents said they would like to use electricity more efficiently in order to reduce the need for old power plants. But 58 percent of people believe say they would like to move from old power sources like coal to new renewable forms of energy like wind, solar, and hydropower, even if it costs more to do so. ...



Sat, May 10, 2014


from CBC:


Species de-extinction plagued by 'looming questions,' expert says
The potential for bringing back extinct animal species, known as de-extinction, is one of the hottest and most controversial topics in conservation biology today. "There are potentially many issues in bringing a species back ... But our primary concern is, if we were to bring something back, why are we doing it? Are we doing it because it's something cool to do, or because it's valuable for the ecosystem?" Moehrenschlager said an interview that airs on CBC's Quirks & Quarks on Saturday.... According to Moehrenschlager, the most important question is, "is this reversible?" In other words, could we undo the reintroduction of a previously extinct species into an ecosystem? It's a vital question because there may be risks associated with de-extinction that scientists cannot accurately predict. ...



Wed, May 7, 2014


from London Guardian:


Religious leaders should divest from fossil fuels, says UN climate chief
Religious leaders should pull their money out of investments in fossil fuel companies and encourage their followers to do the same, according to the UN's climate chief. Christiana Figueres, who is speaking at St Pauls Cathedral on Wednesday night, urges faith groups to "find their voice" and "set their moral compass" on climate change, in an article published in the Guardian. Students and other groups have been campaigning in the US and Europe to encourage universities, local authorities and investors to divest from fossil fuel interests. ...



Wed, May 7, 2014


from Climate Progress:


Stanford University Will Purge Coal Investments From Its $18.7 Billion Endowment


Stanford University announced Tuesday it would divest from the coal industry, making it the first major university to do so. The university's internal guidelines allow the Board of Trustees to consider whether the "policies or practices" of companies they invest in "create substantial social injury." Following a five-month review process, an advisory panel that included students, faculty, staff and alumni recommended that stocks from companies "whose principal business is coal" be sold off and excluded from any future investments. On Tuesday, the Board voted to follow through on that conclusion. ...




Tue, Apr 29, 2014


from The Canadian Press, via HuffingtonPost:


Northern Gateway Pipeline Rejected By B.C. First Nation
A group of First Nations with territory covering a quarter of the route for the proposed Northern Gateway oil pipeline met with federal representatives Friday to officially reject the project.... "We do not, we will not, allow this pipeline," Peter Erickson, a hereditary chief of the Nak'azdli First Nation, told the six federal bureaucrats. "We're going to send the message today to the federal government and to the company itself: their pipeline is dead. Under no circumstances will that proposal be allowed. "Their pipeline is now a pipe dream."... The bands said the project is now banned from Yinka Dene territories, under their traditional laws. Members young and old of the Nadleh Whut'en, Nak'azdli, Saik'uz, Takla Lake, Tl'azt'en and Wet'suwet'en communities were unanimous. They said the decision by the four clans marks the end of negotiations. ...



Mon, Apr 14, 2014


from Des Moines Register:


Rare partnership in Fairfield delivers veggies to kids
...there, tucked behind a nondescript factory, is a new greenhouse, sprouting spinach, radishes, pea shoots, greens and lettuce on a cold April day, thanks to its industrial partner next door. In a unique experiment, Swinton is growing veggies by tapping unused heat from her neighbor, Schaus-Vorhies Kleaning, a company that uses heat up to 1,600 degrees to clean and sometimes strengthen metals. Swinton said the greenhouse is the first of its kind in Iowa, possibly the nation, and could become a demonstration project for others wanting to bring more locally grown fruits and vegetables to U.S. schoolchildren, especially in cold-weather locations like Iowa. "It's pioneering. The concept of taking unused industrial heat for greenhouse production has been talked about, but few have developed it," said Matt Russell, a state food policy project coordinator at Drake University's Agricultural Law Center. ...



Fri, Apr 11, 2014


from Chicago Tribune:


Ikea investing in Illinois wind farm
Home goods giant Ikea is building a wind farm in downstate Illinois large enough to ensure that its stores will never have to buy a single kilowatt of power again.... With the project, Ikea's first wind investment in the U.S., the company is among a growing number of companies taking care of their energy needs by buying or investing in power produced by the wind and sun. Microsoft announced late last year it would purchase power from a 55 turbine wind farm in Texas. At the same time, Facebook announced it would power its new Iowa data center using wind energy from a wind farm MidAmerican Energy is constructing in the state. Over the last few years, Google has been ticking up its wind power purchases and investing in wind projects in Iowa, Oklahoma and Texas. The American Wind Energy Association credits big box retailer Wal-Mart Stores Inc. with starting the trend in 2008 when it made a substantial purchase of wind energy from a Duke Energy-owned wind farm in Texas. ...



Mon, Mar 10, 2014


from New York Times:


Use of Public Transit in U.S. Reaches Highest Level Since 1956, Advocates Report


More Americans used buses, trains and subways in 2013 than in any year since 1956 as service improved, local economies grew and travelers increasingly sought alternatives to the automobile for trips within metropolitan areas, the American Public Transportation Association said in a report released on Monday. The trade group said in its annual report that 10.65 billion passenger trips were taken on transit systems during the year, surpassing the post-1950s peak of 10.59 million in 2008, when gas prices rose to $4 to $5 a gallon. ...




Thu, Jan 23, 2014


from Baton Rouge Advocate:


Poll: Most Louisianians see climate change as serious problem


In a state not known for progressive thinking on the environment, a recent poll showed 72 percent of Louisiana residents believe climate change is a serious problem that threatens everyone, in sharp contrast to what many elected leaders have said and done about the issue. ...




Thu, Jan 9, 2014


from San Francisco Chronicle:


Global warming warning stickers at gas pumps?
...A group of Bay Area environmentalists wants to slap warning stickers on gasoline pumps, telling drivers that the fuel they're buying is cooking the planet. The stickers would constantly remind consumers of the link between driving and climate change. "Human beings are not really wired for seeing the cause and effect of climate change," said Jamie Brooks, with the Bay Area chapter of 350.org. "The cause is burning fossil fuels, but we're not going to feel the effects until well into the future. There's no immediate signal to a consumer of gasoline to show their effects on climate." ...






Want more context?


Try reading our book FREE online:
Humoring the Horror of the Converging Emergencies!
More fun than a barrel of jellyfish!
Mon, Dec 2, 2013


from Springfield News-Leader:


New Springfield school to use less energy
The new Sherwood Elementary will be built to use as little energy as possible. The Springfield school board recently gave the go-ahead for architects and engineers to design a 450-student building at 2524 S. Golden Ave. that dramatically reduces energy usage. That decision also leaves open the possibility of eventually adding a renewable energy source to transform Sherwood into the state's first school capable of achieving a "net zero" rating, meaning it generates as much energy as it consumes. ...



Tue, Aug 20, 2013


from USA Today:


The USA is getting its goats


Cities, residents and even airports are bringing in herds to clear overgrown parcels of land as an alternative to using chemicals... Goats have been used to clear brush worldwide for centuries, but they're now "catching on" in the eastern USA as a sustainable method to clear land, and more companies are deploying the animals, says Brian Knox, president of Sustainable Resource Management, which focuses on the protection and management of natural resources. ...




Wed, Jun 5, 2013


from CNN:


Nepalese farmers go organic with human waste
Jeevan Maharjan has a different approach to human waste -- he considers it as wealth. Rather than flush it down the toilet, the 47-year-old Nepalese farmer collects it to spray on his crops. "It's three times better than chemical fertilizers," he said .... The urine and feces are stored in separate airtight compartments of the toilet, he said, for later use on the land. The urine is kept for about two weeks before it is used, while the feces, which is turned into manure, is used every six months. ...



Tue, May 14, 2013


from US Pirg:


New Report: Reduction in Driving Likely to Continue
As the average number of miles driven by Americans heads into its eighth year of decline, a new report from the U.S. PIRG Education Fund finds that the slowdown in driving is likely to continue. Baby Boomers are moving out of the phase in their life when they do the most commuting, while driving-averse Millennials move into that phase. These demographic changes and other factors will likely keep driving down for decades... The Millennial generation is leading the change in transportation trends. 16 to 34-year-olds drove a whopping 23 percent fewer miles on average in 2009 than in 2001" the greatest decline in driving of any age group. ...



Mon, Apr 29, 2013


from University of Washington:


Grocery Delivery Service Is Greener Than Driving to the Store
At the end of a long day, it can be more convenient to order your groceries online while sitting on the living room couch instead of making a late-night run to the store. New research shows it's also much more environmentally friendly to leave the car parked and opt for groceries delivered to your doorstep. University of Washington engineers have found that using a grocery delivery service can cut carbon dioxide emissions by at least half when compared with individual household trips to the store. Trucks filled to capacity that deliver to customers clustered in neighborhoods produced the most savings in carbon dioxide emissions. ...



Wed, Apr 3, 2013


from Indiana Living Green:


Doctor/farmer/medicine man: Kevin Logan moves from pharm to farm


....growing numbers of patients have discovered Logan's mind-body-spirit approach to wellness--one that focuses less on treating symptoms and more on identifying their root cause. One of the biggest root causes of health problems is diet. "In cases of chronic illness, incorporating dietary changes into patients' lives really makes a world of difference in how they feel. I talk about food all day long with my patients, the things they should be eating, the things they should be avoiding. I see things that you wouldn't even expect would be food-related." ...




Tue, Feb 5, 2013


from The Daily Caller:


Economist advocates working less to alleviate global warming, US should adopt European approach to productivity
A Center for Economic Policy Research paper released Monday claims that reducing work hours could result in a significant reduction of greenhouse gases, and with it Global Warming. "The calculation is simple: fewer work hours means less carbon emissions, which means less global warming, the paper's author CEPR's David Rosnick explained.... "For many years, European countries have been reducing work hours -- including by taking more holidays, vacation, and leave -- while the United States has gone the route of increased production." ...



Thu, Jan 3, 2013


from NUVO:


Hestia displays CO2 emissions at street level
A team of researchers led by Kevin Gurney, a professor and researcher at Arizona State University, has recently developed a model that can predict carbon emissions on the street level. This model, named "Hestia" after the Greek goddess of the hearth, may prove essential in curbing and perhaps slowing the effects of global warming. One of the model's first publicized runs utilized Indianapolis, providing the city with tangible emissions data while positioning Indianapolis as a strong representative for carbon emissions modeling nationally. Currently, the model tracks carbon emissions, particularly carbon dioxide, the compound most responsible for global warming. ...



Tue, Jan 1, 2013


from Inter Press Service:


Bicycles No Longer Mere Recreation in Argentine Capital
A programme launched in Buenos Aires three years ago to encourage the use of bicycles has already brought results: the use of this environment-friendly means of transport has increased fivefold in the Argentine capital. ...



Mon, Nov 19, 2012


from Sydney Morning Herald:


Little fish in a big pond save power - and the planet
EVEN as a kid taking a dip in a friend's swimming pool, Derek Spielman would think about how it would be much better if it was full of turtles. Now his own backyard swimming pool is one of 50 on Sydney's north shore that have been turned into ponds, saving thousands of dollars on power and water bills. There are no turtles, but Dr Spielman's pool at his home in Gordon is swarming with native fish, such as empire and spotted gudgeons and Pacific blue eye. It's noisy with a chorus of frogs and full of water lilies and other aquatic plants, attracting native birds, dragonflies and bees.... ...



Mon, Nov 5, 2012


from Los Angeles Times:


Sandy a galvanizing moment for climate change?
One Sunday afternoon in 1969 the filthy, oil-coated Cuyahoga River in Ohio caught fire and quickly became a potent symbol of industrial pollution, helping galvanize public opinion and set the stage for passage of national environmental laws the following decade. The combination of Hurricane Sandy and New York Mayor Michael Bloomberg's announcement that he was endorsing President Obama largely because of Obama's actions on global warming could do the same thing for climate change, say scientists and political observers. ...



Tue, Oct 9, 2012


from The Daily Climate:


Churches deliver a jolt of energy to Michigan renewables measure
DETROIT -- A renewable energy initiative on Michigan's ballot is finding support in an unlikely place -- churches. "As a pastor, I look at the call in the first book of Genesis, to care for the Earth, and to the gospels' call to love thy neighbor," said the Rev. Terry Gallagher, a pastor at Sacred Conversation in Trenton, Mich. "If we don't change energy paths, we're dooming the future of the Earth." The Renewable Energy Amendment would mandate that Michigan get 25 percent of its electricity from renewable resources by 2025. The proposal was filed by Michigan Energy, Michigan Jobs, a coalition of state businesses, labor organizations and health care advocates. The amendment has drawn national attention because it would make Michigan the first state to have a renewable energy standard in its constitution. Now some churches in the state have lent their support. ...



Thu, Sep 20, 2012


from Think Progress:


Republican Meterologist To Romney: Top 10 Reasons The GOP Needs To Accept The Climate Reality
...As a Republican business owner, entrepreneur, meteorologist and father of two upbeat, optimistic boys, I may not fit the stereotype of a "global warming alarmist." I'm an Evangelical Christian. I'm enthusiastic about streamlining government and letting the markets work. But unlike some, I see no inherent struggle between my faith and the ability of science to improve our understanding of the world. The Creator gave me a brain, to think and reason, and react to facts on the ground. And I'm disillusioned, because some in my party are pro-science-denial, and on the wrong side of history ... Will the GOP rise to the occasion, or bet the farm on carbon, and ask our grandkids to deal with the mess? It's time for bold leadership. Climate change is a threat, but it is also an opportunity to transition to a cleaner, greener, more sustainable economy. American Exceptionalism shouldn't stop when it comes to innovating new energy sources. We have the technology and entrepreneurial DNA to mitigate climate change, foster innovative, job-producing clean energy technologies, and reinvent America's economy. Let's put it to work, Governor Romney. As one prominent supporter said at the convention: "Go ahead, make my day!" ...




You're still reading! Good for you!
You really should read our short, funny, frightening book FREE online (or buy a print copy):
Humoring the Horror of the Converging Emergencies!
We've been quipping this stuff for more than 30 months! Every day!
Which might explain why we don't get invited to parties anymore.
Tue, Sep 18, 2012


from TakePart:


I, River: In New Zealand, the Whanganui River Becomes a Legal Person
If corporations are people now, why can't rivers be? Under a landmark agreement, signed in New Zealand earlier this summer, the Whanganui River has become a legal entity with a legal voice. The agreement is the result of over a hundred years of advocacy by the Whanganui iwi, an indigenous community with a long history of reliance on the river and its bountiful natural resources. The Whanganui, the third longest river in New Zealand, will be recognized as a person under the law "in the same way a company is, which will give it rights and interests," Christopher Finlayson, a spokesperson for the Minister of Treaty Negotiations, told the New Zealand Herald. ...



Tue, Sep 11, 2012


from Anchorage Daily News:


Drifting sea ice halts Shell's Arctic drilling
Royal Dutch Shell halted drilling in the Chukchi Sea on Monday -- one day after it began -- because of sea ice moving toward the company's drill ship off Alaska. Shell Alaska spokesman Curtis Smith said drilling was stopped as a precautionary measure in accordance with its ice management plan. Environmental groups say the complication illustrates the dangers of working in the Arctic. The Wilderness Society said Shell, faced with a shortened drilling season, was trying to mark its space in the Arctic whether or not it was ready to drill. ...



Tue, Sep 11, 2012


from Charleston Gazette:


Anti-mountaintop-removal activist Larry Gibson dies
Renowned environmentalist and mountaintop removal opponent Larry Gibson died of a heart attack Sunday afternoon while working on Kayford Mountain -- the place he dedicated his life to protecting. Gibson spent decades rallying against the coal industry's impact on Appalachia and was named one of CNN's "Heroes" in 2007. He appeared on ABC's 20/20, traveled the country speaking out against mountaintop removal mining and testified before the United Nations with his signature slogan "Love 'em or leave 'em, just don't destroy 'em." ...



Tue, Sep 4, 2012


from Minneapolis Star Tribune:


Eco-Village: Sustainable, affordable
...The project is the largest of its kind in the nation for Habitat for Humanity, the sixth-biggest U.S. home builder last year ... It'll also serve as a national model, showing for-profit developers that homes can be both energy-efficient and economical on a large scale... Susan Roeder, manager of corporate affairs for Andersen Corp., and more than 50 volunteers from that company were recently on-site, helping ready the concrete foundations. They installed trusses and floor decking as well as set up the wall system. Roeder said the company's foundation donated $100,000, along with energy-efficient windows for all 18 homes. The company will also make ... The City of River Falls donated the 7.5-acre parcel. ...



Tue, Jul 24, 2012


from New York Times:


Browsing in Copenhagen's "Bicycle Library"
If you're visiting Copenhagen, chances are you can rent a bicycle from your hotel. Or you can head down to the Bicycle Innovation Lab, home to the city's new "bicycle library." There, once you have put down a 500-krone ($80) returnable deposit, you can check out any of the bikes on hand and ride around for a few days. (You can also book online.) ...



Tue, Jul 10, 2012


from London Guardian:


Canada's PM Stephen Harper faces revolt by scientists
Canada's prime minister, Stephen Harper, faces a widening revolt by the country's leading scientists against sweeping cuts to government research labs and broadly pro-industry policies. The scientists plan to march through Ottawa in white lab coats on Tuesday in the second big protest in a month against the Harper government's science and environmental agenda. Harper is accused of pushing through a slew of policies weakening or abolishing environmental protections -- with an aim of expanding development of natural resources such as the Alberta tar sands. ...



Tue, Jun 12, 2012


from London Guardian:


Rest in fleece: demand soars for woollen coffins
Coffins made from British wool fleeces are growing in popularity thanks to an increasing number of Britons choosing to take their commitment to a greener life beyond the grave by planning for an environmentally sound send-off. In the past year, Hainsworth, one of the UK's leading textile mills, has witnessed a 700 percent rise in demand for its woollen coffins. ...



Tue, May 22, 2012


from Yale University:


Americans Support National Clean-Energy Standard
The average U.S. citizen is willing to pay 13 percent more for electricity in support of a national clean-energy standard (NCES), according to Yale and Harvard researchers in Nature Climate Change. Americans, on average, are willing to pay $162 per year in higher electricity bills to support a national standard requiring that 80 percent of the energy be "clean," or not derived from fossil fuels. Support was lower for a national standard among nonwhites, older individuals and Republicans. ...



Mon, May 21, 2012


from TIME:


Does Organic Food Turn You into a Jerk?
Are these strawberries organic? Is this omelette made with free-range eggs? Can you swap out the rice for quinoa? Is this kale locally sourced? Pesticide-free? Fair trade? Are the hazelnuts local? The onslaught of questions from an enlightened eater can test the patience of even the calmest restaurant server. And a new study shows that organic foodies' humane regard for the well-being of animals makes some people rather snobbish. The report, published last week in the Journal of Social Psychological & Personality Science, notes that exposure to organic foods can "harshen moral judgments." ...



Tue, May 1, 2012


from Indiana Living Green:


Survey says Americans not so divided on energy issues
In an election year where partisan disputes take center stage, Americans across the board are finding common ground in the need for clean, innovative energy, according to a new survey. The survey, conducted March 22-25, 2012, of 1,019 Americans, for the Civil Society Institute (CSI) -- a nonprofit, nonpartisan think tank -- found that the majority of citizens agree it is imperative for the United States to sever its dependence on dirty energy. The study found that 83 percent of Americans -- comprised of 69 percent of Republicans, 84 percent of Independents and 95 percent of Democrats -- agree that "The time is now that for a new grassroots-driven politics to realize a renewable energy future." ...



Mon, Mar 19, 2012


from The Oregonian:


It's a comeback story: Bald eagles rebound from near extinction
...Bald eagles are back, baby. They're out on Sauvie Island, around Bend, up at Wallowa Lake and throughout the lower Columbia River. Drive down Interstate 5 in late winter and you may see them in bright green fields along the freeway. Ride your bike along Portland's Springwater Trail and it's common to see a baldie giving a baleful stare from tree or transmission tower. The state wildlife commission took bald eagles off the state endangered species list this month; it was removed from the federal list in 2007. ...



Wed, Feb 22, 2012


from Reuters:


New York judge upholds fracking ban in towns
In a blow to the oil and gas industry, a judge has ruled small towns in New York have the authority to ban drilling -- including the controversial method known as fracking -- within their borders. In a ruling released late Tuesday, state Supreme Court Justice Phillip Rumsey of Tompkins County held that the Ithaca suburb of Dryden's recent ban on gas drilling falls within the authority of local governments to regulate local land use. ...



Fri, Dec 23, 2011


from ClimateWire:


The 'Wild West' of waste treatment makes energy and profits from sewage plants
Most Americans flush the toilet without thinking twice about where the contents end up, but a handful of companies are paying close attention to what goes down the drain. They argue it should be seen as a resource rather than waste... That's where sewage-to-energy comes in. Industry estimates show that if all biosolids in the United States were converted into biomass energy, they would produce 7 million to 7.6 million megawatts of power. By way of comparison, the current installed capacity of wind power in the United States is around 43,000 MW. ...



Thu, Oct 27, 2011


from Christian Science Monitor:


'Unearthly' beauty tops jobs? Obama freezes mining near Grand Canyon.
Teddy Roosevelt can rest easy. The Obama administration on Wednesday formally unveiled a plan to ban new uranium and other mining claims on 1 million acres of federal lands bordering the Grand Canyon for 20 years -- a move that follows in the footsteps of the 26th president's efforts in the early part of last century. ...



Tue, Sep 27, 2011


from Environmental Health News:


Organic farming reduces antibiotic resistant bacteria.
Antibiotic-resistant bacteria were less common on chicken farms that had recently switched to organic farming practices when compared to those that continued to use conventional farming practices, finds a study of organic poultry farms in the Mid-Atlantic region of the United States. The results are published online in the journal Environmental Health Perspectives. The results show that reducing nontherapeutic use of antibiotics also reduces antibiotic-resistant bacteria in chickens and their waste materials. It is one of the first to examine the changes on farms in the United States. The findings agree with prior studies from Europe and Asia that report similar results: less antibiotic use means fewer resistant bacteria in the animals and food products. In conventional chicken farming, antibiotic use goes beyond just treating sick chickens. The drugs are often added to feed to promote the growth of chickens living in crowded poultry houses. Antibiotics use increased during the 1990s and a large portion of that increase was due to these so-called nontherapeutic uses. However, this kind of overuse can increase antibiotic-resistant bacteria in the facilities. The bacteria can then spread to people by either direct contact with the animals, through the handling and eating of meat products and via manure spread on crops and farmland. ...



Wed, Sep 14, 2011


from The Daily Climate:


Al Gore is back
He has shared the Nobel Prize, won an Emmy, was the subject of an Oscar-winning documentary, served as vice president and took the popular vote for the presidency. Few can point to so many achievements as Al Gore, yet few have fallen so flatly with the public they strive to inspire. Five years after An Inconvenient Truth hit the big screen, Gore is back trying to whip up public awareness on climate change with a revised version of his now-famous slide show... some media observers say, is that Al Gore has become the brand: No one else with anything approaching his stature has taken up the climate cause, yet his personality is wooden and his style didactic. ...



Tue, Aug 23, 2011


from ABC News:


Jon Huntsman Comes Out Swinging Against GOP Rivals
Former Utah Governor and U.S. Ambassador to China Jon Huntsman came out swinging against his rivals for the Republican presidential nomination, taking aim at Texas Gov. Rick Perry and Rep. Michele Bachmann for statements made on the campaign trail about global warming, gas prices, and the Federal Reserve. Huntsman warned that his opponents' stances on the "extreme end" may make them "unelectable" in the general election.... "The minute that the Republican Party becomes the party -- the anti-science party, we have a huge problem," Huntsman told ABC News Senior White House correspondent Jake Tapper. "We lose a whole lot of people who would otherwise allow us to win the election in 2012." "When we take a position that isn't willing to embrace evolution, when we take a position that basically runs counter to what 98 of 100 climate scientists have said -- about what is causing climate change and man's contribution to it, I think we find ourselves on the wrong side of science, and, therefore, in a losing position," Huntsman added. ...



Thu, Jan 20, 2011


from BBC:


Dutch scientist advocates bugs as a green superfood


Dutch scientist Arnold van Huis has advocated bugs as a healthy, green, alternative food, saying it is time to break old eating habits. Insect dishes could be the answer to the global food crisis, shrinking land and water resources and climate-changing carbon emissions, he argued... The professor at Wageningen University said insects had more protein than cattle per bite, cost less to raise, consumed less water and did not have much of a carbon footprint. ...




Thu, Jan 13, 2011


from Washington Post:


New global network to precisely measure emissions
A D.C. area company and the Scripps Institution of Oceanography will announce Wednesday that they are launching an ambitious project that aims to precisely gauge how human activity is affecting the climate. The $25 million, five-year commercial venture will include 50 sensors in the United States and another 50 around the world to measure atmospheric greenhouse gas concentrations. Most governments and industries estimate their carbon footprint based on an inventory of the fossil fuels they burn, the trees they cut or the landfills they create; this technology will allow experts to quantify how much carbon dioxide and methane has entered the air. ...



Wed, Jan 5, 2011


from London Independent:


Tax on carbon: The only way to save our planet?
Professor James Hansen's last formal engagement was delivering a keynote paper to the American Geophysical Union Autumn meeting. After that, he spent the holidays not enjoying wintry walks or taking advantage of the sales, but doing something altogether more industrious. "I'm writing a paper to provide the scientific basis for [law] suits against the government - just to make them do their job," he says..."I realised that if we [scientists] don't help to connect the dots from what the science says to what the implications are for policy, then those dots get connected by people who have special interests," says Hansen, explaining his decision. "I think scientists are able to be objective. Governments just don't face the facts clearly. And it's scary because as scientists we can see what the implications are for our own children and grandchildren." ...



Thu, Dec 30, 2010


from Reuters:


Italy To Ban Plastic Shopping Bags
Italy, one of the top users of plastic shopping bags in Europe, is banning them starting January 1, with retailers warning of chaos and many stores braced for the switch. Italian critics say polyethylene bags use too much oil to produce, take too long to break down, clog drains and easily spread to become eye sores and environmental hazards. Italians use about 20 billion bags a year -- more than 330 per person -- or about one-fifth of the total used in Europe, according to Italian environmentalist lobby Legambiente. Starting on Saturday, retailers are banned from providing shoppers polyethylene bags. They can use bags made of such material as biodegradable plastic, cloth or paper. ...



Thu, Nov 25, 2010


from London Daily Telegraph:


Ice core on public display in new drive to educate public on climate change
The Science Museum is the first institution in the world to put an "ice core" on display. The three foot high block of ice was drilled from beneath the Antarctic in 1989 by the British Antarctic Survey. The core was taken from almost 200ft beneath the top of the ice, where the snow was laid down in layers hundreds of years ago, trapping the air. It was brought back to England as part of efforts to try and understand the past climate and how greenhouse gases have affected temperatures...This suggests that carbon dioxide causes global warming, prompting concern that the unprecedented growth in carbon since the industrial revolution could cause catastrophic climate change. ...



Wed, Nov 17, 2010


from Climatewire:


The 'Fate of the World' Will Soon Be in Your Hands (Virtually Speaking)
...A British game designer is launching "Fate of the World," a climate change video game giving the gamer total control of the world's energy economy -- and a bird's-eye view of what happens if he or she flips the wrong switches. In a way, a computer game is the perfect medium for the topic. Part of the reason U.S. action is so lukewarm, environmentalists have complained, is that climate's too big to grasp. Carbon dioxide is invisible, and its consequences are too far away. The likely consequences -- future floods, drought, famine -- lack a personal touch. ...



Tue, Sep 21, 2010


from Melbourne Age:


Call for mandatory 'green' study
University students would be required to undertake "environmental literacy" subjects covering basic climate science and how their chosen field of study contributes to climate change under a proposal from the National Tertiary Education Union. The union, which represents academics and other university staff, says students are not being prepared well enough for the challenges posed by climate change under current curriculums, particularly those destined to work in high emissions industries. "The understanding of climate science is going to be essential for everyone in the future," the union's NSW secretary, Genevieve Kelly, said. "It shouldn't just be limited to people studying environmental science or choosing to focus on the environmental aspects of their discipline. It's a vital educational outcome." ...



Tue, Aug 31, 2010


from Washington Post:


Judge rejects Ken Cuccinelli's probe of U-Va. global warming records
A Virginia judge on Monday dismissed a civil subpoena issued by Attorney General Ken Cuccinelli II to the University of Virginia that had sought documents related to the work of a global warming scientist and former university professor.... Cuccinelli, a vocal global warming skeptic who has contended that climate scientists have colluded to skew data, said he thinks that the documents are key to deciding whether to launch a fraud investigation into Mann's work. He said he plans to reissue the demand, crafting it with the judge's ruling in mind. He indicated that he might appeal portions of the ruling. ...



Sun, Apr 11, 2010


from CanWest News Service:


Scientists turn to Inuit traditions to collect data on Arctic weather
Using traditional Inuit weather knowledge passed down through generations, environmental scientists have uncovered new data on Arctic climate change. In a study appearing this month in the journal Global Environmental Change, researchers working closely with Inuit elders were able to "zero in on what we'd been hearing from the Inuit people for a number of years," said Elizabeth Weatherhead, chief author of the study and environmental scientist at the University of Colorado at Boulder... the study found Inuit consider a number of environmental factors when predicting the weather, such as interactions between wind, ocean currents, cloud formations and animal behaviour. The researchers were able to use that traditional knowledge to find evidence of the changes Inuit were describing. ...



Copyright 2009 The Apocadocs.com