---
SEARCH
---
OUR BOOK
IS NOW
IN PRINT!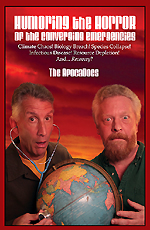 Humoring the Horror
of the
Converging Emergencies
94 color pages
$24.99
Read FREE online!

---
Explore: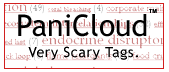 Play: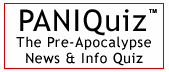 It's weekly, funny, and free!
Play: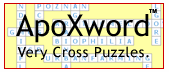 Click for paper-free fun!
Ads for potentially
microfunding this site:


Apocadocument
Weekly Archives:

Sep 26 - Dec 31, 1969
Sep 19 - Sep 26, 2011
Sep 12 - Sep 19, 2011
Sep 5 - Sep 12, 2011
Aug 29 - Sep 5, 2011
Aug 22 - Aug 29, 2011
Aug 15 - Aug 22, 2011
Aug 8 - Aug 15, 2011
Aug 1 - Aug 8, 2011
Jul 25 - Aug 1, 2011
Jul 18 - Jul 25, 2011
Jul 11 - Jul 18, 2011
Jul 4 - Jul 11, 2011
Jun 27 - Jul 4, 2011
Jun 20 - Jun 27, 2011
Jun 13 - Jun 20, 2011
Jun 6 - Jun 13, 2011
May 30 - Jun 6, 2011
May 23 - May 30, 2011
May 16 - May 23, 2011
May 9 - May 16, 2011
May 2 - May 9, 2011
Apr 25 - May 2, 2011
Apr 18 - Apr 25, 2011
Apr 11 - Apr 18, 2011
Apr 4 - Apr 11, 2011
Mar 28 - Apr 4, 2011
Mar 21 - Mar 28, 2011
Mar 14 - Mar 21, 2011
Mar 6 - Mar 14, 2011
Feb 27 - Mar 6, 2011
Feb 20 - Feb 27, 2011
Feb 13 - Feb 20, 2011
Feb 6 - Feb 13, 2011
Jan 30 - Feb 6, 2011
Jan 23 - Jan 30, 2011
Jan 16 - Jan 23, 2011
Jan 9 - Jan 16, 2011
Jan 2 - Jan 9, 2011
Dec 26 - Jan 2, 2011
Dec 19 - Dec 26, 2010
Dec 12 - Dec 19, 2010
Dec 5 - Dec 12, 2010
Nov 28 - Dec 5, 2010
Nov 21 - Nov 28, 2010
Nov 14 - Nov 21, 2010
Nov 7 - Nov 14, 2010
Nov 1 - Nov 7, 2010
Oct 25 - Nov 1, 2010
Oct 18 - Oct 25, 2010
Oct 11 - Oct 18, 2010
Oct 4 - Oct 11, 2010
Sep 27 - Oct 4, 2010
Sep 20 - Sep 27, 2010
Sep 13 - Sep 20, 2010
Sep 6 - Sep 13, 2010
Aug 30 - Sep 6, 2010
Aug 23 - Aug 30, 2010
Aug 16 - Aug 23, 2010
Aug 9 - Aug 16, 2010
Aug 2 - Aug 9, 2010
Jul 26 - Aug 2, 2010
Jul 19 - Jul 26, 2010
Jul 12 - Jul 19, 2010
Jul 5 - Jul 12, 2010
Jun 28 - Jul 5, 2010
Jun 21 - Jun 28, 2010
Jun 14 - Jun 21, 2010
Jun 7 - Jun 14, 2010
May 31 - Jun 7, 2010
May 24 - May 31, 2010
May 17 - May 24, 2010
May 10 - May 17, 2010
May 3 - May 10, 2010
Apr 26 - May 3, 2010
Apr 19 - Apr 26, 2010
Apr 12 - Apr 19, 2010
Apr 5 - Apr 12, 2010
Mar 29 - Apr 5, 2010
Mar 22 - Mar 29, 2010
Mar 15 - Mar 22, 2010
Mar 7 - Mar 15, 2010
Feb 28 - Mar 7, 2010
Feb 21 - Feb 28, 2010
Feb 14 - Feb 21, 2010
Feb 7 - Feb 14, 2010
Jan 31 - Feb 7, 2010
Jan 24 - Jan 31, 2010
Jan 17 - Jan 24, 2010
Jan 10 - Jan 17, 2010
Jan 3 - Jan 10, 2010
Dec 27 - Jan 3, 2010
Dec 20 - Dec 27, 2009
Dec 13 - Dec 20, 2009
Dec 6 - Dec 13, 2009
Nov 29 - Dec 6, 2009
Nov 22 - Nov 29, 2009
Nov 15 - Nov 22, 2009
Nov 8 - Nov 15, 2009
Nov 1 - Nov 8, 2009
Oct 26 - Nov 1, 2009
Oct 19 - Oct 26, 2009
Oct 12 - Oct 19, 2009
Oct 5 - Oct 12, 2009
Sep 28 - Oct 5, 2009
Sep 21 - Sep 28, 2009
Sep 14 - Sep 21, 2009
Sep 7 - Sep 14, 2009
Aug 31 - Sep 7, 2009
Aug 24 - Aug 31, 2009
Aug 17 - Aug 24, 2009
Aug 10 - Aug 17, 2009
Aug 3 - Aug 10, 2009
Jul 27 - Aug 3, 2009
Jul 20 - Jul 27, 2009
Jul 13 - Jul 20, 2009
Jul 6 - Jul 13, 2009
Jun 29 - Jul 6, 2009
Jun 22 - Jun 29, 2009
Jun 15 - Jun 22, 2009
Jun 8 - Jun 15, 2009
Jun 1 - Jun 8, 2009
May 25 - Jun 1, 2009
May 18 - May 25, 2009
May 11 - May 18, 2009
May 4 - May 11, 2009
Apr 27 - May 4, 2009
Apr 20 - Apr 27, 2009
Apr 13 - Apr 20, 2009
Apr 6 - Apr 13, 2009
Mar 30 - Apr 6, 2009
Mar 23 - Mar 30, 2009
Mar 16 - Mar 23, 2009
Mar 9 - Mar 16, 2009
Mar 1 - Mar 9, 2009
Feb 22 - Mar 1, 2009
Feb 15 - Feb 22, 2009
Feb 8 - Feb 15, 2009
Feb 1 - Feb 8, 2009
Jan 25 - Feb 1, 2009
Jan 18 - Jan 25, 2009
Jan 11 - Jan 18, 2009
Jan 4 - Jan 11, 2009
Dec 28 - Jan 4, 2009
Dec 21 - Dec 28, 2008
Dec 14 - Dec 21, 2008
Dec 7 - Dec 14, 2008
Nov 30 - Dec 7, 2008
Nov 23 - Nov 30, 2008
Nov 16 - Nov 23, 2008
Nov 9 - Nov 16, 2008
Nov 2 - Nov 9, 2008
Oct 27 - Nov 2, 2008
Oct 20 - Oct 27, 2008
Oct 13 - Oct 20, 2008
Oct 6 - Oct 13, 2008
Sep 29 - Oct 6, 2008
Sep 22 - Sep 29, 2008
Sep 15 - Sep 22, 2008
Sep 8 - Sep 15, 2008
Sep 1 - Sep 8, 2008
Aug 25 - Sep 1, 2008
Aug 18 - Aug 25, 2008
Aug 11 - Aug 18, 2008
Aug 4 - Aug 11, 2008
Jul 28 - Aug 4, 2008
Jul 21 - Jul 28, 2008
Jul 14 - Jul 21, 2008
Jul 7 - Jul 14, 2008
Jun 30 - Jul 7, 2008
Jun 23 - Jun 30, 2008
Jun 16 - Jun 23, 2008
Jun 9 - Jun 16, 2008
Jun 2 - Jun 9, 2008
May 26 - Jun 2, 2008
May 19 - May 26, 2008
May 12 - May 19, 2008
May 5 - May 12, 2008
Apr 28 - May 5, 2008
Apr 21 - Apr 28, 2008
Apr 14 - Apr 21, 2008
Apr 7 - Apr 14, 2008
Mar 31 - Apr 7, 2008
Mar 24 - Mar 31, 2008
Mar 17 - Mar 24, 2008
Mar 10 - Mar 17, 2008
Mar 2 - Mar 10, 2008
Feb 24 - Mar 2, 2008
Feb 17 - Feb 24, 2008
Feb 10 - Feb 17, 2008
Feb 3 - Feb 10, 2008
Jan 27 - Feb 3, 2008
Jan 20 - Jan 27, 2008
Jan 13 - Jan 20, 2008
Jan 6 - Jan 13, 2008
Dec 30 - Jan 6, 2008
Dec 23 - Dec 30, 2007
Dec 16 - Dec 23, 2007
Dec 9 - Dec 16, 2007
Dec 2 - Dec 9, 2007
DocWatch




Tue, Aug 19, 2014


from Rodale News, via TruthOut:


New GMO Poised for Approval Despite Public Outcry
Despite its own admission that it will cause an up to sevenfold increase in chemical pesticide use, the United States Department of Agriculture (USDA) is poised to approve a new type of genetically engineered seed built to resist one of the most toxic weedkillers on the market. Now, total approval hinges on the Environmental Protection Agency. If that federal body approves the new GMO, farmers will be free to plant corn and soy seeds genetically manipulated to live through sprayings of Dow's "Enlist Duo" herbicide, a chemical cocktail containing both glyphosate and the antiquated, toxic chemical 2,4-D. Ironically, in the 1990s, chemical companies said the development of GMOs would eliminate the need to use older, more dangerous chemicals like 2,4-D. But as GMO use ramped up over the last few decades, chemical use increased, and many weeds are no longer responding to glyphosate, the main ingredient in Roundup and the current chemical of choice for GMO farmers. This has created a "superweed" crisis, resulting in millions of acres of U.S. fields' being infested with hard-to-kill weeds. ...



Sun, Mar 30, 2014


from Environmental Toxicology and Chemistry, via PubMed:


Pesticides in Mississippi air and rain: A comparison between 1995 and 2007.
Glyphosate and its degradation product, AMPA, were detected in ≥75 percent of air and rain samples in 2007, but were not measured in 1995. The 1995 seasonal wet depositional flux was dominated by methyl parathion (88 percent) and was >4.5 times the 2007 flux. Total herbicide flux in 2007 was slightly greater than in 1995, and was dominated by glyphosate. ...



Sun, Nov 24, 2013


from New York Times Review:


The Year the Monarch Didn't Appear
ON the first of November, when Mexicans celebrate a holiday called the Day of the Dead, some also celebrate the millions of monarch butterflies that, without fail, fly to the mountainous fir forests of central Mexico on that day. They are believed to be souls of the dead, returned. This year, for or the first time in memory, the monarch butterflies didn't come, at least not on the Day of the Dead. They began to straggle in a week later than usual, in record-low numbers. Last year's low of 60 million now seems great compared with the fewer than three million that have shown up so far this year. Some experts fear that the spectacular migration could be near collapse. "It does not look good," said Lincoln P. Brower, a monarch expert at Sweet Briar College.... Another major cause is farming with Roundup, a herbicide that kills virtually all plants except crops that are genetically modified to survive it. As a result, millions of acres of native plants, especially milkweed, an important source of nectar for many species, and vital for monarch butterfly larvae, have been wiped out. One study showed that Iowa has lost almost 60 percent of its milkweed, and another found 90 percent was gone. "The agricultural landscape has been sterilized," said Dr. Brower. ...



Tue, Feb 12, 2013


from Center for Public Integrity:


U.S. report urges deeper look into breast cancer's environmental links
A new federal advisory panel report makes a forceful case for more research into environmental causes of breast cancer, which was diagnosed in 227,000 women, killed 40,000 and cost more than $17 billion to treat in the United States last year. Compiled by the congressionally mandated Interagency Breast Cancer and Environmental Research Coordinating Committee, the report notes that most cases of breast cancer "occur in people with no family history," suggesting that "environmental factors -- broadly defined -- must play a major role in the etiology of the disease." Yet only a fraction of federal research funding has gone toward examining links between breast cancer and ubiquitous chemicals such as the plastic hardening agent bisphenol A; the herbicide atrazine; and dioxin, a byproduct of plastics manufacturing and burning... ...



Tue, Aug 7, 2012


from Mother Jones:


Biotech Giants Are Bankrolling a GMO Free-for-All
The so-called "Big Six" agrichemical companies--Monsanto, Syngenta, Dow Agrosciences, BASF, Bayer, and Pioneer (DuPont)--are sitting pretty. Together, they control nearly 70 percent of the global pesticide market, and essentially the entire market for genetically modified seeds. Prices of the crops they focus on--corn, soy, cotton, etc.--are soaring, pushed up by severe drought in key growing regions.... But two things could mess up the Big 6 here in the US: 1) any delay in the regulatory process for a new generation of seeds engineered for resistance to multiple herbicides; and 2) any major move to require labeling of foods containing GMOs, a requirement already in play in many other countries--including the European Union, China, Japan, and South Korea--and one for which the US public has expressed overwhelming support. Unsurprisingly, the Big 6 are investing millions of their vast profits into forestalling both of those menaces.... ...



Thu, Apr 26, 2012


from HuffingtonPost:


'Agent Orange Corn' Debate Rages As Dow Seeks Approval Of New Genetically Modified Seed
... The corn has been genetically engineered to be immune to 2,4-D, an ingredient used in Agent Orange that some say could pose a serious threat to the environment and to human health. Approval by the United States Department of Agriculture and Environmental Protection Agency would allow farmers to spray it far and wide without damaging their crops, boosting productivity for the agribusiness giant. Dow and its allies have insisted that their product is well tested, while industry regulators have so far overlooked critics' concerns.... "The scientific community has sounded alarms about the dangers of 2,4-D for decades," wrote opponents in their letter to Vilsack. "Numerous studies link 2,4-D exposure to major health problems such as cancer, lowered sperm counts, liver toxicity and Parkinson's disease. Lab studies show that 2,4-D causes endocrine disruption, reproductive problems, neurotoxicity, and immunosuppression." Some farmers have argued that the new herbicide, a combination of 2,4-D and glyphosate -- the active ingredient in Monsanto's bestselling Roundup weed killer -- is necessary to combat weeds that have become resistant to glyphosate alone. ...



Wed, Apr 18, 2012


from USAToday:


Farmers must spend more on herbicides as effectiveness fades
A much-used herbicide, which for years has helped farmers throughout the United States increase profits, is losing its effectiveness and forcing producers to spend more and use more chemicals to control the weeds that threaten yields. The problem is Roundup, a herbicide introduced in the 1970s, and its partner, Roundup Ready crop seeds, genetically modified to withstand Roundup's active ingredient, glyphosate. In 1996, Monsanto introduced Roundup Ready soybean, soon touted as a game changer. "It was an extremely valuable and useful tool for the past 15 years," said Bob Scott, extension weed scientist with the University of Arkansas. But now, weeds that Roundup once controlled are becoming resistant to glyphosate, Scott said. "It's a very, very serious issue here in the Delta," licensed crop consultant Joe Townsend said. "We're knee-deep in it." ...



Tue, Apr 3, 2012


from Mother Jones:


America's Top 10 Most-Polluted Waterways
If you are a fly-fisher, a rafter, or heck, just a person who drinks water, here is some troubling news: Our waterways are in rough shape. An eye-opening new report (PDF) from Environment America Research and Policy Center finds that industry discharged 226 million pounds of toxic chemicals into America's rivers and streams in 2010. The pollution included dead-zone-producing nitrates from food processors, mercury and other heavy metals from steel plants, and toxic chemicals from various kinds of refineries. Within the overall waste, the researchers identified 1.5 million pounds of carcinogens, 626,000 pounds of chemicals linked to developmental disorders and 354,000 pounds of those associated with reproductive problems. ...



Tue, Feb 14, 2012


from Tom Philpott, Mother Jones:


Dow and Monsanto Team Up on the Mother of All Herbicide Marketing Plans
Last summer, Roundup-resistant superweeds flourished in huge swathes of US farmland, forcing farmers to apply gushers of toxic herbicide cocktails and even resort to hand-weeding--not a fun thing to do on a huge farm. A recent article in the industrial-ag trade journal Delta Farm Press summed up the situation: "Days of Easy Weed Control Are Over."... Dow's new herbicide-resistant product promises to bring those days back. In its petition to the USDA to approve 2,4-D-resistant corn, the company explicitly pitched it as the answer to farmers' Roundup trouble. The 2,4-D trait will be "stacked" with Monsanto's Roundup trait to "generate commercial hybrids with multiple herbicide tolerances," the petition states. Note that the new product marks a point of collusion, not competition, between industry titans Dow and Monsanto--they plan to license the 2,4-D and Roundup traits to each other to form "stacked" hybrids.... The authors note that even by Dow and Monsanto's reckoning, a new stacked 2,4-D/Roundup-resistant product would immediately lead to an increase in herbicide use, because the companies have been advocating an herbicide program that combines current rates of Roundup use with a roughly equal amounts of 2,4-D. That's good for sales, but not so good for the environment.... [T]he advocacy group Beyond Pesticides points to both epidemiological and lab-based evidence linking it non-Hodgkin's lymphoma and other cancers. It's also an endocrine disruptor, Beyond Pesticides reports, meaning it can "interfere with the body's hormone messaging system and can alter many essential processes."... ...



Sat, Feb 11, 2012


from PRwatch:


Atrazine: A Molecular Bull in the Endocrine Shop
Atrazine is an herbicide primarily manufactured by the multinational conglomerate Syngenta and commonly used on commodity crops, forests, and golf courses. Its potential harmful effects on human health have been documented since the 1990s. As a consequence, atrazine has been "unauthorized" in the European Union since 2004 (and in some European countries since 1991). However, it is one of the most heavily used herbicides in the United States.... Dr. Porter also believes that the EPA registration process is flawed because the EPA tests and registers the active ingredient rather than the chemical cocktail that is sold. He explained that the products sold to pesticide applicators and consumers consist of the active ingredient -- in this case atrazine -- combined with "solvents and surfactants that promote rapid penetration of the skin and the respiratory surfaces." This potentially exacerbates the impact of the active ingredient. "Once inside an organism," Porter says, what chemical product labels refer to as "inert" ingredients "promote rapid entry across all cell membranes, and access to every cell in the body, from gonads to brain and sex activity centers."... ...



Wed, Oct 12, 2011


from University of Illinois, via EurekAlert:


Which direction are herbicides heading?
2,4-D is coming back. What many might consider a "dinosaur" may be the best solution for growers fighting weed resistance today, said Dean Riechers, University of Illinois associate professor of weed physiology. "Farmers can't imagine going back to 2,4-D or other auxin herbicides," Riechers said. "But herbicide resistance is bad enough that companies are willing to bring it back. That illustrates how severe this problem is." In a recently published article in Weed Science, Riechers and his team of research colleagues suggest that tank-mixing auxinic herbicides with glyphosate may be the best short-term option available to farmers interested in broad-spectrum, postemergence weed control. "Resistance has become a big problem," Riechers said. "In 1997, researchers predicted that glyphosate resistance would not be a big issue in Round-Up Ready crops. For the most part, they were right. But they underestimated a few weed species and resistance mechanisms."... Ideally, chemical companies would come up with a new herbicide to fight these resistant weeds. But new herbicide development is expensive and time-consuming. Riechers said he does not know of any new compounds on the horizon. "If we don't find completely novel and new herbicides, our next best bet is to mix glyphosate and another herbicide with relatively minor resistance problems," Riechers said. "Auxin resistance is not considered a huge problem in the United States, particularly in corn, soybean and cotton. It has only occurred in isolated incidences." ...



Fri, Sep 30, 2011


from Organic Gardening, via HuffingtonPost:


Are Herbicide Residues In Compost Damaging Plants?
Since 1999, gardeners have experienced serious problems with herbicides that do not readily break down in compost. Residential lawn trimmings, hay and straw, municipal green waste, and cow and horse manure are all common compost ingredients that have become vectors for delivering unwanted chemicals, causing plant damage in home gardens. The offending active ingredients--the part of an herbicide that actually kills weeds--include clopyralid, aninopyralid, and the newest, aminocyclopyrachlor. This last is now attracting attention as the active ingredient in DuPont's brand-named Imprelis.... Agroecologists and weed scientists are concerned about the potential misuse of these herbicides because of their relatively long persistence in the environment and potential for injury to nontargeted plants, says Ryan, adding that the companies that make and market them emphasize the products' safety to livestock but aren't doing enough in noting posttreatment problems among plants.... Ohio State University researchers found that when grass was treated with aminocyclopyrachlor and composted, it degraded by about 60 percent over 200 days, with plenty of the active ingredient remaining to do damage to susceptible crop plants--including beans, cucumbers, and tomatoes.... This past summer, additional problems were discovered as tree damage and death--mostly to shallow-rooted trees such as spruces and white pines--linked to Imprelis use were reported in more than 11 states from the Midwest to the East Coast. Still, DuPont and the Scotts MiracleGro Company are collaborating to develop and market to homeowners a new combination lawn fertilizer/herbicide containing aminocyclopyrachlor. Additional testing is being conducted, "so that we can provide the clearest guidance possible to consumers regarding the composting of grass clippings," says Lance Latham, spokesman for Scotts. ...



Sat, Sep 3, 2011


from The Ecologist:


Chemical warfare: the horrific birth defects linked to tomato pesticides
Carlitos, as they called him, was born with an extremely rare condition called tetra-amelia syndrome, which left him with neither arms nor legs.... Jesus had Pierre Robin Sequence, a deformity of the lower jaw. As a result, his tongue was in constant danger of falling back into his throat, putting him at risk of choking to death. The baby had to be fed through a plastic tube. Two days after Jesus was born, Maria Meza gave birth to Jorge. He had one ear, no nose, a cleft palate, one kidney, no anus, and no visible sexual organs. A couple hours later, following a detailed examination, the doctors determined that Jorge was in fact a girl. Her parents renamed her Violeta. Her birth defects were so severe that she survived for only three days.... In addition to living within one hundred yards of each other, Herrera, Maceda, and Meza had one other thing in common. They all worked for the same company, Ag-Mart Produce, Inc., and in the same vast tomato field. Consumers know Ag-Mart mainly through its trademarked UglyRipe heirloom-style tomatoes and Santa Sweets grape tomatoes, sold in plastic clamshell containers adorned with three smiling, dancing tomato characters named Tom, Matt, and Otto. 'Kids love to snack on this nutritious treat,' says the company's advertising.... A sign at the entry warned that the field had been sprayed by no fewer than thirty-one different chemicals during the growing season. Many of them were rated 'highly toxic,' and at least three, the herbicide metribuzin, the fungicide mancozeb, and the insecticide avermectin, are known to be 'developmental and reproductive toxins,' according to Pesticide Action Network. They are teratogenic, meaning they can cause birth defects. ...






Want more context?


Try reading our book FREE online:
Humoring the Horror of the Converging Emergencies!
More fun than a barrel of jellyfish!
Tue, Aug 23, 2011


from Mother Jones:


USDA Scientist: Monsanto's Roundup Herbicide Damages Soil
The problem goes beyond the "superweed" phenomenon that I've written about recently: the fact that farmers are using so much Roundup, on so much acreage, that weeds are developing resistance to it, forcing farmers to resort to highly toxic "pesticide cocktails." What Roundup is doing aboveground may be a stroll through the meadow compared to its effect below. According to USDA scientist Robert Kremer, who spoke at a conference last week, Roundup may also be damaging soil--a sobering thought, given that it's applied to hundreds of millions of acres of prime farmland in the United States and South America. Here's a Reuters account of Kremer's presentation: The heavy use of Monsanto's Roundup herbicide appears to be causing harmful changes in soil and potentially hindering yields of the genetically modified crops that farmers are cultivating, a US government scientist said on Friday. Repeated use of the chemical glyphosate, the key ingredient in Roundup herbicide, impacts the root structure of plants, and 15 years of research indicates that the chemical could be causing fungal root disease, said Bob Kremer, a microbiologist with the US Department of Agriculture's Agricultural Research Service.... McNeill explains that glyphosate is a chelating agent, which means it clamps onto molecules that are valuable to a plant, like iron, calcium, manganese, and zinc.... The farmers' increased use of Roundup is actually harming their crops, according to McNeill, because it is killing micronutrients in the soil that they need, a development that has been documented in several scientific papers by the nation's leading experts in the field. ...



Mon, Aug 15, 2011


from Scientific American blogs:


Myths: Busted - Clearing Up the Misunderstandings about Organic Farming
The article1, by a PhD candidate named Christie Wilcox, was compromised by a slew of elisions and exaggerations. If the intention was to myth-bust, mark this one a fail: The article spread new misconceptions about the methods of organic food production. As the co-manager of an urban farm2 that uses organic practices, I was annoyed by the distortions in the article. So I'm pleased that the Scientific American editors have dedicated some space for a rebuttal.... Any approved sprays must either be produced from a natural substance or, if they are synthetic, must be proven to "not have adverse effects on the environment" or "human health."... She writes: "Why the government isn't keeping a watch on organic pesticide and fungicide is a damn good question." Well, actually, the government is -- through the highly detailed rules regarding organic certification.5 Farmers hoping to be certified as organic must keep records covering the "production, harvesting, and handling" of their crops -- and maintain those records (including receipts for purchases of any off-farm inputs like sprays) for at least five years. Organic growers also submit to an annual on-site inspection from an organic certifier. Yes, the certifiers are independent, non-government agencies, but the level of scrutiny is intense. No, the government doesn't record the use of non-synthetic pesticides on organic farms. And neither does it record the use of synthetic pesticides on individual industrial farms. A national law, FIFRA (the Federal Insecticide, Fungicide, and Rodenticide Act), expressly forbids the EPA from requiring pesticide applicators to report how they use synthetic chemicals6. The only information the federal government collects on pesticide usage is at the aggregate level.... Still, given the demands of yearly on-site inspections, it's fair to say that organic-certified farmers, ranchers, and processors are the most highly regulated sector of the US food system and consent to far more oversight than any industrial farmer.... It would make more sense, then, to reverse Wilcox's question: Why the government requires far less reporting on the production methods of industrial farmers than it does reporting from organic farmers is a damn good question. The burden of proof seems askew. ...



Wed, Jul 6, 2011


from TreeHugger:


'Agent Orange' Being Used to Clear the Amazon
Agent Orange is one of the most devastating weapons of modern warfare, a chemical which killed or injured an estimated 400,000 people during the Vietnam War -- and now it's being used against the Amazon rainforest. According to officials, ranchers in Brazil have begun spraying the highly toxic herbicide over patches of forest as a covert method to illegally clear foliage, more difficult to detect than chainsaws and tractors. In recent weeks, an aerial survey detected some 440 acres of rainforest that had been sprayed with the compound -- poisoning thousands of trees and an untold number of animals, potentially for generations.... Last week, in another part of the Amazon, an investigation conducted by the agency uncovered approximately four tons of the highly toxic herbal pesticides hidden in the forest awaiting dispension. If released, the chemicals could have potentially decimated some 7,500 acres of rainforest, killing all the wildlife that resides there and contaminating groundwater. In this case, the individual responsible was identified and now faces fines nearing $1.3 million. ...



Wed, Jun 22, 2011


from BioCycle:


DuPont Herbicide Label Says 'Do Not Compost' Grass Clippings
So when Wilmington, Delaware-based DuPont began aggressively marketing a new post-emergent broadleaf herbicide to landscapers, lawn maintenance professionals and turfgrass managers -- under the name Imprelis and containing the active ingredient aminocyclopyrachlor -- some organics recyclers became concerned.... The red flag wasn't so much that the active ingredient sounded to the ear very much like other chemicals that have plagued the industry in recent years (and is in fact quite similar chemically). It had more to do with an ominous label restriction, which states: "Do not use grass clippings from treated areas for mulching or compost, or allow for collection to compost facilities. Grass clippings must either be left on the treated area, or, if allowed by local yard waste regulations, disposed of in the trash. Applicators must give verbal or written notice to property owners/property managers/residents not to use grass clippings from treated turf for mulch or compost." ...



Mon, May 16, 2011


from ACRES:


Glyphosate (RoundUp): 'Giving the Plant A Bad Case of AIDS' (PDF)
The difference with glyphosate is that it is not specific to just one mineral nutrient, but immobilizes many of them and doesn't affect a primary mechanism to cause death by itself. It merely turns off the plant's defense mechanisms so that soil-borne fungi that would normally take weeks to months to damage a plant can kill it in just a few days after glyphosate is applied. When they use the glyphosate-tolerant technology, they insert another gene that keeps that plant's defense mechanism going somewhat so you can put the glyphosate directly on the crop plant without having it killed.... It's not quite analogous, but you could say that what you're doing with glyphosate is you're giving the plant a bad case of AIDS. You've shut down the immune system or the defense system.... With an annual crop like corn or soybean, or like we had with the Texas male-sterile gene, it was a matter of just going back to our old genetics and eliminating those with the gene from the breeding program. Once you have it implanted in the plant though, there's no way to get it out. With a perennial, insect-pollinated plant [like alfalfa], I don't know of any way to eliminate it once it's distributed throughout an area as it could be very readily.... Some of that data shows that quite low levels of glyphosate are very toxic to liver cells, kidney cells, testicular cells, and the endocrine hormone system, and it becomes important because all of the systems are interrelated. We're finding fairly significant levels of glyphosate in manure.... But for the most part it's just been considered so safe that we closed our eyes and said there's no need to do any of that work. ...



Tue, Mar 15, 2011


from Science News:


Better by Design
...Many of today's chemicals -- in packaging, cleaning products, furniture and elsewhere -- go where they should not go and do more than they were designed to do. Bisphenol A, a common ingredient in polycarbonate plastics, has made headlines for getting into the body and interfering with tissue development and function (SN: 7/18/09, p. 5). Flame retardants new and old persist in the environment, contaminating soil, waterways and wildlife (SN: 4/24/10, p. 12). And a new analysis, reported online January 14 in Environmental Health Perspectives, finds that the blood and urine of 99 percent of pregnant American women tested contain a laundry list of chemical interlopers, including various PCBs, pesticides, PFCs, PBDEs, phthalates and the rocket-fuel ingredient perchlorate. Unless there is a fundamental shift in the way that chemicals are created from the outset, the next generation of compounds will probably be just as meddlesome... Currently more than 30 million metric tons of chemicals are produced in or imported to the United States each day, a quantity that would fill a line of tanker trucks 10,000 miles long. And industrial chemical production is expected to double in the next quarter century, outpacing population growth. ...



Sat, Feb 26, 2011


from Lavidalocavore:


New pathogen associated with RoundUp may be cause of rising animal miscarriages: Fascinating 'open letter' to Vilsack by emeritus professor
A team of senior plant and animal scientists have recently brought to my attention the discovery of an electron microscopic pathogen that appears to significantly impact the health of plants, animals, and probably human beings. Based on a review of the data, it is widespread, very serious, and is in much higher concentrations in Roundup Ready (RR) soybeans and corn--suggesting a link with the RR gene or more likely the presence of Roundup.... This is highly sensitive information that could result in a collapse of US soy and corn export markets and significant disruption of domestic food and feed supplies. On the other hand, this new organism may already be responsible for significant harm (see below). My colleagues and I are therefore moving our investigation forward with speed and discretion, and seek assistance from the USDA and other entities to identify the pathogen's source, prevalence, implications, and remedies.... For the past 40 years, I have been a scientist in the professional and military agencies that evaluate and prepare for natural and manmade biological threats, including germ warfare and disease outbreaks. Based on this experience, I believe the threat we are facing from this pathogen is unique and of a high risk status. In layman's terms, it should be treated as an emergency. ...



Sun, Jan 23, 2011


from PhysOrg:


Researchers develop a way to control 'superweed'
They pop up in farm fields across 22 states, and they've been called the single largest threat to production agriculture that farmers have ever seen. They are "superweeds" - undesirable plants that can tolerate multiple herbicides, including the popular gylphosate, also known as RoundUp - and they cost time and money because the only real solution is for farmers to plow them out of the field before they suffocate corn, soybeans or cotton.... Using a massive genetic database and a bioinformatic approach, Dow AgroSciences researchers identified two bacterial enzymes that, when transformed into plants, conferred resistance to an herbicide called "2,4-D," commonly used in controlling dandelions. The enzymes were successfully put into corn and soybean plants, and those new plants showed excellent resistance to 2,4-D, including no negative effects on yield or other agronomic traits. ...



Tue, Oct 19, 2010


from NSF/NCAR, via EurekAlert:


Drought may threaten much of globe within decades
The United States and many other heavily populated countries face a growing threat of severe and prolonged drought in coming decades, according to results of a new study by National Center for Atmospheric Research (NCAR) scientist Aiguo Dai. The detailed analysis concludes that warming temperatures associated with climate change will likely create increasingly dry conditions across much of the globe in the next 30 years. The drought may reach a scale in some regions by the end of the century that has rarely, if ever, been observed in modern times.... While regional climate projections are less certain than those for the globe as a whole, Dai's study indicates that most of the western two-thirds of the United States will be significantly drier by the 2030s.... "We are facing the possibility of widespread drought in the coming decades, but this has yet to be fully recognized by both the public and the climate change research community," Dai says. "If the projections in this study come even close to being realized, the consequences for society worldwide will be enormous." ...



Mon, Sep 20, 2010


from Irish Times:


Study finds danger in GM herbicide Glyphosate
Herbicides frequently used in conjunction with genetically modified soya are highly toxic and can cause damage to human health, a summary of scientific studies has claimed. Glyphosate, a chemical found in herbicides commonly used on GM crops, damages human embryonic cells and placental cells when exposed to concentrations below those recommended for agricultural use, according to the study which was published in Brussels last week. Most GM crops are engineered to tolerate glyphosate - the most common formulation of which is Roundup - a herbicide manufactured by US multinational Monsanto.... [The study] also found that mice, rabbits and rats fed genetically modified soya beans suffered serious health side affects including liver, kidney, heart and reproduction problems. ...



Thu, Aug 26, 2010


from New York Times:


Enviro Groups Cheer as Scientist Bombards Atrazine Manufacturer With Profane E-Mails
It sounds like fodder for a PR flap that might benefit the leading producer of the controversial herbicide atrazine: reams of explicit, taunting e-mails sent to company employees by a professor whose research on the health risks of their product had won nationwide notice.... Hayes' e-mails to Syngenta officials date to 2002, according to a 102-page file the atrazine manufacturer posted to its website to buttress an ethics complaint filed against the tenured biology professor last month. His communiques run the gamut from spoken-word poetry to music lyrics -- Phil Collins, Tupac Shakur and other artists are quoted -- to profane intimations of violence against Syngenta officials. The company's latest complaint furthers its long-simmering feud with Hayes, who has become an outspoken critic of atrazine after years-long research that found the weed killer disrupting the sexual development of frogs, in some cases turning male subjects into females. But the intensely personal clash over Hayes' e-mails, described by a Sygenta lawyer as "aggressive, unprofessional, and insulting," is failing to cut into his support from environmental and farmworker advocates who have helped amplify his warnings about the herbicide's human health risks.... "This is straight out of big tobacco's PR handbook," said Pesticide Action Network North America spokeswoman Heather Pilatic. "The news Syngenta is trying to distract people's attention from, as we're heading into the fall and the tail end of EPA's review, is that atrazine is a serious contaminant."... "I'm not offended by the term 'activist,'" Hayes said. "I am biased because I've seen the data. ... I'm biased in that I don't want [atrazine] in my water. Why shouldn't I make that research available to others?" ...



Tue, Aug 24, 2010


from ScienceDaily:


Herbicide Atrazine Causes Prostate Inflammation in Male Rats and Delays Puberty
A new study shows that male rats prenatally exposed to low doses of atrazine, a widely used herbicide, are more likely to develop prostate inflammation and to go through puberty later than non-exposed animals. The research adds to a growing body of literature on atrazine, an herbicide predominantly used to control weeds and grasses in crops such as corn and sugar cane. Atrazine and its byproducts are known to be relatively persistent in the environment, potentially finding their way into water supplies.... The doses of atrazine mixture given to the rats during the last five days of their pregnancy are close to the regulated levels in drinking water sources. The current maximum contamination level of atrazine allowed in drinking water is 3 parts per billion. The doses given to the animals were 0.09 (or 2.5 parts per million), 0.87, or 8.73 milligrams per kilogram body weight.... "We didn't expect to see these kinds of effects at such low levels," Fenton said. She adds that this is the second paper to show low dose effects of atrazine metabolite mixtures. ...



Thu, Jul 15, 2010


from Wall Street Journal:


A Pesticide Plan to Prevent Suicide
In the wake of a spate of suicide cases, Chinese health-care professionals are pushing a nationwide "pesticide control" plan to reduce the public's access to the deadly chemicals. While the series of employee suicides at Hon Hai (a.k.a. Foxconn) dominated the news recently, several other unusual incidents have also drawn attention to the issue of suicide in China. Early this month, five students in Shaanxi province made a death pact to drink a poisonous herbicide together in a local temple one morning. A passerby spotted them in time and none died... Pesticides are used by 58 percent of the roughly 287,000 Chinese who take their lives each year, according to statistics from the Beijing Suicide Research and Prevention Center cited in a recent China Daily article. ...




You're still reading! Good for you!
You really should read our short, funny, frightening book FREE online (or buy a print copy):
Humoring the Horror of the Converging Emergencies!
We've been quipping this stuff for more than 30 months! Every day!
Which might explain why we don't get invited to parties anymore.
Thu, Jul 8, 2010


from Huffington Post Investigative Fund:


Weighing Safety of Weed Killer in Drinking Water, EPA Relies Heavily on Industry-Backed Studies
Companies with a financial interest in a weed-killer sometimes found in drinking water paid for thousands of studies federal regulators are using to assess the herbicide's health risks, records of the U.S. Environmental Protection Agency show. Many of these industry-funded studies, which largely support atrazine's safety, have never been published or subjected to an independent scientific peer review. Meanwhile, some independent studies documenting potentially harmful effects on animals and humans are not included in the body of research the EPA deems relevant to its safety review, the Huffington Post Investigative Fund has found...at least half of the 6,611 studies the agency is reviewing to help make its decision were conducted by scientists and organizations with a financial stake in atrazine, including Syngenta or its affiliated companies and research contractors. ...



Tue, Jun 22, 2010


from AP:


Roundup resistant weeds pose environmental threat
But 34 years later, a few sturdy species of weed resistant to Roundup have evolved, forcing farmers to return to some of the less environmentally safe practices they abandoned decades ago. The situation is the worst in the South, where some farmers now walk fields with hoes, killing weeds in a way their great-grandfathers were happy to leave behind. And the problem is spreading quickly across the Corn Belt and beyond, with Roundup now proving unreliable in killing at least 10 weed species in at least 22 states. Some species, like Palmer amaranth in Arkansas and water hemp and marestail in Illinois, grow fast and big, producing tens of thousands of seeds.... Monsanto's introduction of seeds designed to survive Roundup made things even better for farmers because they could spray it on emerging crops to wipe out the weeds growing alongside them. Seeds containing Monsanto's Roundup Ready traits are now used to grow about 90 percent of the nation's soybeans and 70 percent of its corn and cotton.... St. Louis-based Monsanto maintains the resistance is often overstated, noting that most weeds show no sign of immunity.... Dicamba and 2,4-D both easily drift beyond the areas where they're sprayed, making them a threat to neighboring crops and wild plants, Mortensen said. That, in turn, could also threaten wildlife. ...



Thu, Apr 22, 2010


from London Guardian:


'Toxic stew' of chemicals causing male fish to carry eggs in testes
More than 80 percent of the male bass fish in Washington's major river are now exhibiting female traits such as egg production because of a "toxic stew" of pollutants, scientists and campaigners reported yesterday. Intersex fish probably result from drugs, such as the contraceptive pill, and other chemicals being flushed into the water and have been found right across the US. The Potomac Conservancy, which focuses on Washington DC's river, called for new research to determine what was causing male smallmouth bass to carry immature eggs in their testes. "We have not been able to identify one particular chemical or one particular source," said Vicki Blazer, a fish biologist with the US geological survey. "We are still trying to get a handle on what chemicals are important." But she said early evidence pointed to a mix of chemicals -- commonly used at home as well as those used in large-scale farming operations -- causing the deformities. The suspect chemicals mimic natural hormones and disrupt the endocrine system, with young fish being particularly susceptible. ...



Sun, Apr 18, 2010


from Chicago Tribune:


Growing concern in the water
Despite growing health concerns about atrazine, an agricultural weedkiller sprayed on farm fields across the Midwest, most drinking water is tested for the chemical only four times a year -- so rarely that worrisome spikes of the chemical likely go undetected. High levels of the herbicide can linger in tap water during the growing season, according to more frequent tests in some agricultural communities. Spread heaviest on cornfields, atrazine is one of the most commonly detected contaminants in drinking water. Studies have found that exposure to small amounts of the chemical can turn male frogs into females and might be more harmful to humans than once thought. Manufacturers say their own research proves the chemical is safe. But alarmed by other studies, the Obama administration is conducting a broad review that could lead to tighter restrictions. It is also mulling changes in laws that require water utilities to test for atrazine just once a quarter or, in some cases, once a year. ...



Copyright 2009 The Apocadocs.com