[Climate Chaos]: from AFP, via Daily Times (Pakistan), Thu Jul 17 2014:
Australia abolishes divisive carbon tax
Australia on Thursday axed a divisive carbon tax after years of vexed political debate, in a move criticised as regressive and out of step with the rest of the world. The upper house Senate voted 39-32 to scrap the charge, which was imposed by the former Labor government on major polluters from 2012 in a bid to reduce greenhouse gas emissions.... Prime Minister Tony Abbott went to the polls in September with repealing the pollution levy as a central campaign platform, arguing the cost was being passed to consumers, resulting in higher utility bills. "Scrapping the carbon tax is a foundation of the government's economic action strategy," said Abbott, who once said evidence blaming mankind for climate change was "absolute crap".


Carbon taxes may be a third rail in politics, powered by demagoguery.

[Read more stories about: capitalist greed, governmental idiocy, deniers, short-term thinking]

[Permalink]
[Add your own quips!]


[Climate Chaos]: from TruthOut, Wed Jul 16 2014:
Arctic Warming and Increased Weather Extremes: The National Research Council Speaks
A new report from the National Research Council (NRC) details the findings of recent Arctic research: Arctic sea ice in all seasons is declining and the rate of loss is increasing. Multiple lines of study show this is impacting weather outside of the Arctic. Increased energy (heat) in the Arctic is slowing the progress of the jet stream around globe, allowing weather systems to linger, increasing the risk of severe weather happening more often in any one place.... In our old climate, we sort-of knew how it behaved. We had decades and even centuries of records to use to project changes into the future. But all of this historical data may be of much less use in the future as the baseline physics have now changed. Even more critical, the short term is now very important as tipping points may appear at any time. Because of 20 years of delay in controlling climate pollution, we are experiencing more warming faster than we would have if we had of begun to address climate pollutants as was suggested decades ago. Because we are warming faster, the risk of climate tipping points is higher. This discussion point states that recent Arctic changes may have "pushed the atmosphere into a new state with different variability." What they mean by variability is that the extremes get more extreme.


I'd rather not listen to those guys. They use too many big words!

[Read more stories about: arctic meltdown, faster than expected, tipping point, weather extremes, death spiral]

[Permalink]
[Add your own quips!]


[Biology Breach]: from ThinkProgress.org, Tue Jul 15 2014:
Company That Caused Historic West Virginia Chemical Spill Fined $11k
The company responsible for letting 10,000 gallons of a mysterious chemical seep into West Virginia's drinking water supply this past January was fined $11,000 by the U.S. Department of Labor on Monday, just two days before the six-month anniversary of the historic spill. After inspecting the facilities at Freedom Industries' chemical storage site in Charleston, the Labor Department's Occupational Safety and Health Administration (OSHA) found that, at the time of the spill, Freedom Industries' chemical tanks containing crude MCHM had been surrounded by a wall that was not liquid tight. That violation that warranted a $7,000 fine. OSHA also hit Freedom Industries with an additional $4,000 fine for not having railings on an elevated platform used for loading and storing the chemical in the tanks. Both violations were labeled by OSHA as "serious," warranting monetary penalties.... Wednesday marks the sixth month anniversary of the day when Freedom's tanks spilled 10,000 gallons of crude MCHM -- the licorice-scented chemical mixture used in the coal production process -- into West Virginia's Elk River, tainting the water supply for 300,000 civilians. In the aftermath, nearly 600 people checked themselves into local hospitals with what federal epidemiologists called "mild" illnesses, such as rash, nausea, vomiting, abdominal pain, and diarrhea.


The industry will be "scared straight" by that fine!

[Read more stories about: regulatory stupidity, toxic leak, water issues]

[Permalink]
[Add your own quips!]


[Recovery]: from TrueActivist.com, Mon Jul 14 2014:
Forest, Trees; Choose Two
In this fascinating video, UBC Professor Suzanne Simard explains how trees are much more complex than most of us ever imagined. Although Charles Darwin assumed trees are simply individual organisms competing for survival of the fittest, Simard demonstrates just how wrong he was. In fact, the opposite is true: trees survive through mutual co-operation and support, passing around essential nutrients "depending on who needs it". Nitrogen and carbon are shared through miles of underground fungi networks, ensuring that all trees in the forest eco-system give and receive just the right amount to keep them all healthy. This invisible web works in a very similar way to the networks of neurons in our brains, and when one tree is destroyed it has consequences for all.


Now they'll declare forests a socialist threat.

[Read more stories about: ecosystem interrelationships, forests, stupid humans, unintended consequences]

[Permalink]
[Add your own quips!]


[Climate Chaos]: from Mother Jones, Sun Jul 13 2014:
Don't Call Them "Climate Deniers." Call them "Climate Optimists."
Las Vegas is parched. A 14-year drought has left Lake Mead, the local water source, dangerously low. It has dropped 100 feet in the past decade. If it drops 12 more feet, federal water rationing rules will kick in. Some climate scientists predict that will happen in the next year. And most believe the situation will only worsen over time. The view from inside Las Vegas' Mandalay Bay Resort and Casino, however, is considerably rosier. That's where scientists, activists, and bloggers have assembled this week for the Heartland Institute's 9th International Conference on Climate Change, which I've been following via live stream. It's the world's largest gathering of "climate skeptics"--people who believe, for one reason or another, that the climate change crisis is overblown....


or call them "Wishfully Thinking Mass Murderers."

[Read more stories about: deniers, stupid humans, corporate malfeasance]

[Permalink]
[Add your own quips!]


[Biology Breach]: from Phys.org, Fri Jul 11 2014:
Leading scientists express rising concern about 'microplastics' in the ocean
Microplastics - microscopic particles of plastic debris - are of increasing concern because of their widespread presence in the oceans and the potential physical and toxicological risks they pose to organisms.... In an article published today in the journal Science, the two scientists have called for urgent action to "turn off the tap" and divert plastic waste away from the marine environment. Microplastics have now been documented in all five of the ocean's subtropical gyres - and have even been detected in Arctic sea ice - with some of the highest accumulations occurring thousands of miles from land. These plastic bits have been found in organisms ranging in size from small invertebrates to large mammals, and are known to concentrate toxic chemicals already present in seawater. This raises concern about the potential consequences to marine organisms....


I know -- let's make the ocean acidic, so we can dissolve the microplastics!

[Read more stories about: plastic problems, toxic buildup, unintended consequences, ocean acidification, death spiral]

[Permalink]
[Add your own quips!]


[Biology Breach]: from Guardian, Wed Jul 9 2014:
Neonicotinoids linked to recent fall in farmland bird numbers
New research has identified the world's most widely used insecticides as the key factor in the recent reduction in numbers of farmland birds. The finding represents a significant escalation of the known dangers of the insecticides and follows an assessment in June that warned that pervasive pollution by these nerve agents was now threatening all food production. The neonicotinoid insecticides are believed to seriously harm bees and other pollinating insects, and a two-year EU suspension on three of the poisons began at the end of 2013. But the suspected knock-on effects on other species had not been demonstrated until now.... At least 95 percent of neonicotinoids applied to crops ends up in the wider environment, killing the insects the birds rely on for food, particularly when raising chicks.


But shouldn't pesticides only harm pests?

[Read more stories about: bird collapse, pesticide runoff, toxic buildup]

[Permalink]
[Add your own quips!]


[Recovery]: from Reuters, via HuffingtonPost, Tue Jul 8 2014:
Pope Francis Calls Exploitation Of Nature The Sin Of Our Time
"This is one of the greatest challenges of our time: to convert ourselves to a type of development that knows how to respect creation," he told students, struggling farmers, and laid-off workers in a university hall. "When I look at America, also my own homeland (South America), so many forests, all cut, that have become land ... that can longer give life. This is our sin, exploiting the Earth and not allowing her to her give us what she has within her," the Argentine pope said in unprepared remarks. Francis, who took his name from Francis of Assisi, the 13th century saint seen as the patron of animals and the environment, is writing an encyclical on man's relationship with nature.


You mean God didn't place us on the earth to use it up as fast as possible?

[Read more stories about: corporate malfeasance, deforestation, hunting to extinction, massive die-off, overfishing, stupid humans, sixth extinction]

[Permalink]
[Add your own quips!]


[Recovery]: from Midwest Energy News, Tue Jul 8 2014:
Cincinnati Zoo spotlights solar energy
A giant solar panel canopy is exceeding expectations by cutting electricity costs for the Cincinnati Zoo & Botanical Garden. At the same time, 1.5 million visitors each year get an up-close look at clean energy. The 6,400-panel solar array covers most of the zoo's Vine Street parking lot. At peak operation, it supplies roughly 20 percent of the Ohio zoo's electricity. As a bonus, the array shades visitors' cars on hot summer days.


Noah's solar ark.

[Read more stories about: renewable energy]

[Permalink]
[Add your own quips!]


[Climate Chaos]: from Bloomberg News, Tue Jul 8 2014:
U.S. Seen as Biggest Oil Producer After Overtaking Saudi Arabia
The U.S. will remain the world's biggest oil producer this year after overtaking Saudi Arabia and Russia as extraction of energy from shale rock spurs the nation's economic recovery, Bank of America Corp. said. U.S. production of crude oil, along with liquids separated from natural gas, surpassed all other countries this year with daily output exceeding 11 million barrels in the first quarter, the bank said in a report today. The country became the world's largest natural gas producer in 2010. The International Energy Agency said in June that the U.S. was the biggest producer of oil and natural gas liquids... The U.S., the world's largest oil consumer, still imported an average of 7.5 million barrels a day of crude in April, according to the Department of Energy's statistical arm.


Insatiable.

[Read more stories about: anthropogenic change, capitalist greed, carbon emissions, climate impacts, economic myopia, health impacts]

[Permalink]
[Add your own quips!]


[Species Collapse]: from Huffington Post, Tue Jul 8 2014:
Battle Over Protection Of Obscure Bird Could Decide Fate Of Senate This November
An obscure, chicken-sized bird best known for its mating dance could help determine whether Democrats or Republicans control the U.S. Senate in November. The federal government is considering listing the greater sage grouse as an endangered species next year. Doing so could limit development, energy exploration, hunting and ranching on the 165 million acres of the bird's habitat across 11 Western states... Two Republican congressmen running for the U.S. Senate in Montana and Colorado, Steve Daines and Cory Gardner, are co-sponsoring legislation that would prevent the federal government from listing the bird for a decade as long as states try to protect it.


We're going to do our gosh-darned best to protect the planet!

[Read more stories about: habitat loss, sixth extinction, short-term thinking, koyaanisqatsi]

[Permalink]
[Add your own quips!]


[Species Collapse]: from Los Angeles Times, Mon Jul 7 2014:
U.S. reverses proposal to list wolverine as threatened species
A U.S. Fish and Wildlife Service official has ordered federal biologists to withdraw their conclusion that the last 300 wolverines in the continental United States deserve threatened species status. The biologists had recommended the protection on grounds that climate change is destined to destroy the near-arctic conditions of the remaining animals' habitat -- even though the population of about 300 has shown signs of slight growth in recent years.... The states also warned that safeguarding the animals could have dire economic effects on recreational activities, development and trapping on large swaths of alpine terrain already locally managed for wolverines in their states.


At least we'll always have the X-Men movies.

[Read more stories about: sixth extinction]

[Permalink]
[Add your own quips!]


[Climate Chaos]: from London Guardian, Mon Jul 7 2014:
Besieged by the rising tides of climate change, Kiribati buys land in Fiji
The people of Kiribati, a group of islands in the Pacific ocean particularly exposed to climate change, now own a possible refuge elsewhere. President Anote Tong has recently finalised the purchase of 20 sq km on Vanua Levu, one of the Fiji islands, about 2,000km away. The Church of England has sold a stretch of land mainly covered by dense forest for $8.77m. "We would hope not to put everyone on [this] one piece of land, but if it became absolutely necessary, yes, we could do it," Tong told the Associated Press. Kiribati has a population of about 110,000 scattered over 33 small, low-lying islands extending over a total area of 3.5m sq km.


God moves in mysterious ways.

[Read more stories about: anthropogenic change, rising sea level]

[Permalink]
[Add your own quips!]


[Biology Breach]: from Phys.org, Fri Jul 4 2014:
Marine bacteria unfazed by rising ocean acidification
The new study, published in Environment Microbiology Reports, shows for the first time that even if ocean acidification reaches the levels predicted for the year 2100, the bacterial community will remain unaffected.... He suspects that the resistance of marine bacteria to ocean acidification means they will be able to evolve an even higher level of resilience before 2100, as they get used to higher acid levels. 'Hitting them with a big stick we see a huge capacity for resistance, but over the long term they have an enormous evolutionary capacity, he says. 'Over the next 100 years there will be millions of generations of bacteria, so if we still have a steadily increasing amount of carbon dioxide, as is predicted, being absorbed into oceans the bacterial communities will adapt.'


Thank goodness that Ocean Life: The Sequel will have something to evolve from.

[Read more stories about: ocean acidification, death spiral]

[Permalink]
[Add your own quips!]


[Resource Depletion]: from Telegraph (UK), Tue Jul 1 2014:
The race to stop Las Vegas from running dry
America's most decadent destination has been engaged in a potentially catastrophic gamble with nature and now, 14 years into a devastating drought, it is on the verge of losing it all. "The situation is as bad as you can imagine," said Tim Barnett, a climate scientist at the Scripps Institution of Oceanography. "It's just going to be screwed. And relatively quickly. Unless it can find a way to get more water from somewhere Las Vegas is out of business. Yet they're still building, which is stupid." The crisis stems from the Las Vegas's complete reliance on Lake Mead, America's largest reservoir, which was created by the Hoover Dam in 1936 - after which it took six years to fill completely.... Mr Barnett predicts it may be a "dead pool" that provides no water by about 2036. The lake currently looks as if someone has removed a giant plug from it. Around its edges a strip of bleached rock known locally as the "bath tub ring" towers like the White Cliffs of Dover, showing where the water level used to be. Pyramid-shaped mountains rise from the shallow waters.


If I draw the Ace of Spades, I'll have a Royal Flush!

[Read more stories about: water issues, stupid humans, faster than expected]

[Permalink]
[Add your own quips!]


[Climate Chaos]: from University of Chicago, via ScienceDaily, Sat Jun 28 2014:
To address climate change, nothing substitutes for reducing carbon dioxide emissions
... But finding the political consensus to act on reducing CO2 emissions has been nearly impossible. So there has been a movement to make up for that inaction by reducing emissions of other, shorter-lived gasses, such as methane, hydrofluorocarbons, and nitrous oxide, and particulates such as soot and black carbon, all of which contribute to warming as well. Pierrehumbert 's study shows that effort to be, as he puts it, a delusion. "Until we do something about CO2, nothing we do about methane or these other things is going to matter much for climate," he said.


The domain name "co2much.com" has been taken. Damn!

[Read more stories about: carbon emissions, climate impacts]

[Permalink]
[Add your own quips!]


[Species Collapse]: from The Independent (UK), Fri Jun 27 2014:
Neonicotinoid pesticides also affect other friendly organisms including birds and fish
A group of 29 scientists from four continents found unequivocal evidence from hundreds of published studies to claim that "neonics" - the most widely used pesticides in the world - are having a dramatic impact on the ecosystems that support food production and wildlife. The independent researchers, who are also advisers to the International Union for Conservation of Nature (IUCN), have concluded that the "systemic" pesticides such as the neonicotinoids pose as great a risk to the environment as the banned pesticide DDT, and other persistent organophosphates.... Key findings from the assessment found that neonics accumulate in the soil and persist for months and in some cases for years. The breakdown products are often as toxic - or more toxic - than the pesticide's active ingredients, which are designed to work as poisonous nerve agents. "If you use them every year they accumulate, they get into the soil water and hence into streams. So essentially we are contaminating the global environment with highly toxic, highly persistent chemicals," said David Goulson, professor of biology at Sussex University and one of the report's authors.


Contaminating the environment with highly toxic, highly persistent chemicals sounds strangely familiar.

[Read more stories about: death spiral, pesticide runoff, unintended consequences]

[Permalink]
[Add your own quips!]


[Recovery]: from MSNBC, Fri Jun 27 2014:
EPA's Gina McCarthy calls for all hands on deck in climate fight
In a speech to George Mason University's Washington Youth Summit on the Environment, she argued for a society-wide mobilization to soften the blow of climate change. "It's going to need everybody at the table," she said, addressing an audience of 250 high school students from around the country. "We're going to have to roll up our sleeves."... Yet McCarthy's remarks on Thursday sounded an awful lot like incitement to further grassroots activism, particularly when she discussed the rapid change in federal environmental policy which took place in the '60s and '70s. "It changed as a result of Congress stepping up and saying we can't do this anymore," said McCarthy. "They only stepped up because the people that they served demanded it. Because everybody could see the problems we were facing."


Ecoterrorists.

[Read more stories about: smart policy, low-energy future]

[Permalink]
[Add your own quips!]


[Resource Depletion]: from GOC, via CommonDreams, Tue Jun 24 2014:
Global Ocean Commission says rescue needed within five years
The world's oceans face irreparable damage from climate change and overfishing, with a five-year window for intervention, an environmental panel said Tuesday. Neglecting the health of the oceans could have devastating effects on the world's food supply, clean air, and climate stability, among other factors. The Global Oceans Commission, an environmental group formed by the Pew Charitable Trust, released a report (PDF) addressing the declining marine ecosystems around the world and outlining an eight-step "rescue package" to restore growth and prevent future damage to the seas. The 18-month study proposes increased governance of the oceans, including limiting oil and gas exploration, capping subsidies for commercial fishing, and creating marine protected areas (MPAs) to guard against pollution, particularly from plastics.... Government subsidies for high seas fishing total at least $30 billion a year and are carried out by just ten countries, the report said. About 60 percent of such subsidies encourage unsustainable practices like the fuel-hungry "bottom trawling" of ocean floors -- funds that could be rerouted to conservation efforts or employment in coastal areas.


Five whole years? We have time for far more study, I think.

[Read more stories about: ocean acidification, marine mammals, massive die-off, faster than expected, holyshit]

[Permalink]
[Add your own quips!]

Don't miss: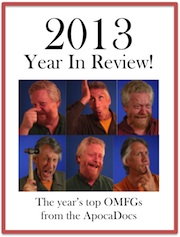 ---
Apoc-o-Meter
from the last 7 days


or visit our: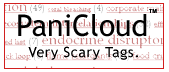 ---
"Perfect as a bathroom reader."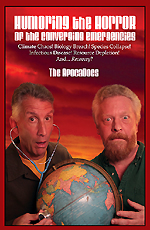 Humoring the Horror of the
Converging Emergencies
94 color pages
$24.99 now $15!
Or read FREE online!

---
Play: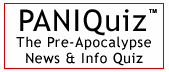 It's weekly, funny, and free!


Random Sample PANIQuestion:
According to new research, how long have humans been provoking climate change?
a) 200 years
b) 2000 years
c) 8000 years
d) 30 years
e) Since people hung out with dinosaurs

Answer: 8000 years

---