[Species Collapse]: from BBC, Mon Nov 24 2014:
New ant discovered already at risk of extinction
A new species of ant has been discovered on the Spanish island of Mallorca. But it is already on the verge of extinction... Climate change is also a threat, as the ants are not well equipped to deal with dramatic changes to their habitat. Talavera's team say the find represents a unique chance to observe "real-time climate-based biodiversity loss".


I always feel naming something diminishes its power.

[Read more stories about: anthropogenic change]

[Permalink]
[Add your own quips!]


[Climate Chaos]: from Public News Service, Mon Nov 24 2014:
Poll Finds Support for Climate Action, Despite Some IN Opposition
Some of Indiana's leaders have voiced outspoken opposition to the Environmental Protection Agency's proposed first-ever limits on carbon pollution from power plants, but a new poll indicates a majority of voters don't share those views. Melissa Williams, national political director for the Sierra Club, says the group's new post-election poll of voters in six key states finds, regardless of who they supported in the 2014 midterm election, most want congressional action to address climate change.


If we wanted leaders who listen we would elect listeners NOT leaders.

[Read more stories about: capitalist greed, anthropogenic change, climate impacts, economic myopia, global warming]

[Permalink]
[Add your own quips!]


[Recovery]: from Newsweek, Mon Nov 24 2014:
Can We Overcome Our Disgust Long Enough to Eat Bugs?
...Along with tasting good, insects are full of health benefits. Studies have shown that bugs are high in protein, calcium, zinc, iron and vitamin A. They are also easier to farm than livestock, use less water and emit fewer greenhouse gases. A 2013 report by the United Nations's Food and Agriculture Organization touted the benefits of eating bugs to fight world hunger and reduce pollution. Getting insects on Westerners' plates, though, is no easy task, requiring innovative strategies to overcome a deeply embedded cultural aversion to insects.


Should I get my praying mantis burger with or without flies?

[Read more stories about: carbon emissions, food crisis, overpopulation]

[Permalink]
[Add your own quips!]


[Species Collapse]: from Reuters, Wed Nov 19 2014:
Virus implicated in massive die-off of North American starfish
Scientists investigating a huge die-off of starfish along North America's Pacific coast have identified a virus they say is responsible for a calamitous wasting disease that has wiped out millions of the creatures since it first appeared last year. The scientists said on Monday they identified the pathogen as the Sea Star Associated Densovirus, or SSaDV, after ruling out other possible culprits including certain bacteria, protozoans and fungi. More than 20 species of starfish, also called sea stars, from southern Alaska to Baja California are dying from a wasting disease that causes white lesions to appear before the animal's body sags, ruptures and spills out its internal organs.


SaD indeed.

[Read more stories about: massive die-off]

[Permalink]
[Add your own quips!]


[Biology Breach]: from Associated Press, Wed Nov 19 2014:
Fracking to be permitted in GW National Forest
Environmentalists and energy boosters alike welcomed a federal compromise announced Tuesday that will allow fracking in the largest national forest in the eastern United States, but make most of its woods off-limits to drilling. The decision was highly anticipated because about half of the George Washington National Forest sits atop the Marcellus shale formation, a vast underground deposit of natural gas that runs from upstate New York to West Virginia and yields more than $10 billion in gas a year.


Fracking one of the Frounding Frathers.

[Read more stories about: fracking]

[Permalink]
[Add your own quips!]


[Biology Breach]: from New York Times, Wed Nov 19 2014:
Obesity Is Tied to Pollutants
Exposure to secondhand smoke and roadway traffic may be tied to increased body mass index in children and adolescents, a new study suggests. Researchers studied 3,318 children in 12 Southern California communities beginning at an average age of 10, and then followed them through age 18. They used parental questionnaires to establish exposure to smoking, and data on traffic volume and levels of nitrogen dioxide, ozone and particulates to track pollution.


We thought it was junkfood, but now we think it's junklife.

[Read more stories about: airborne pollutants, health impacts]

[Permalink]
[Add your own quips!]


[Biology Breach]: from Reuters, Wed Nov 19 2014:
Armyworm resistance to GMO crops seen in U.S. -study
Crop-devouring armyworms are showing increasing resistance in some U.S. farm fields to a popular type of genetically modified crop that should kill them, scientists said on Monday. The evolution of insect resistance "is a great threat" long- term to the sustainability of the GMO crop biotechnology that has become a highly valued tool for many U.S. farmers, according to Fangneng Huang, an entomologist at Louisiana State University (LSU) and lead researcher for a three-year study.


WWIII

[Read more stories about: GMOs]

[Permalink]
[Add your own quips!]


[Climate Chaos]: from NPR, Wed Nov 19 2014:
Senate Rejects Keystone XL Pipeline Bill, In A Close Vote
The controversial Keystone XL pipeline project to expand an oil pipeline running from Canada to the Gulf of Mexico has failed the approval of Congress, after the Senate voted against the project Tuesday. The House passed its version of the bill Friday. An early tally showed 35 for and 30 against the bill; subsequent calls for senators' votes failed to net the 60 votes needed for passage. The decisive 41st "No" vote came with 55 votes in favor, and the final tally was 59-41.


This XL pipeline vote was Xtra close!

[Read more stories about: carbon emissions, capitalist greed, economic myopia]

[Permalink]
[Add your own quips!]


[Species Collapse]: from Ecology Action Center, Mon Nov 17 2014:
Atlantic Bluefin Tuna Quota Raised Despite Risk, Shark Conservation Measures Fail Again
The 19th Special Meeting of the International Commission on the Conservation of Atlantic Tuna (ICCAT) concluded today in Genoa, Italy. This year, Canada and the other ICCAT contracting parties who fish for western Atlantic bluefin tuna agreed to increase the quota for the 2015 and 2016 fishing years. ICCAT members also raised the quota for the eastern stock for the 2015, 2016 and 2017 years.... "These tuna are in a precarious state. While Canada claims to be committed to the precautionary approach, which requires that they exercise caution when scientific information is uncertain, they directly contravened any commitment to precaution at ICCAT this year by agreeing to a quota increase," explains Schleit. "Equally disappointing was the lack of transparency during quota negotiations. We think that Canadians deserve to know what their government is advocating for on their behalf."


The tuna will surely increase reproduction in response to our increased demand!

[Read more stories about: overfishing, hunting to extinction, sixth extinction]

[Permalink]
[Add your own quips!]


[Climate Chaos]: from Guardian, Thu Nov 13 2014:
New study shows warm waters are melting Antarctica from below
Just this week, a new study has appeared which describes a clever method for measuring the flows of ocean currents and their impacts on ice shelves. This study has identified a major mechanism for melting ice in the Southern Hemisphere. The paper, co-authored by Andrew Thompson, Karen Heywood, and colleagues is very novel. The scientists used sea gliders to identify water flows that bring warm waters to the base of ice shelves in Antarctica. As I've written before, ocean currents are complex; you cannot neglect their impact on the Earth's climate.... The data showed that eddy-transport and surface-wind-caused motion are comparable in their contribution to water circulation. They showed however, that the eddy motion is largely confined to the warm intermediate water layers. The penetration of the warm waters to the ice shelves is believed to be responsible for the dramatic ice loss that has been observed in the Antarctic.


It's the reach of Satan from the depths of Hell! Or maybe just another domino.

[Read more stories about: holyshit, arctic meltdown, ocean warming]

[Permalink]
[Add your own quips!]


[Recovery]: from New York Times, Wed Nov 12 2014:
U.S. and China Reach Climate Accord After Months of Talks
BEIJING -- China and the United States made common cause on Wednesday against the threat of climate change, staking out an ambitious joint plan to curb carbon emissions as a way to spur nations around the world to make their own cuts in greenhouse gases. The landmark agreement, jointly announced here by President Obama and President Xi Jinping, includes new targets for carbon emissions reductions by the United States and a first-ever commitment by China to stop its emissions from growing by 2030... A climate deal between China and the United States, the world's No. 1 and No. 2 carbon polluters, is viewed as essential to concluding a new global accord.


It's like the high school football star and the head cheerleader are dating.

[Read more stories about: carbon emissions, renewable energy]

[Permalink]
[Add your own quips!]


[Resource Depletion]: from Nature, Wed Nov 12 2014:
Climate change curbs crops
Farmers have produced less food during the past three decades than they would have done were climate change not happening, according to a study published today1. Global maize (corn) production, for example, is estimated to be about 3.8 percent lower than it would have been in a non-warmed world -- the equivalent of Mexico not contributing to the maize market.


Amaizing!

[Read more stories about: anthropogenic change, food crisis]

[Permalink]
[Add your own quips!]


[Species Collapse]: from NPR, Wed Nov 12 2014:
Regulators Ban Cod Fishing In New England As Stocks Dwindle
The National Oceanic and Atmospheric Administration (NOAA) is shutting down cod fishing, from Provincetown, Mass., up to the Canadian border, in an effort to reverse plummeting numbers of the iconic fish in the Gulf of Maine. Starting Thursday, no fishermen -- commercial or recreational -- may trawl or use certain large nets that might catch cod for the next six months. Local cod fishermen, who now face an uncertain future, say the government hasn't done enough to maintain cod populations, and they challenge NOAA's cod counts. "This is uncalled for," says Joseph Orlando, a fishermen who trawls for cod off the coast of Gloucester, Mass., just north of Boston. Orlando and a friend had had been looking forward to fishing heavily for cod for the next two months, when holiday demand boosts prices. Now, that's off the table. "There's more codfish out there. There's always been," he says. " I mean, their science is just absurd."


Fish cod more? Is that what you're saying?

[Read more stories about: overfishing, food crisis, massive die-off]

[Permalink]
[Add your own quips!]


[Biology Breach]: from San Francisco Chronicle, Tue Nov 11 2014:
Traces of radiation from Fukushima detected off California
The first faint traces of radioactivity in the ocean from the Fukushima nuclear disaster have been detected 100 miles off Eureka, a scientist who has been monitoring radiation levels across the Pacific reported Monday. The levels of the radioactive element Cesium-134 were far lower than any radiation that would pose a threat to human or marine life, said Ken Buesseler, a nuclear chemist at the Woods Hole Oceanographic Institution on Cape Cod. The radioactivity was detected in samples of ocean water volunteers aboard a research vessel from the Moss Landing Marine Laboratory in Monterey County collected last August. The samples were sent for analysis to Buesseler's lab at Woods Hole.... No federal government agency finances efforts to track radioactivity in ocean water, so Buesseler has created a volunteer organization of coastal residents to collect water samples periodically and send them to his lab at Woods Hole. He has volunteers collecting water samples along the coast from San Diego to Canada and around Hawaii.


That's right -- saving the world will require crowdsourcing!

[Read more stories about: radiation, toxic water, contamination]

[Permalink]
[Add your own quips!]


[Resource Depletion]: from Kunstler, via Zero Hedge, Tue Nov 11 2014:
Crossing the Frontier of Criticality
... All of these systems have something in common: they've exceeded their fragility threshold and crossed into the frontier of criticality. They have nowhere to go except failure. It would be nice if we could construct leaner and more local systems to replace these monsters, but there is too much vested interest in them. For instance, the voters slapped down virtually every major ballot proposition to invest in light rail and public transit around the country. The likely explanation is that they've bought the story that shale oil will allow them to drive to WalMart forever. That story is false, by the way. The politicos put it over because they believe the Wall Street fraudsters who are pimping a junk finance racket in shale oil for short-term, high-yield returns. The politicos want desperately to believe the story because the background reality is too difficult to contemplate: an American living arrangement with no future. The public, of course, is eager to believe the same story for the same reasons, but at some point they'll flip and blame the story-tellers, and their wrath could truly wreck what remains of this polity. When it is really too late to fix any of these things, they'll beg someone to tell them what to do, and the job-description for that position is dictator....


As long as the Internets run on time, the rest will take care of itself.

[Read more stories about: economic myopia, corporate malfeasance]

[Permalink]
[Add your own quips!]


[Species Collapse]: from TED Global, via WeatherNetwork.com, Sun Nov 9 2014:
The Sound of a Dying Ecosystem
When sound engineer Bernie Krause first visited the Lincoln Meadow in the Sierra Nevada Mountains in 1988, the lush land vibrated with natural soundscapes -- a sign of a healthy, thriving ecosystem. This is what it sounded like when Krause turned on his gear to capture the environment before selective logging began... One year later, he returned to record once more from the same spot. This time, all birds had gone, with the exception of one lonesome woodpecker who appears halfway through the recording.... "When I began recording over four decades ago, I could record for ten hours and capture one hour of usable material good enough for an album, a film soundtrack or museum installation," said Krause, on the TEDGlobal stage. "Now, because of global warming, resource extraction and human noise, among other factors, it can take up to 1,000 hours or more to capture the same thing."


Climate change is just hearsay.

[Read more stories about: canary in coal mine, bird collapse, forests, ecosystem interrelationships]

[Permalink]
[Add your own quips!]


[Biology Breach]: from David Suzuki, Tue Nov 4 2014:
The New 'F' Word
While dithering over neonicotinoids -- bee-killing pesticides banned in Europe -- Canadian regulators are poised to approve a closely-related poison called flupyradifurone. We call it the new "F"-word. Like neonics, flupyradifurone attacks the nervous system of insect pests. Both are systemic pesticides that are taken up by plants and move through their tissues into pollen, fruits and seeds. Both are also persistent, sticking around in the environment and, with repeated applications, building up over time. Health Canada says flupyradifurone may pose a risk to bees, birds, worms, spiders, small mammals and aquatic bugs -- familiar words to anyone following Canada's slow-motion review of neonics. Dust from corn seed treated with neonics is implicated in large-scale bee die-offs during planting season in Ontario and Quebec. Not only is this is alarming in its own right; the dead bees are the proverbial canaries in the coal mine, signalling broader ecological consequences.


Flupyradifurone -- let's just call it "Fatal Flu."

[Read more stories about: bird collapse, pesticide runoff, corporate malfeasance, unintended consequences, massive die-off]

[Permalink]
[Add your own quips!]


[Resource Depletion]: from ThinkProgress, Mon Nov 3 2014:
NASA Bombshell: Global Groundwater Crisis Threatens Our Food Supplies And Our Security
An alarming satellite-based analysis from NASA finds that the world is depleting groundwater -- the water stored unground in soil and aquifers -- at an unprecedented rate.... The groundwater at some of the world's largest aquifers -- in the U.S. High Plains, California's Central Valley, China, India, and elsewhere -- is being pumped out "at far greater rates than it can be naturally replenished." The most worrisome fact: "nearly all of these underlie the word's great agricultural regions and are primarily responsible for their high productivity." And this is doubly concerning in our age of unrestricted carbon pollution because it is precisely these semiarid regions that are projected to see drops in precipitation and/or soil moisture, which will sharply boost the chances of civilization-threatening megadroughts and Dust-Bowlification.


You can't frack water from a stone -- or can you??

[Read more stories about: drought, water issues, aquifers depletion]

[Permalink]
[Add your own quips!]

Don't miss: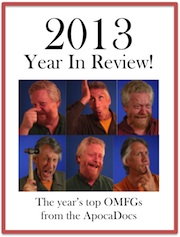 ---
Apoc-o-Meter
from the last 7 days


or visit our: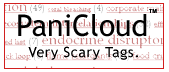 ---
"Perfect as a bathroom reader."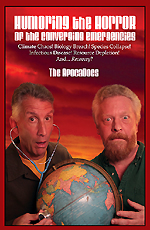 Humoring the Horror of the
Converging Emergencies
94 color pages
$24.99 now $15!
Or read FREE online!

---
Play: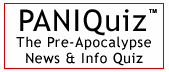 It's weekly, funny, and free!


Random Sample PANIQuestion:
Why are farmers using MORE pesticides these days?
a) None of these answers are true.
b) Because they required by contract to increase amounts.
c) Because GMOs didn't work.
d) Habit.
e) All of these answers are true.

Answer: Because GMOs didn't work.

---