[Recovery]: from Reuters, Wed Jan 14 2015:
China sets 2020 "artificial weather" target to combat water shortages
China aims to induce more than 60 billion cubic metres of additional rain each year by 2020, using an "artificial weather" programme to fight chronic water shortages, the government said on Monday. China's water resources are among the world's lowest, standing at 2,100 cubic metres per person, or just 28 percent of the world average.... Artificial rain is created by rocket-launching chemicals, such as silver iodide, into clouds to boost rain. China used the technology, known as cloud seeding, to scatter clouds ahead of the Beijing Olympic Games in 2008.... Around 70 percent of China's rivers and lakes have become too polluted to use.


I've looked at clouds from both seeds now.

[Read more stories about: drought, geoengineering, food crisis]

[Permalink]
[Add your own quips!]


[Climate Chaos]: from Cleveland Plain Dealer, Wed Jan 14 2015:
Ohio renewable energy policies spurred growth, now driving away business, report says
Ohio's renewable energy policies sparked tremendous investment in the industry, but recent moves by state lawmakers have slowed that growth and threaten its future, according to a report released Tuesday. Ohio was No. 13 in the country for new capacity and private investment in wind at the end of 2012, according to the Pew report. However, new investment halted in 2013 because of "uncertainty" created by legislative debate over Ohio's renewable energy standards and the expiration of a federal production tax credit, according to the report.


Just what the (bad) doctor ordered.

[Read more stories about: capitalist greed, coal issues, governmental corruption, renewable energy]

[Permalink]
[Add your own quips!]


[Species Collapse]: from Science, Wed Jan 14 2015:
Plan to save monarch butterflies backfires
It started with the best of intentions. When evidence emerged that monarch butterflies were losing the milkweed they depend on due to the spread of herbicide-resistant crops in the United States, people across the country took action, planting milkweed in their own gardens. But a new paper shows that well-meaning gardeners might actually be endangering the butterflies' iconic migration to Mexico. That's because people have been planting the wrong species of milkweed, thereby increasing the odds of monarchs becoming infected with a crippling parasite.


Sorry!

[Read more stories about: massive die-off, stupid humans]

[Permalink]
[Add your own quips!]


[Recovery]: from Scientific American, Tue Jan 13 2015:
2015 Begins with CO2 above 400 PPM Mark
The new year has only just begun, but we've already recorded our first days with average carbon dioxide levels above 400 parts per million, potentially leading to many months in a row above this threshold, experts say. The Scripps Institution of Oceanography records of atmospheric carbon dioxide levels show that Jan. 1 was the first day of the new year above that concentration, followed by Jan. 3 and Jan. 7. Daily averages have continued at this level or higher through Jan. 9, though they could continue to dance up and down around that mark due to day-to-day variations caused by weather systems. But even with those fluctuations, 2015 will likely see many months above 400 ppm, possibly starting with the very first month of the year.


I'm pretty sure that 400 ppm was a Wild-Assed Guess (WAG), and so isn't really anything to fear, much, really.

[Read more stories about: carbon emissions, economic myopia, ecosystem interrelationships]

[Permalink]
[Add your own quips!]


[Recovery]: from Grist, Fri Jan 9 2015:
Challenging the divine right of big energy
... The new calendar that renamed 1792 as Year One had, after all, been created to start society all over again. In that little junk shop on a quiet street in San Francisco, I held a relic from one of the great upheavals of the last millennium. It made me think of a remarkable statement the great feminist fantasy writer Ursula K. Le Guin had made only a few weeks earlier. In the course of a speech she gave while accepting a book award she noted, "We live in capitalism. Its power seems inescapable. So did the divine right of kings. Any human power can be resisted and changed by human beings."... As it happens, the planet's changing climate now demands that we summon up the energy to leave behind the Age of Fossil Fuel (and maybe with it some portion of the Age of Capitalism as well).


This sounds as if the Age of Constant Growth might be coming to a close!

[Read more stories about: economic myopia, people rise up]

[Permalink]
[Add your own quips!]


[Recovery]: from Globe & Mail, Fri Jan 9 2015:
Oil sands must remain largely unexploited to meet climate target, study finds
The study, published Wednesday in the journal Nature, does not single out the Alberta oil sands for special scrutiny, but rather considers the geographic distribution of the world's total fossil fuel supply, including oil, coal and natural gas reserves, and their potential impact on international efforts to curb global warming.... As previous studies have already shown, roughly two-thirds of fossil fuels that can already be extracted at a competitive price will need to remain unburned before 2050 to achieve this goal. The new analysis shows that in order to optimize costs and benefits, that two-thirds cannot be evenly distributed around the world, but must be skewed toward more carbon-intense fuels situated far from potential markets. The computer model suggests that it will be next to impossible to meet climate targets if those fuels are tapped to a significant degree, even as producers continue to develop these reserves.... The study uses a more conservative estimate of 48 billion barrels as the current reserve and then finds that only 7.5 billion barrels of that, or about 15 per cent, can be used by 2050 as part of the global allotment of fossil-fuel use in a two-degree scenario. The figure assumes that new technologies will make possible a reduction in the carbon intensity of oil sands production. If this does not happen, the authors say, then even less of the oil-sands reserve should be extracted.


Tell ya what, oil sands: take your 15 cents on the dollar, and we won't sue you for environmental reparations.

[Read more stories about: climate impacts, carbon sequestration, alternative energy, oil issues, coal issues]

[Permalink]
[Add your own quips!]


[Recovery]: from BBC, Thu Jan 8 2015:
Antibiotics: US discovery labelled 'game-changer' for medicine
The heyday of antibiotic discovery was in the 1950s and 1960s, but nothing found since 1987 has made it into doctor's hands. Since then microbes have become incredibly resistant. Extensively drug-resistant tuberculosis ignores nearly everything medicine can throw at it. Back to soil: The researchers, at the Northeastern University in Boston, Massachusetts, turned to the source of nearly all antibiotics - soil. This is teeming with microbes, but only 1 percent can be grown in the laboratory. The team created a "subterranean hotel" for bacteria. One bacterium was placed in each "room" and the whole device was buried in soil. It allowed the unique chemistry of soil to permeate the room, but kept the bacteria in place for study.... The lead scientist, Prof Kim Lewis, said: "So far 25 new antibiotics have been discovered using this method and teixobactin is the latest and most promising one.... Tests on teixobactin showed it was toxic to bacteria, but not mammalian tissues, and could clear a deadly dose of MRSA in tests on mice.


This would be so exciting if Big Ag wasn't trying to wipe out all soil bacteria everywhere, as a precondition for using the dead top-substrate as a medium to grow corn and soybeans. So much fewer weeds, right?

[Read more stories about: holyshit, antibiotic resistance, technical cleverness, soil issues]

[Permalink]
[Add your own quips!]


[Climate Chaos]: from Guardian, Thu Jan 1 2015:
Time is running out on climate denial -- But is it running out fast enough?
In short, if we take action to slow global warming, the worst case scenario involves draconian government regulations that trigger an economic recession. If we don't, the worst case scenario involves an economic recession too, but also a host of other global and societal catastrophes. Although Craven doesn't look at the probabilities of these worst case scenarios, they're also heavily weighted towards the case for taking action to curb global warming. There are lots of options to slow global warming that don't involve drastic government regulation, and that can even be beneficial for the economy. If we decide that we've gone too far in cutting carbon pollution, it's relatively easy to scale back government policies.... In other words, if we take too much action to curb climate change, the worst case scenario (upper left grid) is easily avoided. If we don't take enough action, we may not be able to avoid some of the worst consequences in the bottom right grid.


There's no "us" in "deniers."

[Read more stories about: death spiral, climate impacts, faster than expected, arctic meltdown]

[Permalink]
[Add your own quips!]


[Species Collapse]: from Associated Press, Wed Dec 31 2014:
More Monarchs return to Mexico, but now face cold
More Monarch butterflies appear to have made the long flight from the U.S. and Canada to their winter nesting ground in western Mexico, raising hopes after their number dropped to a record low last year. But experts still fear that unusual cold temperatures will threaten the orange and black insects. While an official census won't be ready until mid-January, observers are seeing healthy populations of butterflies bunched together on fir and pine trees in protected sanctuaries... Mexico's National Meteorological Service predicts 55 cold fronts for the country through May, a 15 percent increase from the average, and with the possibility for repeated cold systems to extend into March and April.


We're going to have to knit them little hats, coats and mittens.

[Read more stories about: global warming, massive die-off, migration changes, sixth extinction]

[Permalink]
[Add your own quips!]


[Climate Chaos]: from Washington Post, Tue Dec 30 2014:
Delaware-size gas plume over West illustrates the cost of leaking methane
The methane that leaks from 40,000 gas wells near this desert trading post may be colorless and odorless, but it's not invisible. It can be seen from space. Satellites that sweep over energy-rich northern New Mexico can spot the gas as it escapes from drilling rigs, compressors and miles of pipeline snaking across the badlands. In the air it forms a giant plume: a permanent, Delaware-sized methane cloud, so vast that scientists questioned their own data when they first studied it three years ago.... The country's biggest methane "hot spot," verified by NASA and University of Michigan scientists in October, is only the most dramatic example of what scientists describe as a $2 billion leak problem: the loss of methane from energy production sites across the country.


We call 'em Man-made Earth Farts.

[Read more stories about: climate impacts, holyshit, methane release]

[Permalink]
[Add your own quips!]


[Climate Chaos]: from Politico, Tue Dec 30 2014:
2015, the year the GOP strikes back at Obama food policies
The Obama administration is becoming increasingly involved in what Americans put on their dinner plates and in their cereal bowls, from requiring school children to be served fruit to eliminating trans fats in doughnuts. But the new Republican Congress is already laying the groundwork to push back in 2015. As the opening bell sounds for the 114th Congress, don't be surprised to see GOP lawmakers take on school nutrition. The $1.1 trillion omnibus this month included provisions to allow states more flexibility to exempt schools from the Department of Agriculture's whole-grain standards if they can show hardship and to halt future sodium restrictions...


You are what you(r kids) eat.

[Read more stories about: governmental idiocy, corporate farming]

[Permalink]
[Add your own quips!]


[Climate Chaos]: from Al Jazeera, Mon Dec 29 2014:
At least 24 killed in Malaysia, Thailand floods as 200,000 evacuated
Severe flooding in Malaysia and Thailand has killed at least 24 people and forced the evacuation of more than 200,000, according to official data reported Sunday. Northeastern Malaysia and southern Thailand are regularly hit by flooding during the annual northeast monsoon, but this year the rain has been particularly heavy. Scientists have predicted that as climate change worsens, storm patterns will become less predictable and more severe.... Malaysian Prime Minister Najib Razak toured some of the worst-hit areas this weekend, stopping in Kelantan where the number of displaced people doubled to over 80,000 from Friday, following his return from a vacation in Hawaii on Friday. Najib was criticized for his absence during the calamity, after being photographed playing golf with U.S. President Barack Obama.


We will assume the two world leaders were conferring about climate change.

[Read more stories about: weather extremes]

[Permalink]
[Add your own quips!]


[Recovery]: from Sheffield, University of, Mon Dec 29 2014:
Switch from cattle fields to 'carbon farms' could tackle climate change, save endangered animals cheaply
Changing cattle fields to forests is a cheap way of tackling climate change and saving species threatened with extinction, a new study has found. Researchers from leading universities carried out a survey of carbon stocks, biodiversity and economic values from one of the world's most threatened ecosystems, the western Andes of Colombia. The main use of land in communities is cattle farming, but the study found farmers could make the same or more money by allowing their land to naturally regenerate.


I'm raisin' a whole herd of carbons.

[Read more stories about: carbon emissions, carbon sequestration, climate impacts, people rise up]

[Permalink]
[Add your own quips!]


[Climate Chaos]: from Politico, Mon Dec 15 2014:
How the 'War on Coal' went global
Congressional Republicans who vow to defeat President Barack Obama's "War on Coal" can do little to defend the industry against a growing international threat -- the drying up of its once-promising markets overseas. Just a few years ago, domestic producers had high hopes for selling coal to energy-hungry Asia, but prices in those markets are plummeting now amid slowing demand and oversupply, ceding much of the market space to cheaper coal from nations like Indonesia and Australia. Meanwhile, a lot of U.S. coal can't even get out of the country, thanks to greens' success in blocking proposed export terminals in Washington state and Oregon. And China, the world's most voracious coal customer, just pledged to cap its use of the fuel and is promising to curb its greenhouse gas pollution.


War on Coal = Peace on Earth

[Read more stories about: carbon emissions, climate impacts, coal issues]

[Permalink]
[Add your own quips!]


[Recovery]: from Marketplace, Mon Dec 15 2014:
Growing Styrofoam out of mushrooms
In a college dorm room, under a twin XL bed, a company was born. Ecovative, a biodesign company based in Albany, NY, began as a science project for Gavin McIntyre and Eben ...

Don't miss: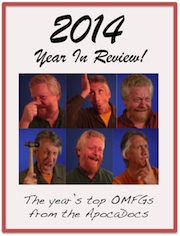 ---
Apoc-o-Meter
from the last 7 days


or visit our: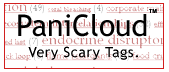 ---
"Perfect as a bathroom reader."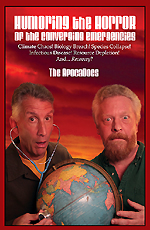 Humoring the Horror of the
Converging Emergencies
94 color pages
$24.99 now $15!
Or read FREE online!

---
Play: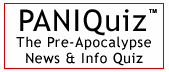 It's weekly, funny, and free!


Random Sample PANIQuestion:
What is causing an uproar about former Sen. Michael Rubio (D) getting a job with Chevron?
a) He was chairman of the state Senate's Environmental Quality Committee.
b) He refused a job with Exxon.
c) He's getting paid WAY more than he did as a politician.
d) His wife hired him.
e) He's brothers with Marco Rubio.

Answer: He was chairman of the state Senate's Environmental Quality Committee.

---