[Climate Chaos]: from Mashable, Tue Mar 3 2015:
Seeds of war
Manmade global warming helped spark the brutal civil war in Syria by doubling to tripling the odds that a crippling drought in the Fertile Crescent would occur shortly before the fighting broke out, according to a groundbreaking new study published on March 2. The study, published in the journal Proceedings of the National Academy of Sciences, is the first to attribute the drought in Syria in large part to global warming. In doing so, it provides powerful evidence backing up the Pentagon and intelligence community's assessments that climate change is likely to play the role of a "threat multiplier" in coming decades, pushing countries that are already vulnerable to upheaval over the edge and into open conflict.


Peace out

[Read more stories about: anthropogenic change, drought, food crisis, health impacts, health impacts, global warming]

[Permalink]
[Add your own quips!]


[Resource Depletion]: from Guardian, Mon Mar 2 2015:
Sao Paulo - anatomy of a failing megacity: residents struggle as water taps run dry
According to a crisis report published on 9 February by the pressure group Aliança Pela Água (Water Alliance), whereas catastrophic situations like flooding often fosters solidarity, a lack of resources tends to do the opposite, leading to chaos and even violence. In Itu, a city 100km from São Paulo a desperate water shortage in late 2014 led to fighting in queues, theft of water, and the looting of emergency water trucks, which are now accompanied by armed civil guards. These events left many paulistanos wondering how the hardship might play out in their own pressurised and densely populated city.


drip... drip... drip...

[Read more stories about: water issues, drought, climate impacts]

[Permalink]
[Add your own quips!]


[Climate Chaos]: from Huffington Post, Sun Mar 1 2015:
Jim Inhofe Brings A Snowball To The Senate Floor To Prove Climate Change Is A 'Hoax'
The Senate's most vocal critic of the scientific consensus on climate change, Jim Inhofe of Oklahoma, tossed a snowball on the Senate floor Thursday as part of his case for why global warming is a hoax.... "In case we have forgotten, because we keep hearing that 2014 has been the warmest year on record, I ask the chair, 'You know what this is?'" he said, holding up a snowball. "It's a snowball, from outside here. So it's very, very cold out. Very unseasonable."


Not a snowball's chance of a nice afterlife for him if God isn't a denier.

[Read more stories about: deniers]

[Permalink]
[Add your own quips!]


[Climate Chaos]: from Reuters, Sun Mar 1 2015:
Most Americans see combating climate change as a moral duty
A significant majority of Americans say combating climate change is a moral issue that obligates them - and world leaders - to reduce carbon emissions, a Reuters/IPSOS poll has found. The poll of 2,827 Americans was conducted in February to measure the impact of moral language, including interventions by Pope Francis, on the climate change debate. In recent months, the pope has warned about the moral consequences of failing to act on rising global temperatures, which are expected to disproportionately affect the lives of the world's poor.... Two-thirds of respondents (66 percent) said that world leaders are morally obligated to take action to reduce CO2 emissions. And 72 percent said they were "personally morally obligated" to do what they can in their daily lives to reduce emissions.


I know. Let's stop voting for deniers.

[Read more stories about: people rise up]

[Permalink]
[Add your own quips!]


[Climate Chaos]: from InsideClimate News, Sun Mar 1 2015:
Documents Reveal Fossil Fuel Fingerprints on Contrarian Climate Research
After finishing a study contending that solar activity is increasing global warming, scientist Willie Soon of the Harvard-Smithsonian Center for Astrophysics reported his news to a utility company that was a major funder of his work.... The communications show that Soon called his peer-reviewed research papers "deliverables" in return for funding from fossil fuel companies. In addition, the documents reveal that Soon and Harvard-Smithsonian gave the coal utility company the right to review his scientific papers and make suggestions before they were published. Soon and Harvard-Smithsonian also pledged not to disclose Southern's [Southern Company Services, a mega utility company in the southeastern U.S. that generates power largely from coal] role as a funder without permission.


Science bought and paid / for by those responsible / for our Earth's demise

[Read more stories about: climate impacts, deniers]

[Permalink]
[Add your own quips!]


[Plague/Virus]: from New York Times, Fri Feb 20 2015:
A Mosquito Solution (More Mosquitoes) Raises Heat in Florida Keys
In this bite-size community near Key West, like so many other mosquito-plagued spots up and down the Florida Keys, residents long ago made peace with insecticides dropped into town by planes or rumbling by on trucks. Cans of Off are offered at outdoor parties. Patio screens are greeted with relief. But Keys residents are far less enamored of another approach to mosquito control -- a proposal to release the nation's first genetically modified mosquitoes, hatched in a lab and pumped with synthetic DNA to try to combat two painful mosquito-borne viral diseases, dengue and chikungunya.


That's what I call fighting fire with fire!

[Read more stories about: pandemic]

[Permalink]
[Add your own quips!]


[Climate Chaos]: from Washington Post, Fri Feb 20 2015:
Think of Earth, not just your stomach, panel advises
The nation's top nutritional panel is recommending for the first time that Americans consider the impact on the environment when they are choosing what to eat, a move that defied a warning from Congress and, if enacted, could discourage people from eating red meat... the panel's findings, issued Thursday in the form of a 571-page report, recommended that Americans be kinder to the environment by eating more foods derived from plants and fewer foods that come from animals. Red meat is deemed particularly harmful because of, among other things, the amount of land and feed required in its production.


But I thought I was supposed to have it my way?

[Read more stories about: anthropogenic change, climate impacts, carbon emissions, corporate farming, health impacts]

[Permalink]
[Add your own quips!]


[Biology Breach]: from LiveScience, Fri Feb 20 2015:
Utah Suicides Linked to Air Pollution
Suicide may be linked to air pollution, according to new research that finds spikes in completed suicides in the days following peak pollution levels. The research took place in Utah, part of the United States' western "suicide belt." Suicide is the 10th-leading cause of death in the United States; in Utah, it is the eighth. Though the notion that suicide and air quality could be linked may not seem intuitive, similar studies in South Korea, Taiwan and Canada have also linked the two.... They found that suicide risk went up two to three days after levels of fine particulate matter and nitrogen dioxide rose.


On a clear day, you can see forever.

[Read more stories about: airborne pollutants, health impacts]

[Permalink]
[Add your own quips!]


[Climate Chaos]: from TIME, Fri Feb 20 2015:
1 in 4 Americans Apparently Unaware the Earth Orbits the Sun
A National Science Foundation study involving 2,200 participants find that about 25 percent of Americans got this question wrong: 'Does the Earth go around the sun, or does the sun go around the Earth?'... And the fact that only 74 percent of participants knew that the Earth revolved around the sun is perhaps less alarming than the fact that only 48 percent knew that humans evolved from earlier species of animals.


I bet Copernicus is orbiting in his grave.

[Read more stories about: stupid humans]

[Permalink]
[Add your own quips!]


[Biology Breach]: from Ensia, Thu Feb 19 2015:
What are we doing to our children's brains?
The numbers are startling. According to the U.S. Centers for Disease Control and Prevention, about 1.8 million more children in the U.S. were diagnosed with developmental disabilities between 2006 and 2008 than a decade earlier. During this time, the prevalence of autism climbed nearly 300 percent, while that of attention deficit hyperactivity disorder increased 33 percent. CDC figures also show that 10 to 15 percent of all babies born in the U.S. have some type of neurobehavorial development disorder. Still more are affected by neurological disorders that don't rise to the level of clinical diagnosis.... a significant and growing body of research suggests that exposure to environmental pollutants is implicated in the disturbing rise in children's neurological disorders.


The little ones need to toughen up.

[Read more stories about: health impacts, airborne pollutants]

[Permalink]
[Add your own quips!]


[Climate Chaos]: from Indianapolis Star, Thu Feb 19 2015:
Indiana House panel OKs solar bill on party-line vote
Indiana's electric companies won the first round Wednesday in a contentious fight over a bill that critics say would slam the state's startup solar energy industry.... For nearly two hours, members of the House Utilities, Energy and Telecommunications Committee listened as a parade of speakers urged them to table the solar energy bill until its full impact could be studied.... just one -- Mark Maassel, the head of the Indiana Energy Association -- was there to fully support the legislation...


If the utilities like it then the politicians like it and to hell with what the people want or what's good for Mother Earth.

[Read more stories about: governmental corruption, carbon emissions]

[Permalink]
[Add your own quips!]


[Biology Breach]: from LiveScience, Thu Feb 19 2015:
Chemical in Plastics May Alter Boys' Genitals Before Birth
Baby boys who are exposed in the womb to a chemical used in soft plastics may show small signs of altered genital development, according to new research published today. The study, which included more than 700 infants in four U.S. cities, is the largest of its kind to date. It confirms earlier findings in humans and animals that exposure to certain types of chemicals called phthalates may lead to changes in the way the male reproductive tract develops, said Dr. Russ Hauser, an epidemiologist at the Harvard School of Public Health, who was not involved in the new study. Phthalates are a large group of industrial chemicals used in a variety of consumer products, such as food packaging, flooring, perfumes and lotions.


I wasn't sure I would have the balls to face reading this story.

[Read more stories about: health impacts, phthalates]

[Permalink]
[Add your own quips!]


[Climate Chaos]: from The Hill, Thu Feb 12 2015:
New GOP Senate begins assault on Obama's climate rules
... Republicans on the Senate Environment and Public Works Committee attempted to poke holes in the administration's carbon rules, calling the regulations "costly," "job killing," and "unnecessary." Sen. Jim Inhofe (R-Okla.), chairman of the committee, charged that the the rules would "do nothing to save us from global warming" and that they were "unconstitutional."


I thought global warming was a hoax!

[Read more stories about: deniers]

[Permalink]
[Add your own quips!]


[Climate Chaos]: from Phys.org, Thu Feb 12 2015:
Methane emissions from natural gas industry higher than previously thought
World leaders are working to reduce greenhouse gas emissions, but it's unclear just how much we're emitting. In the U.S., the Environmental Protection Agency (EPA) has a new program to track these emissions, but scientists are reporting that it vastly underestimates methane emissions from the growing natural gas industry. Their findings, published in two papers in the ACS journal Environmental Science & Technology, could help the industry clamp down on "superemitter" leaks.


Forgive me Father, for I have Emitted.

[Read more stories about: anthropogenic change, climate impacts, global warming, holyshit, methane release]

[Permalink]
[Add your own quips!]


[Biology Breach]: from Reuters, Thu Feb 12 2015:
Tests planned on mysterious 'milky rain' in U.S. Pacific Northwest
Scientists from two U.S. Pacific Northwest laboratories plan to conduct tests of unusual precipitation that fell across the region over the weekend in hopes of pinpointing the origins of so-called "milky rain" that has mystified residents, officials said on Wednesday.... The National Weather Service has said it believes the powdery rain was most likely a byproduct of dust storms hundreds of miles away in Nevada, although it could not rule out volcanic ash from Japan as a possible culprit.


No use crying over milky rain.

[Read more stories about: airborne pollutants]

[Permalink]
[Add your own quips!]


[Climate Chaos]: from New York Times, Mon Feb 2 2015:
Most Republicans Say They Back Climate Action, Poll Finds
An overwhelming majority of the American public, including half of Republicans, support government action to curb global warming, according to a poll conducted by The New York Times, Stanford University and the nonpartisan environmental research group Resources for the Future. In a finding that could have implications for the 2016 presidential campaign, the poll also found that two-thirds of Americans said they were more likely to vote for political candidates who campaign on fighting climate change. They were less likely to vote for candidates who questioned or denied the science that determined that humans caused global warming.


Wonder what party the Koch Brothers belong to? The ApocaParty?

[Read more stories about: deniers, people rise up]

[Permalink]
[Add your own quips!]


[Species Collapse]: from Science, Wed Jan 14 2015:
Plan to save monarch butterflies backfires
It started with the best of intentions. When evidence emerged that monarch butterflies were losing the milkweed they depend on due to the spread of herbicide-resistant crops ...


[Recovery]: from Grist, Fri Jan 9 2015:
Challenging the divine right of big energy
... The new calendar that renamed 1792 as Year One had, after all, been created to start society all over again. In that little junk shop on a quiet street in San Francisco, ...


[Climate Chaos]: from DesdemonaDespair, Sat Jan 3 2015:
50 Doomiest Graphs from 2014
Measured number of plastic items per square kilometer in the world's oceans... Velocities of retreating glaciers in West Antarctica ... Precipitation anomalies over South ...

Don't miss: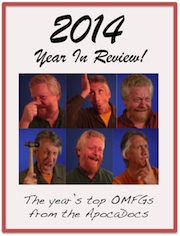 ---
Apoc-o-Meter
from the last 7 days


or visit our: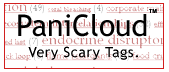 ---
"Perfect as a bathroom reader."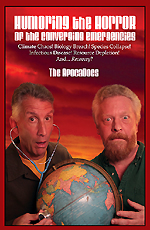 Humoring the Horror of the
Converging Emergencies
94 color pages
$24.99 now $15!
Or read FREE online!

---
Play: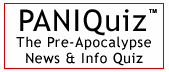 It's weekly, funny, and free!


Random Sample PANIQuestion:
What is the nickname for the single-cell algae fouling New York City's drinking water system?
a) Bloom doom
b) Rock snot
c) Kermit's folly
d) Lilly pud
e) Putrid pie

Answer: Rock snot

---
The ApocaDocs try to make fun of the horror of environmental collapse by locating a handful of news items every day, and giving each a punchline. The stories are categorized into five main topics: Species Collapse (ecosystem interrelationships, invasive species, the sixth extinction, pesticide effects, and more); Resource Depletion (peak oil, peak phosphorus, overfishing, topsoil loss, aquifer declines, and more); Biology Breach (toxic runoff, radiation, GMOs, pharmwater, contamination, and idle destruction); Climate Chaos (global warming, weather extremes, ocean warming, and more); and Infectious Disease (pandemics, viruses, antibiotic resistance). To avoid deep depression, we also include stories of Recovery (alternative energy, innovations, species restoration, better policies, social change, and the like). For more information, see About The ApocaDocs.