[Resource Depletion]: from Mother Jones, Sat Oct 25 2014:
Climate Change Is Kicking the Insurance Industry's Butt
Global warming is increasing the risk of damage to lives and property from natural disasters beyond what many insurers are willing to shoulder. And most insurance companies aren't taking adequate steps to change that trend, the survey found. That's a problem even if you don't live by the coast: When private insurers back out, the government is left to pick up much of the damage costs; already, the federal flood insurance program is one of the nation's largest fiscal liabilities. Ceres, an environmental nonprofit, evaluated the climate risk management policies of 330 large insurance companies operating in the United States. The results are worrying. Only nine companies, 3 percent of the total, earned the highest ranking....


It's strange, to imagine that somehow consequences could result from our actions. Aren't we protected from such craziness by the rules of the universe?

[Read more stories about: faster than expected, unintended consequences, tipping point]

[Permalink]
[Add your own quips!]


[Species Collapse]: from The Independent (UK), Thu Oct 23 2014:
Small ocean fish are thriving while humans eat up all their predators
Little fish have never had it so good, according to research showing how mankind's taste for big fish such as tuna and shark is allowing the anchovy and sardine to flourish.... Industrialised fishing practices are causing a revolution in the world's oceans, with numbers of predator fish - which also include swordfish, grouper, North Atlantic cod and salmon - tumbling by 54 per cent in the past four decades. These fish sit at the top of the food chain and are more popular with humans than the smaller species because people find them tastier. Their volume - by weight - has fallen by 67 per cent in the past century, a University of British Columbia study has found.... The volume by weight of smaller fish has more than doubled in the past century. The biggest increases are to be found in those fish that are less popular with humans, such as sticklebacks and Gobies, the research found. Over the same period, the volume of predators fell by 67 per cent.... The meteoric rise of herbivorous sea urchins as their predators such as sea otters have declined is one example of how the changes are undermining ecosystems. The sea urchins destroy the forests of kelp seaweed that host numerous species such as crabs and jellyfish.


It's just smaller fish, all the way down.

[Read more stories about: predator depletion, overfishing, food crisis]

[Permalink]
[Add your own quips!]


[Climate Chaos]: from University of Arizona, via ScienceDaily, Thu Oct 23 2014:
As permafrost soils thaw soil microbes amplify global climate change
Tiny soil microbes are among the world's biggest potential amplifiers of human-caused climate change, but whether microbial communities are mere slaves to their environment or influential actors in their own right is an open question. Now, research by an international team of scientists from the U.S., Sweden and Australia, led by University of Arizona scientists, shows that a single species of microbe, discovered only very recently, is an unexpected key player in climate change.... The new research nails down the role of the new microbe, finding that the sheer abundance of Methanoflorens, as compared to other microbial species in thawing permafrost, should help to predict their collective impact on future climate change.... "But we find that in thawing permafrost, most methane initially doesn't come from acetate as previously assumed, but the other pathway. This ratio then shifts towards previous estimates as the frozen soils are turned into wetlands and acetate becomes the preferred carbon source."


Anything called Methanoflorens -- "Methane's Flower" -- scares the bejeezis out of me.

[Read more stories about: methane release, permafrost meltdown, faster than expected]

[Permalink]
[Add your own quips!]


[Biology Breach]: from Mother Jones, Tue Oct 21 2014:
Why Did Top Scientific Journals Reject This Dr. Bronner's Ad?
David Bronner, CEO of Dr. Bronner's Magic Soaps, presides over a company with famously wacky product labels. Sample sentence, from the 18-in-1 Hemp PEPPERMINT soap bottle: "Each swallow works hard to be perfect pilot-provider-teacher-lover-mate, no half-true hate!" But Bronner himself, grandson of the founder (the one with the elaborate prose style), has emerged as a serious, though fun-loving, activist, particularly around pesticides and genetically modified crops, as Josh Harkinson's recent Mother Jones profile shows. But apparently, Bronner's writing on GMOs is too hot for the advertising pages of the English-speaking world's two most renowned science journals, Science and Nature--even though a slew of magazines, including Scientific American, The New Yorker, Harper's, The Nation, Harvard, and, yes, Mother Jones, accepted the Bronner ad. It consists of a short essay, known in publishing as an advertorial, that's nothing like the wild-eyed rants on his company's soap bottles. Bronner's ad (PDF) focuses on how GMO crops have led to a net increase in pesticide use in the United States, citing an analysis by Ramon Seidler, a retired senior staff scientist at the Environmental Protection Agency.


I think those overly-respected journals just can't get behind 5-point type, saying 'pilot-provider-teacher-lover-mate, no half-true hate!'"

[Read more stories about: GMOs, economic myopia, stupid humans]

[Permalink]
[Add your own quips!]


[Climate Chaos]: from Huffington Post, Mon Oct 20 2014:
Proposed Texas Textbooks Distort The Truth About Climate Change, Experts Say
The opposition to new social studies textbooks in Texas is building its case. Last week, critics contended some of the proposed books distorted historical events through a conservative political and religious lens. This week, a report argues the books contain a number of inaccuracies about climate change and climate science. The report released Monday, from the National Center for Science Education, finds that some textbooks up for adoption present a false picture of scientific views on issues like global warming... Two of the books have passages stating that scientists disagree about the causes of climate change, according to NCSE.


Apparently, there's a debate about if there's a debate!

[Read more stories about: deniers]

[Permalink]
[Add your own quips!]


[Climate Chaos]: from InsideClimate News, Mon Oct 20 2014:
September Was Warmest on Record, NASA Data Shows
Like August before it, September 2014 was the warmest September on record, according to newly updated NASA data. The warm month makes it even more likely that 2014 will become the warmest year on record. This September was about 1.4F above the 1951-1980 average temperature for the month, data from NASA's Goddard Institute for Space Studies (GISS) showed. That makes it the warmest September in GISS records, edging out the previous September record set in 2005. GISS records extend back to 1880.


Copy cat.

[Read more stories about: global warming, holyshit]

[Permalink]
[Add your own quips!]


[Biology Breach]: from Wageningen University and Research Centre, via ScienceDaily, Sat Oct 18 2014:
Plastic nanoparticles also harm freshwater organisms
Organisms can be negatively affected by plastic nanoparticles, not just in the seas and oceans but in freshwater bodies too. These particles slow the growth of algae, cause deformities in water fleas and impede communication between small organisms and fish.... In the study into the effects of tiny plastic particles in freshwater, PhD candidate Ellen Besseling and student Bo Wang exposed water fleas to various nanoplastic concentrations. At higher concentrations, algae growth declined. Water fleas were also smaller following exposure to nanoplastics and their offspring malformed in various ways. 'These are the first malformations that have been seen in freshwater organisms and we do not yet know how big the problem really is', says Ellen Besseling. She believes that more research is needed into the sources, concentrations and effects of nanoplastic in water and on other organisms.


"Microparticles" ought only to produce "microconcerns." Instead, I'm seeing "macroconcerns." What's up with that?

[Read more stories about: plastic problems, water issues, water reuse, toxic buildup]

[Permalink]
[Add your own quips!]


[Climate Chaos]: from New York Times, Fri Oct 17 2014:
How Billionaire Oligarchs Are Becoming Their Own Political Parties
... With the advent of Citizens United, any players with the wherewithal, and there are surprisingly many of them, can start what are in essence their own political parties, built around pet causes or industries and backing politicians uniquely answerable to them. No longer do they have to buy into the system. Instead, they buy their own pieces of it outright, to use as they see fit.


The (once) greatest country on earth slips further into malaise.

[Read more stories about: capitalist greed]

[Permalink]
[Add your own quips!]


[Resource Depletion]: from Bloomberg, Fri Oct 17 2014:
Sao Paulo Running Out of Water Unless Reserve Tapped Now
Latin America's biggest metropolis may run out of water next month. For some of the 20 million residents across Sao Paulo, the nation's financial hub, taps are already running dry. Dilma Pena, chief executive officer of the state-run water utility, told the city council yesterday that supplies are only guaranteed until mid-November unless it can tap the last of the water in its Cantareira reservoir. The four-lake complex that supplies half of Sao Paulo has already been drained of 96 percent of its water capacity amid Brazil's worst drought in eight decades.


Bring out the reserve immediately, Chives.

[Read more stories about: water issues, drought]

[Permalink]
[Add your own quips!]


[Climate Chaos]: from Associated Press, Fri Oct 17 2014:
Study: Natural gas surge won't slow global warming
...Five teams of experts from around the world, using five different sets of computer model simulations, looked at what would happen if natural gas -- also known as methane -- remains cheap and plentiful and nothing else changes, such as policy mandates. They all came to the same conclusion. "It doesn't reduce climate change," said study lead author Haewon McJeon, an economist at the U.S. Department of Energy's Pacific Northwest National Laboratory. Two computer models even found that when considering other factors like methane leaks, cheaper natural gas could lead to more trapping of heat by greenhouse gases, the mechanism that drives global warming. Methane traps even more heat than an equivalent amount of carbon dioxide.


It won't "slow global warming" but it will make it more fun!

[Read more stories about: climate impacts, fracking, methane release, holyshit]

[Permalink]
[Add your own quips!]


[Species Collapse]: from PhysOrg, Thu Oct 16 2014:
Amphibian communities collapse in wake of viral outbreak
Two closely related viruses that have been introduced to northern Spain in recent years have already led to the collapse of three different species of amphibian--the common midwife toad, the common toad, and the alpine newt--in the protected area of Picos de Europa (literally "Peaks of Europe") National Park. In all, six amphibian species have suffered from severe disease and mass mortality as a result of the outbreak, and researchers who report their findings in the Cell Press journal Current Biology on October 16 say that the viruses appear to be on the move. Preliminary evidence shows that related ranaviruses are emerging in other parts of Europe, which surely means more bad news for amphibians ahead. "The capacity of these viruses to infect multiple species means that there is the possibility that some host populations may be extirpated due to infection," says Stephen Price, now of UCL....


The Amphibian News Network: "worse than Ebola," calls for cancelling all tadpole adoptions from Spain.

[Read more stories about: amphibian collapse, ecosystem interrelationships]

[Permalink]
[Add your own quips!]


[Recovery]: from Environmental Health News, Tue Oct 14 2014:
BPA in the air: Manufacturing plants in Ohio, Indiana, Texas are top emitters
As concerns mount over people's exposure to the plasticizer bisphenol A in everyday products, it's also contaminating the air near manufacturing plants: U.S. companies emitted about 26 tons of the hormone-disrupting compound in 2013. Although research is sparse, experts warn that airborne BPA could be a potentially dangerous route of exposure for some people. Of the 72 factories reporting BPA emissions, the largest sources are in Ohio, Indiana and Texas, according to the Environmental Protection Agency's Toxics Release Inventory.


Plasticizer is my band name!

[Read more stories about: bisphenol A, health impacts]

[Permalink]
[Add your own quips!]


[Climate Chaos]: from MPRnews, Tue Oct 14 2014:
As Minnesota's climate changes, bad air and new disease risks follow
In the last century, Minnesota has generally grown warmer and wetter, changes that have big implications for human health. Some Minnesota counties are much more vulnerable than others to health problems associated with climate change, concludes the first county-by-county Minnesota Climate Change Vulnerability Assessment. The Minnesota Department of Health report, released Monday, looks at which counties are most vulnerable to extreme heat, flash flooding and bad air quality.


Buncha micro managers.

[Read more stories about: climate impacts, health impacts, pandemic, weather extremes]

[Permalink]
[Add your own quips!]


[Recovery]: from New York Times, Tue Oct 14 2014:
Pentagon Signals Security Risks of Climate Change
The Pentagon on Monday released a report asserting decisively that climate change poses an immediate threat to national security, with increased risks from terrorism, infectious disease, global poverty and food shortages. It also predicted rising demand for military disaster responses as extreme weather creates more global humanitarian crises. The report lays out a road map to show how the military will adapt to rising sea levels, more violent storms and widespread droughts. The Defense Department will begin by integrating plans for climate change risks across all of its operations, from war games and strategic military planning situations to a rethinking of the movement of supplies.


We will be at constant war with the wild weather we have reared.

[Read more stories about: global warming, holyshit, rising sea level]

[Permalink]
[Add your own quips!]


[Recovery]: from Des Moines Register, Mon Oct 13 2014:
MidAmerican expands Iowa wind foothold
Iowa's reputation as a leader in wind energy production got another boost Friday when MidAmerican Energy announced plans to invest an additional $280 million in the renewable energy. The Des Moines-based utility will add 67 wind turbines at two western Iowa locations... Iowa is one of the leading states in the production of wind energy. More than 27 percent of the state's energy comes from wind, the highest state percentage in the nation, according to a 2014 report by the American Wind Energy Association.


When it rains it pours... wind.

[Read more stories about: climate impacts, renewable energy]

[Permalink]
[Add your own quips!]


[Biology Breach]: from London Guardian, Mon Oct 13 2014:
Drugs flushed into the environment could be cause of wildlife decline
Potent pharmaceuticals flushed into the environment via human and animal sewage could be a hidden cause of the global wildlife crisis, according to new research. The scientists warn that worldwide use of the drugs, which are designed to be biologically active at low concentrations, is rising rapidly but that too little is currently known about their effect on the natural world. Studies of the effect of pharmaceutical contamination on wildlife are rare but new work published on Monday reveals that an anti-depressant reduces feeding in starlings and that a contraceptive drug slashes fish populations in lakes.


We are fouling our planetary nest.

[Read more stories about: contamination, massive die-off, pharmwater]

[Permalink]
[Add your own quips!]

Don't miss: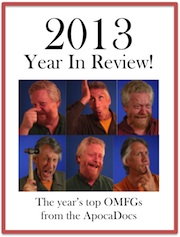 ---
Apoc-o-Meter
from the last 7 days


or visit our: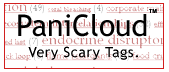 ---
"Perfect as a bathroom reader."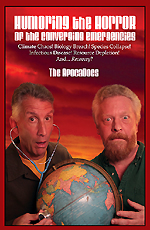 Humoring the Horror of the
Converging Emergencies
94 color pages
$24.99 now $15!
Or read FREE online!

---
Play: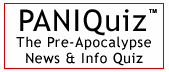 It's weekly, funny, and free!


Random Sample PANIQuestion:
What did a recent report reveal about the Great Lakes, since 1973?
a) Ice is reduced 71 percent.
b) Quagga mussels are up, 400 percent.
c) Water level is down, 2 meters.
d) The Great Lakes are less great, by a factor of 4.
e) There are the same number of lakes over that span of time.

Answer: Ice is reduced 71 percent.

---