[Climate Chaos]: from The Hill, Tue Jul 29 2014:
Inhofe blocks climate change resolution
Sen. James Inhofe (R-Okla.) blocked Senate Democrats on Monday from passing a resolution that would have acknowledged the reality of climate change. Sen. Amy Klobuchar (D-Minn.) asked unanimous consent to pass S.Res. 524, which is a measure that expresses the sense of the Senate that climate change is occurring and poses a risk to the United States. But Inhofe objected.... Sen. Sheldon Whitehouse (D-R.I.), who is a sponsor of the resolution, said Inhofe was living in an "alternate reality."


Let's all go live in Inhofeland.

[Read more stories about: deniers]

[Permalink]
[Add your own quips!]


[Recovery]: from Climate Central, Mon Jul 28 2014:
Court Ruling May Reverberate on 'Social Cost' of Carbon
Greenhouse gas emissions from burning and extracting coal, oil and natural gas drive climate change, and as communities feel the effects of a warming world -- rising seas, burning forests and withering crops -- communities' pocketbooks take a hit, too. That's called the social cost of carbon. And if a recent federal court decision stands, the U.S. government may have to calculate those climate-related costs from any new fossil fuels development on public lands before a new project can be approved.


Get out your Al-Gore-rhythm to measure that one.

[Read more stories about: smart policy]

[Permalink]
[Add your own quips!]


[Climate Chaos]: from Ecowatch, Mon Jul 28 2014:
Last Month Was the Hottest June of All Time
Just like the month that preceded it, June 2014 was the hottest of its kind in our planet's history. According to data from the National Oceanic and Atmospheric Administration (NOAA), global land and ocean surface temperatures combined for an average of 61.2 degrees, making last month the hottest June ever. That figure exceeded the previous record in 1998 by 1.3 degrees. In addition to marking the second consecutive month with a record high global temperature, June was also the fifth month this year to rank among the four hottest of all time for its respective month. February was the only exception.


We are on a roll.

[Read more stories about: global warming, holyshit]

[Permalink]
[Add your own quips!]


[Climate Chaos]: from DeSmog Blog, Mon Jul 28 2014:
U.S. Becomes Biggest Oil Producer After Overtaking Saudi Arabia
Is President Obama's "all of the above" energy policy a success? Or a climate failure? A report issued recently by Bank of America declared the U.S. has now surpassed Saudi Arabia as the world's largest oil producer. The daily output average for the first quarter of 2104 exceeded 11 million barrels, a significant increase from the previous quarters' (Sept-Dec 2013) average of 7 million barrels, according to the International Energy Agency. The expansion of domestic oil production in the U.S. has been significant under President Obama, supported by his "all of the above"--or rather the American Petroleum Institute's "all of the above"--energy strategy which has overseen a four-fold increase in drilling rigs under his administration.


President Oilbama.

[Read more stories about: carbon emissions, capitalist greed, governmental idiocy, health impacts, global warming]

[Permalink]
[Add your own quips!]


[Climate Chaos]: from The Economist, Mon Jul 28 2014:
The elephant in the atmosphere
IN SEPTEMBER 2013 a group of institutional investors with $3 trillion of assets under management asked the 45 biggest quoted oil firms how climate change might affect their business and, in particular, whether any of their oil reserves might become "stranded assets"--unusable if laws to curb emissions of carbon dioxide became really tight. Exxon Mobil and Shell are the most recent to get back with their assessment of the risk: zero. "We do not believe that any of our proven reserves will become 'stranded'," says Shell.


In other words, they'll keep extracting until the earth is fried.

[Read more stories about: capitalist greed, anthropogenic change]

[Permalink]
[Add your own quips!]


[Climate Chaos]: from Bloomberg, Mon Jul 28 2014:
Kudzu That Ate U.S. South Heads North as Climate Changes
As the climate warms, the vine that ate the U.S. South is starting to gnaw at parts of the North, too. Kudzu, a three-leafed weed first planted in the U.S. more than 100 years ago for the beauty of its purple blossoms, has been spotted in every county in Georgia, Alabama and North Carolina. It chokes young trees, brings down power lines and infests abandoned homes. Now the plant, which can grow as fast as a foot (30 cm) per day, is creeping northward, wrapping itself around smokestacks in Ohio, overwhelming Illinois backyards and even jumping Lake Erie to establish a beachhead in Ontario, Canada.


Sounds like a biofuel source to me.

[Read more stories about: invasive species, anthropogenic change]

[Permalink]
[Add your own quips!]


[Species Collapse]: from Stanford University, Mon Jul 28 2014:
Biologist warn of early stages of Earth's sixth mass extinction event
The planet's current biodiversity, the product of 3.5 billion years of evolutionary trial and error, is the highest in the history of life. But it may be reaching a tipping point. Scientists caution that the loss and decline of animals is contributing to what appears to be the early days of the planet's sixth mass biological extinction event. Since 1500, more than 320 terrestrial vertebrates have become extinct. Populations of the remaining species show a 25 percent average decline in abundance. The situation is similarly dire for invertebrate animal life.


Evolution didn't plan on us.

[Read more stories about: anthropogenic change, tipping point, sixth extinction]

[Permalink]
[Add your own quips!]


[Resource Depletion]: from Washington Post, Mon Jul 28 2014:
Study: Colorado River Basin drying up faster than previously thought
Seven Western states that rely on the Colorado River Basin for valuable water are drawing more heavily from groundwater supplies than previously believed, a new study finds, the latest indication that an historic drought is threatening the region's future access to water. In the past nine years, the basin -- which covers Wyoming, Colorado, Utah, New Mexico, Nevada, Arizona and California -- has lost about 65 cubic kilometers of fresh water, nearly double the volume of the country's largest reservoir, Lake Mead. That figure surprised the study's authors, who used data from a NASA weather satellite to investigate groundwater supplies..."We really don't know how much water is down there. We've already depleted a lot of it. There could be more, but when we have to start to dig deeper to access it, that's a bad sign," Castle said. "If [ground water basins] continue to be depleted, they don't come back up."


We could always squeeze water out of stones, right?

[Read more stories about: anthropogenic change, drought, water issues]

[Permalink]
[Add your own quips!]


[Biology Breach]: from Mother Jones, Mon Jul 28 2014:
Halliburton Fracking Spill Mystery: What Chemicals Polluted an Ohio Waterway?
On the morning of June 28, a fire broke out at a Halliburton fracking site in Monroe County, Ohio. As flames engulfed the area, trucks began exploding and thousands of gallons of toxic chemicals spilled into a tributary of the Ohio River, which supplies drinking water for millions of residents. More than 70,000 fish died. ... This episode highlights a glaring gap in fracking safety standards. In Ohio, as in most other states, fracking companies are allowed to withhold some information about the chemical stew they pump into the ground to break up rocks and release trapped natural gas.... According to a preliminary EPA inquiry, more than 25,000 gallons of chemicals, diesel fuel, and other compounds were released during the accident, which began with a ruptured hydraulic line spraying flammable liquid on hot equipment. The flames later engulfed 20 trucks, triggering some 30 explosions that rained shrapnel over the site and hampered firefighting efforts.


Sounds like a summer blockbuster!

[Read more stories about: fracking, governmental idiocy, massive die-off]

[Permalink]
[Add your own quips!]


[Climate Chaos]: from Telegraph (UK), Sun Jul 27 2014:
Sea temperature off Plymouth hotter than California
Ocean temperatures have a soared to a seven-year high off southwest Britain - making our seas as hot as California. Marine scientists say the water has reached 20.4C (68.7F) off Start Bay, Devon, and 20.1C (68.2F) off Perranporth, Cornwall. That is even warmer than readings taken from Santa Monica beach in Los Angeles, where its currently lagging behind at 19.4C (66.9F) and only 8C short of the sea temperature in Bali. Temperatures off the British coast are also rising by almost 4C a month - twice as fast as normal.... "Increasing sea temperatures will change the community structure and certain species will be better adpated to the warmer temperatures. That's both the microscopic plants, the phytoplankton and the large plants, the kelp. "Jellyfish tend to like warm waters so there might be an increase in the jellyfish population although bathers shouldn;t be unduly concerned." Meanwhile hot temperatures blowing in from Europe are bringing with it pollutants and these are reacting with sunlight to produce a soup of chemical smog which endangers health.


It ain't the temperature, it's the toxic haze.

[Read more stories about: jellyfish, ecosystem interrelationships, ocean warming, faster than expected]

[Permalink]
[Add your own quips!]


[Species Collapse]: from The Independent (UK), Sat Jul 26 2014:
Vital invertebrates decline by 45 per cent, study finds
Insects, worms and other small animals that carry out vital functions for life on earth have declined by 45 per cent on average over 35 years, threatening human health, water quality and food supplies, a study has found. The rapid decline in the number of invertebrates - animals without backbones - is at least as bad as the well publicised plight of the larger animals, according to scientists who said they were shocked by the findings. Although there has has been far less research on invertebrates than on vertebrates, what little has been done suggests that they are undergoing a catastrophic fall in abundance which is having a severe impact on "ecosystem services" such a pollination of crops, water treatment and waste recycling, the scientists said.


Ugh -- you want me to care about bugs?

[Read more stories about: canary in coal mine, ecosystem interrelationships, habitat loss, holyshit]

[Permalink]
[Add your own quips!]


[Species Collapse]: from CBC, Fri Jul 25 2014:
More than half of Ontario bees died during harsh winter
About 58 per cent of Ontario bees died during what was an especially long winter, while other provinces lost on average about 19 per cent of their swarm, according to the Canadian Association of Professional Apiculturists survey. That means Ontario lost bees at a rate three times that of the other provinces. While the report fingers the weather -- this year's polar vortex -- as the main culprit for the bee deaths, acute and chronic pesticide damage or insufficient recovery from pesticide exposure last year have also been cited by hive-minders as contributing factors.... The Ontario bee group says nearly all corn seeds and about two-thirds of soy seeds sold in the province are pretreated with neonicotinoid coatings, though only a minority of the crops are at risk from pests the insecticide is meant to stop. It did its own winter survey earlier this year and found more than a quarter of beekeepers lost 75 to 100 per cent of their colonies.


That's a better survival rate than my peaches and cherry trees. Toughen up, Apis mellifera!

[Read more stories about: massive die-off, pesticide runoff, unintended consequences]

[Permalink]
[Add your own quips!]


[Resource Depletion]: from Global Oceans Commission, via DesdemonaDespair, Fri Jul 25 2014:
Global fishing fleet capacity and productivity, 1975-2005
The main drivers leading to overfishing on the high seas are vessel overcapacity and mismanagement. However, measures to improve management alone will not succeed without solving the problem of overcapacity caused by subsidies, particularly fuel subsidies. Overcapacity is often described as "too many boats trying to catch too few fish". Indeed, the size of the world's fleet is currently two-and-a-half times what is necessary to sustainably catch global fish stocks. But it is not only the number of vessels that is of concern, it is also the type of vessel. Many argue that having fewer vessels, when they have larger engines and use more-destructive industrial fishing gear, is of equal weight to the number of vessels fishing as a driver of overcapacity.


We call that "aspirational infrastructure."

[Read more stories about: overfishing, overpopulation, marine mammals, hunting to extinction, technical cleverness]

[Permalink]
[Add your own quips!]


[Climate Chaos]: from AFP, via Daily Times (Pakistan), Thu Jul 17 2014:
Australia abolishes divisive carbon tax
Australia on Thursday axed a divisive carbon tax after years of vexed political debate, in a move criticised as regressive and out of step with the rest of the world. The upper house Senate voted 39-32 to scrap the charge, which was imposed by the former Labor government on major polluters from 2012 in a bid to reduce greenhouse gas emissions.... Prime Minister Tony Abbott went to the polls in September with repealing the pollution levy as a central campaign platform, arguing the cost was being passed to consumers, resulting in higher utility bills. "Scrapping the carbon tax is a foundation of the government's economic action strategy," said Abbott, who once said evidence blaming mankind for climate change was "absolute crap".


Carbon taxes may be a third rail in politics, powered by demagoguery.

[Read more stories about: capitalist greed, governmental idiocy, deniers, short-term thinking]

[Permalink]
[Add your own quips!]


[Climate Chaos]: from TruthOut, Wed Jul 16 2014:
Arctic Warming and Increased Weather Extremes: The National Research Council Speaks
A new report from the National Research Council (NRC) details the findings of recent Arctic research: Arctic sea ice in all seasons is declining and the rate of loss is increasing. Multiple lines of study show this is impacting weather outside of the Arctic. Increased energy (heat) in the Arctic is slowing the progress of the jet stream around globe, allowing weather systems to linger, increasing the risk of severe weather happening more often in any one place.... In our old climate, we sort-of knew how it behaved. We had decades and even centuries of records to use to project changes into the future. But all of this historical data may be of much less use in the future as the baseline physics have now changed. Even more critical, the short term is now very important as tipping points may appear at any time. Because of 20 years of delay in controlling climate pollution, we are experiencing more warming faster than we would have if we had of begun to address climate pollutants as was suggested decades ago. Because we are warming faster, the risk of climate tipping points is higher. This discussion point states that recent Arctic changes may have "pushed the atmosphere into a new state with different variability." What they mean by variability is that the extremes get more extreme.


I'd rather not listen to those guys. They use too many big words!

[Read more stories about: arctic meltdown, faster than expected, tipping point, weather extremes, death spiral]

[Permalink]
[Add your own quips!]


[Biology Breach]: from ThinkProgress.org, Tue Jul 15 2014:
Company That Caused Historic West Virginia Chemical Spill Fined $11k
The company responsible for letting 10,000 gallons of a mysterious chemical seep into West Virginia's drinking water supply this past January was fined $11,000 by the U.S. Department of Labor on Monday, just two days before the six-month anniversary of the historic spill. After inspecting the facilities at Freedom Industries' chemical storage site in Charleston, the Labor Department's Occupational Safety and Health Administration (OSHA) found that, at the time of the spill, Freedom Industries' chemical tanks containing crude MCHM had been surrounded by a wall that was not liquid tight. That violation that warranted a $7,000 fine. OSHA also hit Freedom Industries with an additional $4,000 fine for not having railings on an elevated platform used for loading and storing the chemical in the tanks. Both violations were labeled by OSHA as "serious," warranting monetary penalties.... Wednesday marks the sixth month anniversary of the day when Freedom's tanks spilled 10,000 gallons of crude MCHM -- the licorice-scented chemical mixture used in the coal production process -- into West Virginia's Elk River, tainting the water supply for 300,000 civilians. In the aftermath, nearly 600 people checked themselves into local hospitals with what federal epidemiologists called "mild" illnesses, such as rash, nausea, vomiting, abdominal pain, and diarrhea.


The industry will be "scared straight" by that fine!

[Read more stories about: regulatory stupidity, toxic leak, water issues]

[Permalink]
[Add your own quips!]


[Recovery]: from TrueActivist.com, Mon Jul 14 2014:
Forest, Trees; Choose Two
In this fascinating video, UBC Professor Suzanne Simard explains how trees are much more complex than most of us ever imagined. Although Charles Darwin assumed trees are simply individual organisms competing for survival of the fittest, Simard demonstrates just how wrong he was. In fact, the opposite is true: trees survive through mutual co-operation and support, passing around essential nutrients "depending on who needs it". Nitrogen and carbon are shared through miles of underground fungi networks, ensuring that all trees in the forest eco-system give and receive just the right amount to keep them all healthy. This invisible web works in a very similar way to the networks of neurons in our brains, and when one tree is destroyed it has consequences for all.


Now they'll declare forests a socialist threat.

[Read more stories about: ecosystem interrelationships, forests, stupid humans, unintended consequences]

[Permalink]
[Add your own quips!]

Don't miss: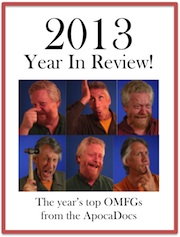 ---
Apoc-o-Meter
from the last 7 days


or visit our: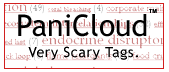 ---
"Perfect as a bathroom reader."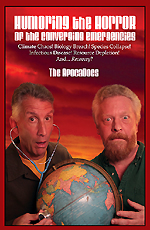 Humoring the Horror of the
Converging Emergencies
94 color pages
$24.99 now $15!
Or read FREE online!

---
Play: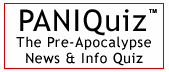 It's weekly, funny, and free!


Random Sample PANIQuestion:
According to a new study, what popular meat and dairy generates the most greenhouse gases?
a) Half pounders, Big Macs and Chicken McNuggets.
b) Winkin' Blinkin' and Nod.
c) Shakes, chicken fingers and curds.
d) Lamb, beef and cheese.
e) Chicken, beef and whole milk.

Answer: Lamb, beef and cheese.

---