[Recovery]: from Mother Jones, Fri Sep 19 2014:
These Stunning Photos of Greenland's "Dark Snow" Should Worry You
Jason Box knows ice. That's why what's happened this year concerns him so much. Box just returned from a trip to Greenland. Right now, the ice there is... black.... The ice in Greenland this year isn't just a little dark--it's record-setting dark. Box says he's never seen anything like it. I spoke to Box by phone earlier this month, just days after he returned from his summer field research campaign. "I was just stunned, really," Box told me. The photos he took this summer in Greenland are frightening. But their implications are even more so. Just like black cars are hotter to the touch than white ones on sunny summer days, dark ice melts much more quickly.... Box gives the stunning stats: "In 2014 the ice sheet is precisely 5.6 percent darker, producing an additional absorption of energy equivalent with roughly twice the US annual electricity consumption."


Scientists have a name for reverse albedo: "Odebla.'

[Read more stories about: albedo effect, melting glaciers, anthropogenic change]

[Permalink]
[Add your own quips!]


[Climate Chaos]: from The Hill, Fri Sep 19 2014:
Proposed air conditioner rules could yield biggest savings
The Department of Energy (DOE) said Thursday it will propose efficiency standards for commercial air conditioners that could yield the most energy savings of any appliance standard. The agency said the standards for commercial unitary air conditioners, which are usually housed on the roofs of large buildings, will save 11.7 quads of energy over the lifetimes of units sold for 30 years.... "If finalized, it would also help cut carbon pollution by more than 60 million metric tons, and could save consumers nearly $10 billion on their energy bills through 2030," the White House said.


Something tells me we're going to need air conditioning in the future.

[Read more stories about: carbon emissions, climate impacts, efficiency increase, smart policy]

[Permalink]
[Add your own quips!]


[Climate Chaos]: from London Guardian, Thu Sep 18 2014:
Obama delays key power plant rule of signature climate change plan
Barack Obama applied the brakes to the most critical component of his climate change plan on Tuesday, slowing the process of setting new rules cutting carbon pollution from power plants, and casting a shadow over a landmark United Nations' summit on global warming. The proposed power plant rules were meant to be the signature environmental accomplishment of Obama's second term. The threat of a delay in their implementation comes just one week before a heavily anticipated UN summit where officials had been looking to Obama to show leadership on climate change. In a conference call with reporters, the Environmental Protection Agency said it was extending the public comment period on the power plant rules for an additional 45 days, until 1 December.


That's 45 more days of pure profit.

[Read more stories about: carbon emissions, governmental idiocy]

[Permalink]
[Add your own quips!]


[Biology Breach]: from JAMA - Journal of the American Medical Association, Thu Sep 18 2014:
Waistlines of U.S. adults continue to increase
The prevalence of abdominal obesity and average waist circumference increased among U.S. adults from 1999 to 2012, according to a study. Waist circumference is a simple measure of total and intra-abdominal body fat. Although the prevalence of abdominal obesity has increased in the United States through 2008, its trend in recent years has not been known.... The overall age-adjusted prevalence of abdominal obesity increased significantly in the U.S. from 46.4 percent in 1999-2000 to 54.2 percent in 2011-2012.


On the other hand, double chins have diminished by half!

[Read more stories about: koyaanisqatsi]

[Permalink]
[Add your own quips!]


[Species Collapse]: from CBC, Wed Sep 17 2014:
Miramichi River salmon numbers hit record low in 2014
The world-famous Miramichi River is experiencing a salmon decline that "is among the worst in recorded history." New numbers released by the Miramichi Salmon Association and the Atlantic Salmon Federation put the number of salmon returning to the river this year at about 12,000, despite near perfect angling conditions. That number is about half of the 23,000 that returned to the river to spawn from 2011 through 2013. "These are frightening numbers," said David Wilson, chairman of the Miramichi Salmon Association.... In the first decade of this century, about 53,000 salmon returned to the river annually. The average number of salmon returns in the 1990s was about 82,000.


Can't we genetically modify them to evolve better?

[Read more stories about: migration changes, tipping point, canary in coal mine]

[Permalink]
[Add your own quips!]


[Recovery]: from Reuters, Wed Sep 17 2014:
Slowing climate change makes economic sense; cities to lead-study
Investments to help fight climate change can also spur economic growth, rather than slow it as widely feared, but time is running short for a trillion-dollar shift to transform cities and energy use, an international report said on Tuesday. The study, by former heads of government, business leaders, economists and other experts, said the next 15 years were critical for a bigger shift to clean energies from fossil fuels to combat global warming and cut health bills from pollution... Unlike past climate change studies which have focused on the risks of inaction, the report seeks to show economic benefits of investments which could also help the environment...


Every once in awhile something that feels a little like hope wells up inside me.

[Read more stories about: alternative energy, renewable energy]

[Permalink]
[Add your own quips!]


[Climate Chaos]: from Midwest Energy News, Wed Sep 17 2014:
In fight against pollution, nurses union on the front lines
...a growing mission among nurses nationwide: the pursuit of environmental justice, fueled by a growing awareness of the environmental factors that could be linked to, causing or exacerbating the cancers, respiratory ailments or other conditions that affect their patients. Nurses have individually become increasingly aware of the role of the environment in health, and over the past two years the National Nurses United labor union has launched a concerted campaign to mobilize on environmental justice issues -- including the role of fossil fuels in both local pollution and climate change.


We always listen to nurses.

[Read more stories about: anthropogenic change, airborne pollutants, global warming, people rise up]

[Permalink]
[Add your own quips!]


[Resource Depletion]: from Guardian, Thu Sep 11 2014:
Amazon deforestation jumps 29 percent last year
The destruction of the world's largest rainforest accelerated last year with a 29 percent spike in deforestation, according to final figures released by the Brazilian government on Wednesday that confirmed a reversal in gains seen since 2009. Satellite data for the 12 months through the end of July 2013 showed that 5,891 sq km of forest were cleared in the Brazilian Amazon, an area half the size of Puerto Rico. Fighting the destruction of the Amazon is considered crucial for reducing global warming because deforestation worldwide accounts for 15 percent of annual emissions of heat-trapping gases, more than the entire transportation sector. Besides being a giant carbon sink, the Amazon is a biodiversity sanctuary, holding billions of species yet to be studied.


That biodiversity will just have to go somewheres else. There's money waiting to be made!

[Read more stories about: rain forest depletion, deforestation, faster than expected, sixth extinction, ecosystem interrelationships]

[Permalink]
[Add your own quips!]


[Recovery]: from World Meteorological Organization, Thu Sep 11 2014:
WMO GHG Bulletin: The State of Greenhouse Gases in the Atmosphere Based on Global Observations through 2013
... Yet that buffering reaction consumes CO32-, reducing the chemical capacity of the near-surface ocean to take up more CO2. Currently that capacity is only 70 percent of what it was at the beginning of the industrial era, and it may well be reduced to only 20 percent by the end of the twenty-first century. The current rate of ocean acidification appears unprecedented at least over the last 300 million years, based on proxy-data from paleo archives. Acidification will continue to accelerate at least until mid-century, based on projections from Earth system models.... As a result of increased anthropogenic emissions, atmospheric CH4 reached 253 percent of its pre-industrial level (~722 ppb) in 2013. Atmospheric CH4 increased from ~1650 ppb in the early 1980s to a new high of 1824±2 ppb in 2013 (Figure 4 (a)).


What's a third of a billion years, when my energy-stock-intensive retirement is threatened?

[Read more stories about: short-term thinking, ocean acidification, feedback loop, holyshit]

[Permalink]
[Add your own quips!]


[Recovery]: from Common Dreams, Tue Sep 9 2014:
Are You Ready to 'Disrupt'? Climate Movement Readies Global Mobilization
On Sunday night, a new documentary film highlighting the intertwined story of the climate crisis and the growing social movement which has grown in response to it was released online for national screenings that took place in people's home and public meeting spaces. At just under an hour long, the film--titled 'Disruption'--was produced with a stated goal to "galvanize a new wave of climate action and climate leadership" across the globe and comes just weeks before the 'People's Climate March' being organized for New York City that will take place on Sunday, September 21. ... "This is the history we'll tell the next generation -- about the end of fossil fuels, about how the world was in crisis, about how we started to turn it around together."


Y'know, if civilization was saved, but updated? That might not be such a bad thing.

[Read more stories about: people rise up, smart policy]

[Permalink]
[Add your own quips!]


[Resource Depletion]: from CBC, Mon Sep 8 2014:
Canada's degradation of pristine, intact forests leads world
The world's precious few remaining large forests are fragmenting at an alarming rate, and the degradation in Canada leads the world, a new analysis shows. The degradation of such pristine "intact" forests threatens species such as Canada's woodland caribou and Asia's tigers that rely on huge unbroken expanses of natural ecosystems in order to survive, said Nigel Sizer, global director of forest programs with the World Resources Institute, a Washington, D.C.-based research institute focused on resource sustainability.


We also lead the world in tar sands!

[Read more stories about: forests, habitat loss, economic myopia]

[Permalink]
[Add your own quips!]


[Recovery]: from Guardian, Mon Sep 8 2014:
The similarity between circular economy and water stewardship
How will the new fad - these circular models - improve a company's water management? Circular economies, the theory says, produce virtually no waste, as all raw materials are re-used and recycled continuously to form a closed loop. It's a dramatic shift from our current linear economy, in which we take, make, consume and dispose, drawing regularly on our natural resources to create products that eventually end up as trash. From a conservation perspective, a closed loop system is obviously better for the environment. But is that it? Does it really have the potential to transform business markets? It might. When circular economy thinking is applied to business operations, it is surprisingly synergistic to water stewardship. For both water stewardship and circular models, efficiency isn't the end game. Yes, it's important to reduce the water required to make and dispose of products. Water efficiency also tends to carry additional benefits, such as increased profits and energy savings. But from a natural resources management perspective, there's much more to do.


I'm more accustomed to circular reasoning, like "there's no point in trying to save the planet, because we're utterly screwed, so let's use it up faster."

[Read more stories about: water issues, efficiency increase, low-energy future]

[Permalink]
[Add your own quips!]


[Species Collapse]: from Common Dreams, Fri Sep 5 2014:
Canadian Beekeepers Launch Class Action Suit Against Pesticide Makers
Beekeepers in the Canadian province of Ontario have launched a class action lawsuit against makers of a class of pesticides linked to the decline of bees. The claim (pdf) filed Tuesday in the Ontario Superior Court of Justice seeks $450 million in damages going back to 2006 for the "chronic effects of the use of the Neonicotinoids [...] felt by Canada's Beekeepers annually."... "Beekeepers have suffered, and will continue to suffer, devastating economic hardships as a result of the continued use of Neonicotinoids," it states. The damages they say are caused by these pesticides, also known as neonics, include: bee deaths; impaired reproduction; immune suppression; behavioral abnormalities resulting in hive loss ; reduced honey production; impacts on the quality of honey; contamination of hive equipment; loss of Queen Bees; breeding stock; and difficulties fulfilling honey product or pollination contracts.


The real question is, if the case is won, how do we shrink the currency so that it fits in their tiny little bee hands?

[Read more stories about: toxic buildup, unintended consequences, pesticide runoff]

[Permalink]
[Add your own quips!]


[Resource Depletion]: from Guardian, Wed Sep 3 2014:
Limits to Growth was right. New research shows we're nearing collapse
The 1972 book Limits to Growth, which predicted our civilisation would probably collapse some time this century, has been criticised as doomsday fantasy since it was published. Back in 2002, self-styled environmental expert Bjorn Lomborg consigned it to the "dustbin of history". It doesn't belong there. Research from the University of Melbourne has found the book's forecasts are accurate, 40 years on. If we continue to track in line with the book's scenario, expect the early stages of global collapse to start appearing soon.... The book's central point, much criticised since, is that "the earth is finite" and the quest for unlimited growth in population, material goods etc would eventually lead to a crash.... It's essentially resource constraints that bring about global collapse in the book. However, Limits to Growth does factor in the fallout from increasing pollution, including climate change. The book warned carbon dioxide emissions would have a "climatological effect" via "warming the atmosphere". As the graphs show, the University of Melbourne research has not found proof of collapse as of 2010 (although growth has already stalled in some areas). But in Limits to Growth those effects only start to bite around 2015-2030.


We can safely ignore such absurdities. Once discredited by deniers, a work is forever tainted as wrong. Right?

[Read more stories about: deniers, overpopulation, death spiral, holyshit, peak oil]

[Permalink]
[Add your own quips!]


[Recovery]: from BBC, Tue Sep 2 2014:
Icelandic business plans energy bar made of insects
Insects are a staple food in parts of the developing world, but two businessmen from the unlikely location of Iceland are proposing to use them to make energy bars. Bui Adalsteinsson and Stefan Thoroddsen say on their website they got the idea from a UN report suggesting the western world could benefit from using this abundant source of protein, and formed a company to make bars with ground-up bugs.


I wonder if they come in three sections?

[Read more stories about: food crisis]

[Permalink]
[Add your own quips!]


[Biology Breach]: from London Guardian, Fri Aug 29 2014:
Lack of toilets blights the lives of 2.5bn people, UN chief warns
The world's lack of progress in building toilets and ending open defecation is having a "staggering" effect on the health, safety, education, prosperity and dignity of 2.5 billion people, the UN deputy secretary general, Jan Eliasson, has warned.... According to the UN, 2.5 billion people still lack "improved sanitation facilities" - defined as ones that "hygienically separate human excreta from human contact", down only 7 percent since 1990, when 2.7 billion lacked access, and more than a billion people - most of whom live in rural areas - have to defecate in gutters, behind bushes or into water. More people have access to mobile phones than toilets, it says.


Is there an app for "improved sanitation facilities"?

[Read more stories about: health impacts, pandemic]

[Permalink]
[Add your own quips!]


[Recovery]: from Earth Policy Institute, Thu Aug 28 2014:
Geothermal Power Approaches 12,000 Megawatts Worldwide
In 2013, world geothermal electricity-generating capacity grew 3 percent to top 11,700 megawatts across 24 countries. Although some other renewable energy technologies are seeing much faster growth -- wind power has expanded 21 percent per year since 2008, for example, while solar power has grown at a blistering 53 percent annual rate -- this was geothermal's best year since the 2007-08 financial crisis.


"Blistering" for solar? Has wind power grown at a "decapitating" rate?

[Read more stories about: climate impacts, renewable energy]

[Permalink]
[Add your own quips!]


[Climate Chaos]: from Climate Progress, Thu Aug 28 2014:
Climate Scientists Spell Out Stark Danger And Immorality Of Inaction In New Leaked Report
One word in the latest draft report from the UN Intergovernmental Panel on Climate Change (IPCC) sums up why climate inaction is so uniquely immoral: "Irreversible." The message from climate scientists about our ongoing failure to cut carbon pollution: The catastrophic changes in climate that we are voluntarily choosing to impose on our children and grandchildren -- and countless generations after them -- cannot plausibly be undone for hundreds of years or more. Yes, we can still stop the worst -- with virtually no impact on growth, as an earlier IPCC report from April made clear -- but future generations will not be able reverse whatever we are too greedy and shortsighted to prevent through immediate action.


It's time to create the magic silver bullet wand.

[Read more stories about: anthropogenic change, climate impacts, holyshit]

[Permalink]
[Add your own quips!]


[Biology Breach]: from Daily Kos , Thu Aug 28 2014:
Fire retardant chems, cancer, health problems
In a reckless, "hope-for-the-best" approach that puts us all at risk, U.S. policy allows the release of synthetic chemicals into the environment--before their potentially ...


[Climate Chaos]: from USA Today, Tue Aug 26 2014:
Ken Burns: Glacier National Park in trouble
If you're interested in seeing the namesake glaciers of Glacier National Park, Ken Burns has a piece of advice: hurry. "The great sadness of Glacier National Park ...

Don't miss: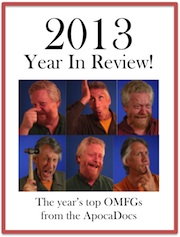 ---
Apoc-o-Meter
from the last 7 days


or visit our: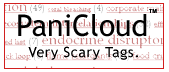 ---
"Perfect as a bathroom reader."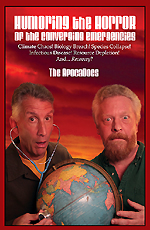 Humoring the Horror of the
Converging Emergencies
94 color pages
$24.99 now $15!
Or read FREE online!

---
Play: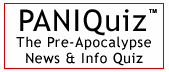 It's weekly, funny, and free!


Random Sample PANIQuestion:
According to new research, why are traffic jams so bad for your health?
a) VOCs emitted from dashboards and steering wheels.
b) Because people listen to too much Radio Disney.
c) Because people listen to too much Rush Limbaugh.
d) You arrive late at your destination.
e) Vehicle exhaust damages brain cells.

Answer: Vehicle exhaust damages brain cells.

---