[Recovery]: from Discovery.com, Sat May 23 2015:
Common Bacterium Helps Bats With White-nose Syndrome
... This time, the researchers grew the bacterium on cobalt, which produced so-called volatile organic compounds (VOCs) that stop the fungus, Psuedogymnoascus destructans, from growing. "The amazing part about this is that these compounds diffuse through the air and act at very low concentrations, so the bats are treated by exposing them to air containing the VOCs (the compounds do not need to be 'directly' applied to the bats)," according to a USFS press release. "Many of the bats in those trials experienced increased health and survival," it said. However, more than one chemical is created from the reaction, so the scientists' next step is to isolate which chemical is the one that stops the fungus from growing.


Now, let's see if we can develop some VOCs that cause increased bat fertility!

[Read more stories about: white nose syndrome, canary in coal mine]

[Permalink]
[Add your own quips!]


[Climate Chaos]: from Midwest Energy News, Wed May 20 2015:
South Dakota to require climate-change lessons in school
Students in South Dakota, like those in 13 other states and the District of Columbia, will be taught about climate change in public schools subsequent to a unanimous vote by the state's board of education this week. The South Dakota Board of Education on Monday adopted several curriculum changes including science standards that are based on the Next Generation Science Standards. A couple of those standards pertain to the science of climate change. And starting in 2018, students will be required to answer questions about climate science on a statewide standardized test.


First question: Why did this take so long?

[Read more stories about: deniers, carbon emissions]

[Permalink]
[Add your own quips!]


[Species Collapse]: from London Guardian, Wed May 20 2015:
White House makes bid to save honeybees but ignores toxic pesticides
The White House has announced an ambitious plan to "promote the health of honeybees and other pollinators" in the United States in a bid to help reverse a worrying trend that has seen the honeybee population fall by half over the last seven decades. It includes making millions of acres of federal land more bee-friendly, an explicit ambition to increase the population of the monarch butterfly, and the provision of millions of dollars to be spent on research. But the plan announced on Tuesday falls short in one capacity that has environmental groups up in arms. It does not ban the use of any form of toxic pesticides, despite a large body of scientific research showing many of them - specifically neonicotinoids, or "neonics" - to be closely linked to widespread bee life loss.


Always racing for the cure, instead of the cause.

[Read more stories about: corporate farming, food crisis]

[Permalink]
[Add your own quips!]


[Climate Chaos]: from Reuters, Tue May 19 2015:
Protesters gather in Seattle to block access to Shell oil rig
May 18 About 200 protesters gathered at the Port of Seattle on Monday to block access to a Royal Dutch Shell drilling rig headed for the Arctic this summer to resume exploration for oil and gas reserves... Environmental groups have planned days of demonstrations over Shell's plans, saying drilling in the icy Arctic region, where weather changes rapidly, could lead to a catastrophic spill that would be next to impossible to clean up. They also say drilling would threaten the Arctic's vast layer of sea ice that helps regulate the global temperature and that they say has already been disappearing as a result of global warming.


Don't drill, baby, don't drill!

[Read more stories about: arctic meltdown, capitalist greed, carbon emissions, people rise up]

[Permalink]
[Add your own quips!]


[Climate Chaos]: from The Daily Climate, Tue May 19 2015:
Global warming and the "Green Rush."
Global warming may give a minor twist to that classic hippie bumper sticker that quips "Acid rain: Too bad it's not as much fun as it sounds." Turns out a warming climate could boost the medicinal and psychoactive properties of plants including cannabis. But that's not all: Climate change will also open up higher elevations to growing weed clandestinely on public lands...


Dude, where's my plant hardiness zone?

[Read more stories about: climate impacts]

[Permalink]
[Add your own quips!]


[Recovery]: from InsideClimate News, Tue May 19 2015:
Pennsylvania High School Students Convince School to Divest From Coal
A Pennsylvania high school just made history. George School in Newtown announced April 27 that it would divest its $150 million endowment of holdings in coal mining companies, likely becoming the first secondary school in the nation to join the global movement to rid investment portfolios of fossil fuel stocks. The decision was prompted by a student petition. "I was thrilled that the kids were active and concerned and brought this to the board--and that the board was respectful," said head of school Nancy Starmer.


Sounds like twilight for the fossil fuel industry.

[Read more stories about: people rise up, carbon emissions]

[Permalink]
[Add your own quips!]


[Climate Chaos]: from PhysOrg, Mon May 18 2015:
Ocean currents disturb methane-eating bacteria
Offshore the Svalbard archipelago, methane gas is seeping out of the seabed at the depths of several hundred meters. These cold seeps are a home to communities of microorganisms that survive in a chemosynthetic environment - where the fuel for life is not the sun, but the carbon rich greenhouse gas.... There is a large, and relatively poorly understood, community of methane-consuming bacteria in this environment. They gorge on the gas, control its concentration in the ocean, and stop it from reaching the ocean surface and released into the atmosphere.... "We were able to show that strength and variability of ocean currents control the prevalence of methanotrophic bacteria", says Lea Steinle from University of Basel and the lead author of the study, "therefore, large bacteria populations cannot develop in a strong current, which consequently leads to less methane consumption."


Bubble, bubble, roil and trouble, microbes fail and methanes double.

[Read more stories about: methane release, weather extremes, ocean methane, ocean warming, holyshit, faster than expected]

[Permalink]
[Add your own quips!]


[Climate Chaos]: from ThinkProgress, Wed May 13 2015:
Sea Level Rise Is Happening Faster Than Anyone Thought
"We see acceleration, and what I find striking about that is the fact that it's consistent with the projections of sea level rise published by the IPCC," Watson told the Guardian. "Sea level rise is getting faster. We know it's been getting faster over the last two decades than its been over the 20th century and its getting faster again." Because sea levels can naturally fluctuate as water is exchanged between land and sea, Watson notes that the rate of increase is too small to be statistically significant -- though he told the Washington Post that it's clear that sea levels are now rising at roughly double the rate observed in the 20th century, something that will have potentially huge ramifications for coastal areas across the world.


Not faster than everyone thought!

[Read more stories about: ocean warming, rising sea level, climate impacts]

[Permalink]
[Add your own quips!]


[Species Collapse]: from Clapway, Sun May 3 2015:
Study Says Large Herbivores on Verge of Extinction
If the results of a recent study conducted by wildlife experts at Oregon State University is correct, large herbivores are on the verge of extinction all over the world. The study of 74 different kinds of plant eaters showed that there has been a very large reduction in large plant eaters, especially in Africa and Asia, where the majority of them travel and reside. Professor William Ripple, the lead author of the study, announced that results point to as much as 60 percent of the large herbivores that weight over 220lbs are dying off due to things like habitat loss, climate change, over hunting, poaching, and global warming issues.


Little Jack Horner, come blow your horn! / All your cow's relatives may never be born!

[Read more stories about: sixth extinction, habitat loss]

[Permalink]
[Add your own quips!]


[Climate Chaos]: from New Zealand Herald, Sat May 2 2015:
Hundreds of methane gas flares found off coast of Gisborne, NZ
"Preliminary indications are that methane is reaching the ocean surface - this is the first time this has been measured in New Zealand," he said. "However, to understand how much methane, and then what this means for atmospheric contributions, will require detailed analysis of the data."... The discovery of this high concentration of gas flares in shallow water depths - 100m-300m - on an active tectonic subduction zone was unique, as gas seeps usually occurred much deeper, at 600m to 1000m below the surface. The team identified methane gas in the sediment and in the ocean, and vast areas of methane hydrates - ice-like frozen methane - below the seafloor. This year's research voyage continued the work of an international project focusing on the interactions between gas hydrates and slow-moving landslides called SCHLIP - Submarine Clathrate Hydrate Landslide Imaging Project.


You say "clathrate" as if it's a real word!

[Read more stories about: methane release, permafrost meltdown, faster than expected]

[Permalink]
[Add your own quips!]


[Climate Chaos]: from Yale360, Thu Apr 2 2015:
How Long Can Oceans Continue To Absorb Earth's Excess Heat?
The ocean has been heating at a rate of around 0.5 to 1 watt of energy per square meter over the past decade, amassing more than 2 X 1023 joules of energy -- the equivalent of roughly five Hiroshima bombs exploding every second -- since 1990. Vast and slow to change temperature, the oceans have a huge capacity to sequester heat, especially the deep ocean, which is playing an increasingly large uptake and storage role. That is a major reason the planet's surface temperatures have risen less than expected in the past dozen or so years, given the large greenhouse gas hike during the same period, said Kevin Trenberth, senior scientist with the National Center for Atmospheric Research... But scientists say that when the cycle eventually swings back to its positive, warm phase, which history suggests could occur within a decade, the winds will wind down, the pumping will let up, and buried heat will rise back into the atmosphere. "There's a hint this might already be starting to happen," said Matthew England, an ocean sciences professor at the University of New South Wales in Sydney, Australia.... Scientists are also learning that the ocean has gained more heat, and at greater depth, than they had realized. That means the entire climate is even more out-of-whack than is evident today.... The long-term heat gain in the top 700 meters (.43 miles) of the world's oceans has likely been underestimated by as much as half, according to Lawrence Livermore National Laboratories research scientist Paul Durack.


Our ocean heat has grown / Vaster than empires / and more slow

[Read more stories about: ocean warming, global warming, feedback loop, death spiral, faster than expected]

[Permalink]
[Add your own quips!]


[Recovery]: from Guardian, Thu Apr 2 2015:
Syracuse University to divest $1.18bn endowment from fossil fuels
Syracuse University will remove its $1.18bn endowment from direct investments in fossil fuel companies, it announced on Tuesday. Syracuse is the biggest university in the world to have committed to remove its endowment from direct investments in coal, oil and gas companies. It aims to make additional investments in clean energy technologies such as solar, biofuels and advanced recycling. In a statement, the university said it will "not directly invest in publicly traded companies whose primary business is extraction of fossil fuels and will direct its external investment managers to take every step possible to prohibit investments in these public companies as well".


Orange is the new green!

[Read more stories about: alternative energy, smart policy]

[Permalink]
[Add your own quips!]


[Climate Chaos]: from Grist, Sun Mar 29 2015:
Antarctica is basically liquefying
Antarctica's icy edges are melting 70 percent faster in some places than they were a decade ago, according to a new study in the journal Science. These massive ice shelves serve as a buffer between the continent's ice-sheet system and the ocean. As they disintegrate, more and more ice will slip into the sea, raising sea levels by potentially huge amounts. This study is just the latest bit of horrible news from the bottom of the world. Last year, we found out that the West Antarctic ice sheet was in terminal collapse, which could raise sea levels by 10 to 15 feet over a few hundred years. Then, earlier this month, we learned that an enormous glacier on the other side of the continent is in the same state, and could contribute about the same amount to sea-level rise.... But the bad news doesn't seem likely to stop anytime soon: On Monday and Tuesday, it was a balmy 63 degrees Fahrenheit at the bottom of the world, a record high.


Two words: Antarctic Surfing.

[Read more stories about: albedo effect, arctic meltdown, rising sea level, death spiral]

[Permalink]
[Add your own quips!]


[Climate Chaos]: from ThinkProgress, Tue Mar 24 2015:
Smithsonian Stands By Wildly Misleading Climate Change Exhibit Paid For By Kochs
But what may be most shocking of all is that the Smithsonian hasn't fixed the misleading evolution exhibit at its National Museum of Natural History, which thoroughly whitewashes the dangers of modern-day climate change. This "Hall of Human Origins" was made possible by a $15 million grant from billionaire polluter David Koch. It has now been five years since Climate Progress exposed the myriad flaws in the exhibit, a story the New Yorker and others picked up. Last week I spent some time going through the exhibit again with Dr. Lise Van Susteren, a psychiatrist and climate expert who has been featured by The Smithsonian. We were both stunned by the "Don't worry, be happy" picture it paints of current climate change.... In particular, the most embarrassing and scientifically misleading display the Smithsonian designed -- which directly suggests that humans can simply evolve to deal with global warming -- is still in the exhibit. The final section about the present and future has a nonsensical interactive video that lets visitors create a "future human" who evolves over a long period of time to a variety of changing conditions.


Those Koch brothers are such a pair of kidders!

[Read more stories about: deniers, corporate malfeasance, global warming, short-term thinking]

[Permalink]
[Add your own quips!]


[Climate Chaos]: from Ottawa Citizen, Tue Mar 24 2015:
New records detail how climate-change views scuttled an artist's grant
A British Columbia artist and environmental activist accuses government of misusing its censorship powers to hide a politically driven effort to silence her because of her views on climate change and the oilsands. Franke James found herself on the federal government's radar in the spring of 2011 after Canadian diplomats agreed to offer a $5,000 grant in support of a European art tour featuring James's artwork. The grant was revoked a few days later by a senior director of the Foreign Affairs Department's climate change division, who felt the funding would "run counter to Canada's interests."... In one, a departmental trade official notes that a Canadian diplomat in Europe would not help promote the show because of "the artist's views on the oilsands."... Another email sent to the NGO Nektarina stated the reasons for the defunding decision "are not something we are able to provide in writing."


When all else fails, shoot the messengers.

[Read more stories about: governmental corruption, climate impacts, governmental idiocy]

[Permalink]
[Add your own quips!]


[Climate Chaos]: from Mashable, Tue Mar 3 2015:
Seeds of war
Manmade global warming helped spark the brutal civil war in Syria by doubling to tripling the odds that a crippling drought in the Fertile Crescent would occur shortly before ...

Don't miss: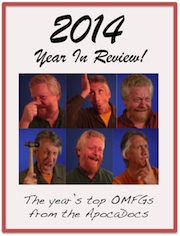 ---
Apoc-o-Meter
from the last 7 days


or visit our: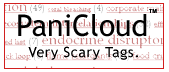 ---
"Perfect as a bathroom reader."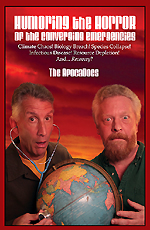 Humoring the Horror of the
Converging Emergencies
94 color pages
$24.99 now $15!
Or read FREE online!

---
Play: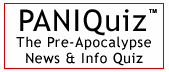 It's weekly, funny, and free!


Random Sample PANIQuestion:
What did the WWF recently ask cruise ships in the Baltic Sea to stop doing?
a) Dumping their sewage into the water.
b) Covering Barry Manilow songs.
c) Serving food and drinks.
d) Staging bad stand up comics.
e) Sailing.

Answer: Dumping their sewage into the water.

---